Builder SMOKED GARAGE
Contact [email protected]
Country Australia
Model Street 500
Style Bobber
The Preacher
Sinner or Saint? A little bit of both are at the heart of this build. Like a gun-toting, cigarette-smoking, bourbon-swilling Man of the Lord. Don't piss him off – he'll knock out your teeth before praying for your soul.
Our first hardtail Street 500 "Copperhead" proved incredibly popular, and it wasn't long before we were approached to build another, this time with more modern styling and appeal.
As I Walk Through the Valley…
"Everything I own is Black or White" states the client. Black & White it is then. We couldn't just opt for a flat white either. This bike had to pop.
Big. Wheels. These monsters were sourced by the good lads at Rollies Speed Shop, and although they cost a pretty penny were definitely a worthwhile investment. 21″ on the front, 18″ on the rear, and wrapped in Avon Cobra rubber.
Street 500 pics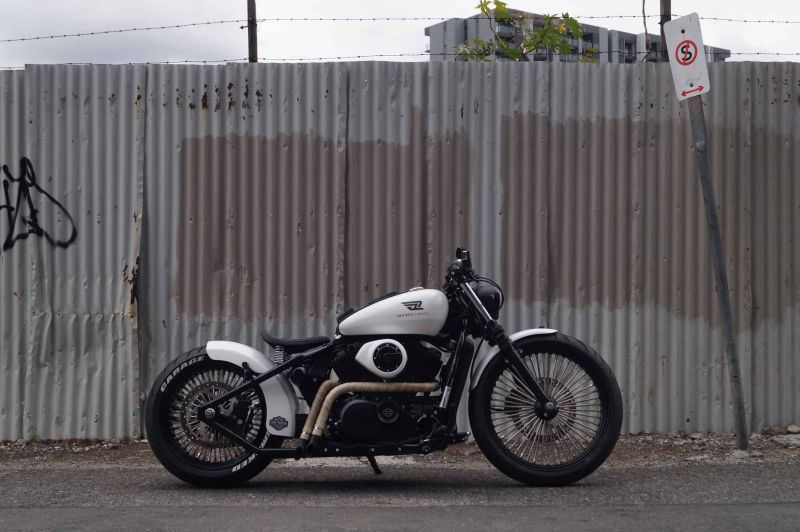 Street 500 parts
Hardtail frame conversion performed by Smoked Garage
50 spoke Fat Daddy rims (21″ Front / 18″ Rear)
Avon Cobra tyres
Custom pearlescent white paint work
Clip on handlebars
Custom made front/rear fenders
Custom made springer seat
Custom made tank strap
Forward Controls
LED lighting
Side mounted numberplate
Hand made battery/electrical housing
Custom made exhaust, heat wrapped
Street 500 specs
ENGINE
ENGINE1 Liquid-cooled, Revolution X™ V-Twin
BORE 2.72 in.
STROKE 2.6 in.
DISPLACEMENT 494 cc (30 cu in)
COMPRESSION RATIO 10.5:1
FUEL SYSTEM3 Electronic Sequential Port Fuel Injection (ESPFI)
EXHAUST Black two into one
DIMENSIONS
LENGTH 87.2 in.
SEAT HEIGHT, LADEN7 25.7 in.
SEAT HEIGHT, UNLADEN 28.3 in.
GROUND CLEARANCE 5.7 in.
RAKE (STEERING HEAD) (DEG) 32
TRAIL 4.5 in.
WHEELBASE 59.8 in.
TIRES, FRONT SPECIFICATION 100/80-17
TIRES, REAR SPECIFICATION 140/75 R15
FUEL CAPACITY 3.5 gal.
OIL CAPACITY (W/FILTER) 3.3 qt.
WEIGHT, AS SHIPPED 492 lb.
WEIGHT, IN RUNNING ORDER 514 lb.
PERFORMANCE
ENGINE TORQUE TESTING METHOD J1349
ENGINE TORQUE2 29.5 ft-lb
ENGINE TORQUE (RPM) 3,750
LEAN ANGLE, RIGHT (DEG.) 28.5
LEAN ANGLE, LEFT (DEG.) 28.5
FUEL ECONOMY TESTING METHOD Estimated City/Hwy
FUEL ECONOMY5 64 mpg
DRIVETRAIN
PRIMARY DRIVE Gear, 36/68 ratio
GEAR RATIOS (OVERALL) 1ST 14.272
GEAR RATIOS (OVERALL) 2ND 10.074
GEAR RATIOS (OVERALL) 3RD 7.446
GEAR RATIOS (OVERALL) 4TH 6.006
GEAR RATIOS (OVERALL) 5TH 5.037
GEAR RATIOS (OVERALL) 6TH 4.533
CHASSIS
WHEELS, FRONT TYPE9 Black, 7-spoke Cast Aluminum
WHEELS, REAR TYPE Black, 7-spoke Cast Aluminum
BRAKES, CALIPER TYPE 2-piston floated front and rear
ELECTRIC
LIGHTS (AS PER COUNTRY REGULATION), INDICATOR LAMPS8 High beam, neutral, low oil pressure, turn signals, engine diagnostics, low fuel warning
GAUGES 3.5 inch electronic speedometer with high beam, neutral, low oil pressure, turn signals, engine diagnostics, low fuel warning, blade key ignition and fork lock, and locking gas cap