Builder SMOKED GARAGE
Contact [email protected]
Country Australia
Model Bolt XVS950
Style Bobber
Neo Avant Garde
When our client initially proposed the colour scheme for this bike, suffice to say I was not too enthusiastic… "Fluoro Yellow – are you sure, dude??" The last thing he wanted was a "YamaHarley", so yeah – he was sure. Beefy, low, mean, black, aggressive… all key descriptives used in the brief. And Fluoro Yellow Wheels. Yep.
I was skeptical from the beginning, not entirely sure I would like this build. But now that it's finished, I love it. It grew on me as the build progressed, and damned if I wouldn't love to have this sitting in my garage at home!!
First thing was first, get it as low as we can. The exhaust needed to be distinct and loud enough to turn a few heads, but he didn't want the pipes to be a feature, instead we discreetly hid the muffler underneath the chin spoiler, which was a one-off handmade for this build. It was also important to fatten up the forks, so a set of fork sleeves were custom made to give the front end a nice beefy look. There was a bit of work in getting them to fit without bottoming out, but we got there!
The next challenge was giving the bike that low bobber look, whilst allowing for a pillion at the same time – who doesn't want the opportunity to throw a pretty girl on the back of your sweet custom to show off?! So shorty shocks, a custom re-enforced fender and hand made one-off seat were fashioned to fit.
Next the colour scheme – matching yellow pinstripes as highlights to compliment the powdercoated wheels, matte black sides, and a matte charcoal finish on the top of the tank.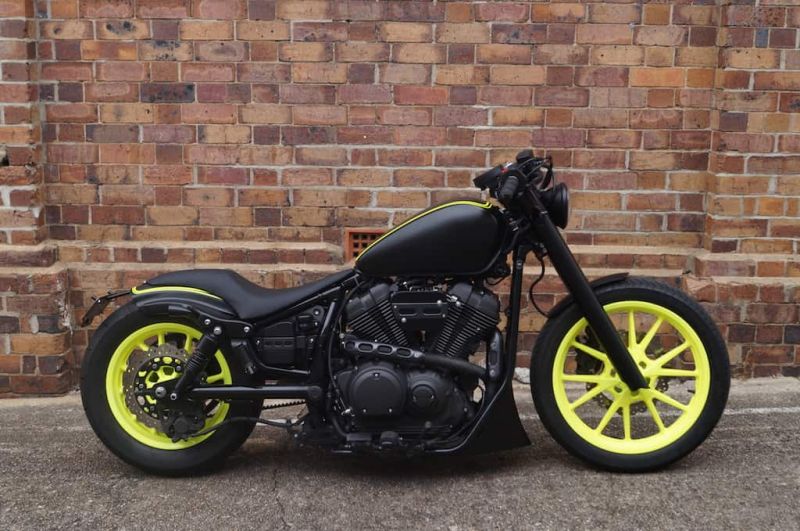 Bolt 950 Custom parts
Rear Bobber Conversion
Custom Rear Fender into Struts
Handmade 2-up Seat
Custom two-tone Matte Paint with Pinstripe
Flush mount fuel cap in tank
Custom made exhaust with hidden muffler
Clip on handlebars
Custom made fork sleeves with integrated indicators
Handmade chin spoiler
Powdercoated Wheels in Fluorescent Yellow
Rear shorty shocks
LED Halo Headlight
Integrated LED Tail light/Indicators
Chopped front fender
Custom made mirrors
Custom numberplate bracket
Custom air filter
Avon grips
Yamaha Bolt 950 specs
ENGINE
Engine Type58-cubic-inch (942cc) air-cooled SOHC V-twin; 4 valves
Bore x Stroke85.0mm x 83.0mm
Compression Ratio9.0:1
Fuel DeliveryFuel injection
IgnitionTCI: Transistor Controlled Ignition
Transmission5-speed; multiplate wet clutch
Final DriveBelt
CHASSIS
Suspension / Front Telescopic fork, 4.7-in travel
Suspension / RearDual piggyback shocks, 2.8-in travel
Brakes / FrontWave-type disc, 298mm
Brakes / RearWave-type disc, 298mm
Tires / Front100/90-19
Tires / Rear150/80-16
DIMENSIONS
L x W x H90.2 in x 37.2 in x 44.1 in
Seat Height27.2 in
Wheelbase61.8 in
Rake (Caster Angle)29.0°
Trail5.1 in
Ground Clearance5.1 in
Fuel Capacity3.4 gal
Fuel Economy**51 mpg
Wet Weight***542 lb