Builder MELK MOTORCYCLES
Contact [email protected]
Country France
Model H-D Breakout
Style Cruiser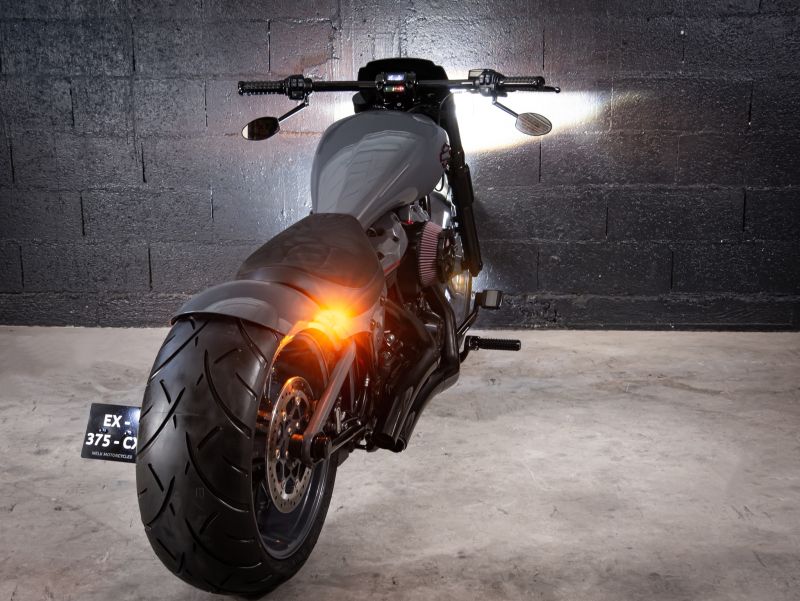 H-D Breakout parts
Accessories
Custom Exhaust – Vances & Hines
Performance air filter – SE HD
Dyno Mapping – DynoJet
Custom Tank Stretched – MELK Painting & Motorcycles
Custom Rear Fender – Kodlin USA
Headlight Cap – Killer Custom
Custom shoe – MELK Painting & Motorcycles
Custom Saddle and Pouf – MELK Painting & Motorcycles
Air Suspension – Platinum Suspension
Tire Ar 260 – Metzler
Risers – Kodlin USA
Spacer Risers – MELK Painting & Motorcycles
Low Passage Mirrors
Front LED indicators – Thunderbike
Rear LED indicators – Kellermann
Front & Rear Equalizers – Thunderbike
Handles – HD
Front / Rear footrests – Rick's Motorcycles
Selector – Rick's Motorcycles
Brake Pedal – HD
Pedal pad – Harley Davidson
Pop Up Cap – HD
Fork tube cover – CW
Irridium spark plugs – NGK
Front wheel nut cover – Thunderbike
Rear wheel nut cover – Thunderbike
Swingarm cover – Killer Custom
Black Engine Hardware – MELK Painting & Motorcycles
Screws Black Sabers – MELK Painting & Motorcycles
Black Speedometer Fasteners – MELK Painting & Motorcycles
Black Pulley Hardware – MELK Painting & Motorcycles
Offset Plate Holder – Thunderbike
Black license plate – MELK Painting & Motorcycles
Aesthetic Preparation / Painting
The painting was done with a dominant color: GunShip Gray HD. We find this color on many body parts as well as on the cycle part: swingarm, discs, rims, rear indicators etc, etc.
We have chosen to apply a Red Candy on certain elements of the bike in order to bring out the opaque side of the GunShip Gray paint.
We therefore find small details such as the interior of the logos and the lower rockers.
Work completed
Extended Tank – Gunship Gray
Embedded 3D logo – Vivid black HD & Candy Red
Saddle and pouf – Perforated Alcantara + smooth matte imitation leather + Red stitching
Exhaust – Cutting + High Temperature Satin Paint
Front Fender – Gunship Gray
Rear Fender – Gunship Gray
Engine Guard – Gunship Gray
Lighthouse Cap – Gunship Gray
Side Covers – Gunship Gray + Mark MELK #31
Cylinders – Wrincle Black
Cylinder Heads – Wrinkle Black
Triple Tree – Vivid Black HD
Rims – Gunship Gray
Brake Rotors – Gunship Gray
Upper Swingarm – GunShip Gray
Superior Rockers – Gunship Gray
Lower Rockers – Gunship Gray / Red Candy
Pushrods – Vivid Black
Column Support – Vivid Black
Primary Housing – Vivid Back HD
Carter Came – Vivid Black HD
Carter Transmission – Vivid Black HD
Derby Cover – Vivid Black / Red Candy
Time Cover – Vivid Black / Red Candy
Pick Rod – Vivid Black HD
Selector feedback – Vivid Black HD
Selector – Vivid Black HD
Pulley – Gunship Gray
Upper Belt Cover – Cutout – Gunship Gray
Lower Belt Cover – Vivid Black HD
Inner Bib – Gunship Gray
Brake Pedal – Vivid Black HD
Brake/Clutch Levers – Vivid Back HD
Rear Indicators – Gunship Gray
Pop Up Cap – Gunship Gray
VIDEOS OF MELK MOTORCYCLES