Builder MELK MOTORCYCLES
Contact [email protected]
Country France
Model H-D Breakout
Style Cruiser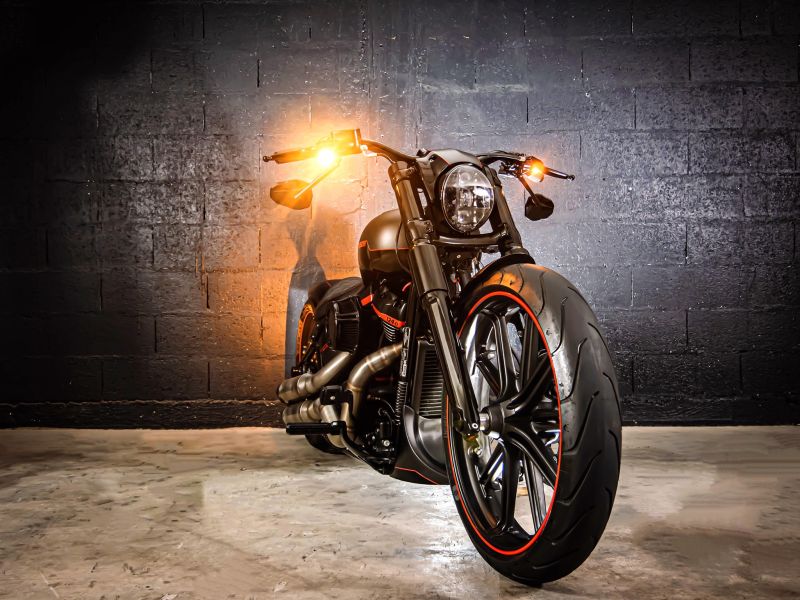 H-D Breakout parts
Accessories
Stage 4 – 124 Cubic – S&S Cycles
Custom valve exhaust – KessTech x MELK Painting & Motorcycles
Double Cartography (open / closed valves) – DynoJet
Air filter – Arlen Ness
Body Injection SE – HD
Injectors – Daytona
Reinforced Clutch – Barnett
Reinforced clutch housing – TRASK
Stretched Tank – Kodlin USA
Custom rear mudguard – MELK Painting & Motorcycles
Custom saddle and pouf – MELK Painting & Motorcycles
Tire Ar 260 – Metzeler
Air Suspension – Platinum Suspension
Handlebars – HD
Fork crown – Rick's Motorcycles
Riser courts – Thunderbike
Clog – Thunderbike
Fork tubes – Cult Werk
Transparent Derby Cover – Rick's Motorcycles
Low Passage Mirrors
Front LED Turn Signals – Thunderbike
Av & Ar Equalizers – Thunderbike
3in1 turn signals – Kellermann
Front & Rear Foot Cleat – Rick's Motorcycles
Handles – Rizoma
Selector – Rick's Motorcycles
Wires of red candles
Irridium candles – NGK
Brake Pedal Pad – HD
Front & Rear wheel axle – Thunderbike
Black Engine Screws – MELK Painting & Motorcycles
Black Sabers Screws – MELK Painting & Motorcycles
Black screws Triple clamp – MELK Painting & Motorcycles
Black speedometer screws – MELK Painting & Motorcycles
Black Pulley Screws – MELK Painting & Motorcycles
Remote license plate – LED license plate light – Thunderbike
Black license plate – MELK Painting & Motorcycles
Aesthetic Preparation / Painting
The painting was carried out with several shades: Grigio Silverstone Ferrari Satin, Rosso Corsa Ferrari Brillant, Vivid Black HD.
These colors have been particularly selected to bring a sporty and racy side to this exceptional Breakout.
The satin and shiny varnishes are affixed to the elements of the bodywork in order to sublimate the different reliefs.
Work completed
Customized decoration tank – Selective varnish technique
Front Mudguard Cutting, lowering and decoration – Selective Varnishing Technique
Mudguard Ar Decoration – Selective Varnish Technique
Side Covers – Selective Varnishing Technique / MELK Marking # 26
Rims – Selective Varnishing Technique
Fork crown – Selective varnishing technique
Clog – Selective Varnish Technique
Top Rocker Covers – Vivid Black HD Satin
Low rocker covers – Rosso Corsa Brillant
Rocker Arm Support – Rosso Corsa Brillant / Vivid Black HD Satin
Rocker Rods – Vivid Black HD Satin
Primary Housing – Vivid Black HD Satin
Derby Cover – Vivid Black HD
Time Cover – Vivid Black HD Satin – Rosso Corsa Brillant
Carter Gearbox – Vivid Black HD
Crankcase – Vivid Black HD Satin
Selectors – Vivid Black HD
Selection Return Rod – Vivid Black HD
Pulley – Vivid Black HD
Upper belt cover, Cutout – Vivid Black HD
Brake pedal – Vivid Black HD
Brake / Clutch Levers – Vivid Black HD
VIDEOS OF MELK MOTORCYCLES