Builder MELK MOTORCYCLES
Contact [email protected]
Country France
Model H-D Breakout
Style Cruiser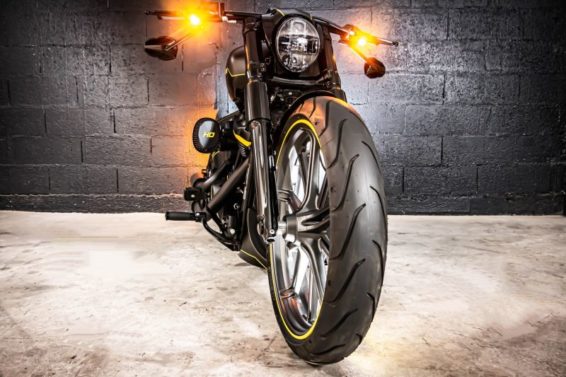 H-D Breakout parts
Parts & Accessories
Electronic Valve Short Exhaust – Dr. Jekill & Mr. Hyde
Réservoir Stretched – MELK Painting & Motorcycles
Rear Mud Guard – BT Choppers
Tailor-made seat and pouf – MELK Painting & Motorcycles
Tire suspension – Platinum suspension
Power bench mapping – Dynojet
Air Filter – HD
Rear tire 260 – Metzler
Risers courts – Kodlin USA
Fork Head – Rick's Motorcycles
Saturday – Thunderbike
Cache Fork – Cult Work
Passing down mirrors
LED Clignotants – Thunderbike
Equalizers Av – Thunderbike
Ar 3in1 LED blinker – Kellerman
Av/Ar Foot Stills – Performance Machine
Grips – Performance Machine
Selector – Performance Machine
Brake Pedal Stamp – HD
Pop-Up Tank Cap – HD
Front & Rear Wheel Axis – Thunderbike
Black Engine Fishing – MELK Painting & Motorcycles
Noir Sabres Fishing – MELK Painting & Motorcycles
Black Fishery Fork Tea – MELK Painting & Motorcycles
Black Fisherman – MELK Painting & Motorcycles
Black Poulie Fishing – MELK Painting & Motorcycles
Deportation plate & plate lighting – Thunderbike
License Plate Black – MELK Painting & Motorcycles
Aesthetic Repair / Painting
A bright color was applied on the motorcycle to cut in an elegant and sporty way.
So we find three different shades on this racecar bike: Vivid Black HD, Girgio Silverstone Ferrari Satin, Giallo Modena Ferrari.
Satin and gloss varnish is used on the body elements to enhance the highlights and colours of this showbike.
Work done
Custom decoration tank – Selective varnish technique
Front mud guard, cut/down, custom decoration – Selective varnish technique
Rear mudguard custom decoration – Selective varnish technique
Side cache custom decoration – Selective varnish technique / Marking MELK #29
Custom decoration rims – Girgio Silverstone Ferrari Satin – Giallo Modena Ferrari
Custom decoration fork head – Selective varnish technique
Tailor-made decoration – Selective varnish technique
Air Filter – Custom Decoration – Selective Varnish Technique
Top Cache Cache – Vivid Black HD Satin
Low Cache Cache – Vivid Black HD Satin – Giallo Modena Ferrari
Fan Tigers Support – Vivid Black HD Satin – Giallo Modena Ferrari
Blazer Tigers – Vivid Black HD Satin
Carter Primary – Vivid Black HD Satin
Derby Cover – Vivid Black HD Satin – Giallo Modena Ferrari
Time Cover – Vivid Black HD Satin – Giallo Modena Ferrari
Carter Gearbox – Vivid Black HD
Carter Came – Vivid Black HD Satin
Selectors – Vivid Black HD
Selection Rejective – Vivid Black HD
Poulie – Greece Silverstone Ferrari Satin
Upper Belt Hide, Cut – Vivid Black HD
Brake Pedal – Vivid Black HD
Av/Ar Brake Disc – Silverstone Ferrari Satin
Brake/Clutch Levers – Vivid Black HD
VIDEOS OF MELK MOTORCYCLES