Harley-Davidson Breakout 114 by Melk Motorcycles
Builder MELK MOTORCYCLES
Contact [email protected]
Country France
Model H-D Breakout
Style Cruiser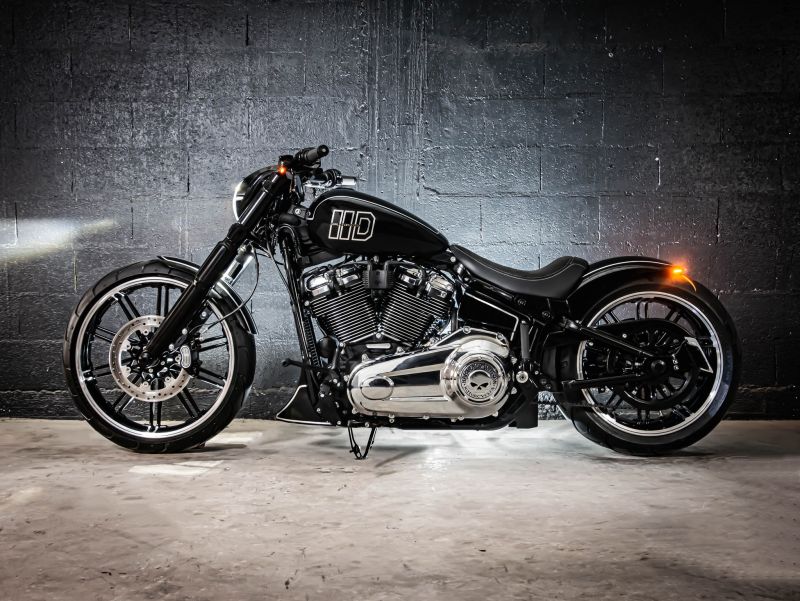 H-D Breakout parts
Accessories
Exhaust – Vance & Hines
Air Filter – Rolland Sands Design
Rear Fender – MELK Painting & Motorcycles
Ar 3in1 LED Strip – MELK Painting & Motorcycles
Custom saddle and pouf – MELK Painting & Motorcycles
Tire Ar 260 – Metzeler
Risers – Thunderbike
Clog – Thunderbike
Fork covers – Cultwerk
Air Suspension – Platinum Suspension
Headlight Cap – Rick's Motorcycles
Mirrors Low position
Front mini LED indicators – Thunderbike
Thunderbike Front and Rear Equalizers – Thunderbike
Handles – Rolland Sands Design
Selector – Rolland Sands Design
Custom front & rear footrests – Rolland Sands Design
Brake pedal – HD
Front & Rear Wheel Axle Cover – Thunderbike
Remote license plate + LED license plate light – Thunderbike
Black Pulley Screws – MELK Painting & Motorcycles
Screws Sabers Black – MELK Painting & Motorcycles
Pop-up cap – HD
Derby cover Skull – HD
Aesthetic Preparation / Painting
The painting was done with one main color: Vivid Black HD Brillant.
A linear design with silver leaf has been created to enhance the curves of this motorcycle.
We also find silver leaf on the logo on the tank. Other details like the Harley-Davidson calligraphy and the MELK signature on the side scoop are in gold leaf.
Work completed
Custom decoration tank – Vivid black & Gold Leaf & Silver
MELK Emblem Decoration Side Covers – Vivid black & Gold Leaf & Silver
Rear Fender Custom Decoration – Vivid Black & Silver Leaf
Front Fender Custom Decor – Vivid Black & Silver Leaf
Clog Custom Decoration – Vivid Black & Silver Leaf
Lighthouse Cap – Vivid Black & Silver Leaf
Linkage – Vivid Black HD
Risers – Vivid Black HD
Pulley – Vivid Black HD
Belt cover – Vivid Black HD
Speedometer Mount – Vivid Black HD
Brake and Clutch Levers – Vivid Black HD
Brake Pedal – Vivid Black HD
Selector – Vivid Black HD
Pick Rod – Vivid Black HD
Picker Returns – Vivid Black HD
VIDEOS OF MELK MOTORCYCLES
Top motorcycle videos