Builder MELK MOTORCYCLES
Contact [email protected]
Country France
Model H-D Fat Boy
Style Cruiser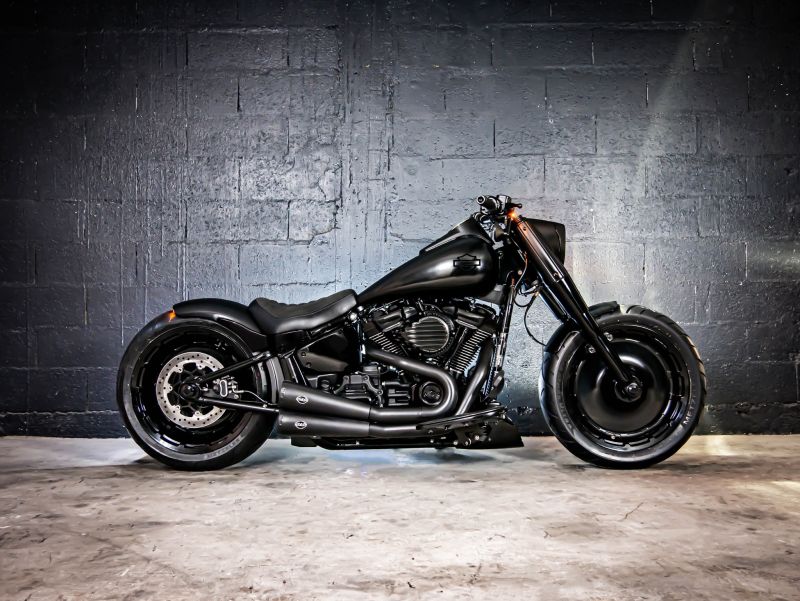 H-D Fat Boy parts
Accessories
Custom Exhaust – S&S Cycles
Power Bench Mapping – DynoJet
Air Filter – Rough Crafts
Custom Stretched Tank – MELK Painting & Motorcycles
Custom-made Rear Mud Guard – BT Choppers
Avant-garde – Rick's Motorcycles
Tailor-made seat and pouf – MELK Painting & Motorcycles
Tire Ar 260 – Metzeler
Av Tire – Metzeler
Tire suspension – Platinum suspension
Guidon Drag Bar – MELK Painting & Motorcycles
Sabot – MELK Painting & Motorcycles
Derby Cover transparent – Rick's Motorcycles
Low Passage Mirrors
LED Clignotants – Thunderbike
Av & Ar Equalers – Thunderbike
Clignotants Ar – MELK Painting & Motorcycles
Walking distance – Rough Crafts
Grips – Rough Crafts
Selector – Rough Crafts
Irridium Candles – NGK
Custom-made coil cover – Kuryakyn
Pop Up Cap – HD
Fork Screwdriver – HD
Brake Pedal Stamp – HD
Av & Ar Wheel Axis – Thunderbike
Black Engine Fishing – MELK Painting & Motorcycles
Noir Sabres Fishing – MELK Painting & Motorcycles
Fishing Black Potence – MELK Painting & Motorcycles
Black Poulie Fishing – MELK Painting & Motorcycles
Deportation Plate – LED Plate Lighting – Thunderbike
Plaque immatriculation Black – MELK Painting & Motorcycles
Aesthetic Preparation / Painting
The painting was done with a grading effect: Vivid Black HD, Vivid Black Matt HD.
This black balayage brings the bike a sober and sporty side to this latest-generation fat boy.
The challenge of this painting lies in the use of a so-called selective varnish.
On the one hand, to bring out the bright side of the paint to play on the reflection of light and thus sublime the mirror side of the paint.
On the other hand, apply a second matte varnish to dim and absorb light on the matte part of the body parts.
Work done
Tailor-made tank and decoration – Extended, straightening of the center console – Selective varnish technique
Mud Guard Av – Vivid Black
Mud Guard Ar Decoration – Selective Varnish Technique
Side Cages – Vivid Black HD
Center Console Marking – MELK#27
Rims – Vivid Black HD
Fork Head – Selective Varnish Technique
Saturday – Vivid Black HD
Top Cache Cache – Vivid Black HD
Low Cache Cache – Vivid Black HD
Blazer Tigers Support – Vivid Black HD
Panthers Tigers – Vivid Black HD
Carter Primary – Vivid Black HD
Derby Cover – Vivid Black HD
Pressure Plate Element – Vivid Balck HD
Time Cover – Vivid Black HD
Carter Transmission – Vivid Black HD
Carter Came – Vivid Black HD
Selector – Vivid Black HD
Selection Removal Stem – Vivid Black HD
Poultry – Vivid Black HD
Upper Belt Hide, Cut – Vivid Black HD
Brake Pedal – Vivid Black HD
Brake/Clutch Levers – Vivid Black HD Matt
VIDEOS OF MELK MOTORCYCLES