Builder RICK'S MOTORCYCLES
Contact [email protected]
Country Germany
Model Harley-Davidson Softail
Style Cruiser
Over 30 years ago the Company landed a real hit with the Harley-Davidson Fat Boy. The success story that started in 1990 is continuing with the Milwaukee-Eight models. Rick's Motorcycles has given this Fat Boy a makeover and the result is a custom bike with a line that acknowledges the original gene of the Fat Boy.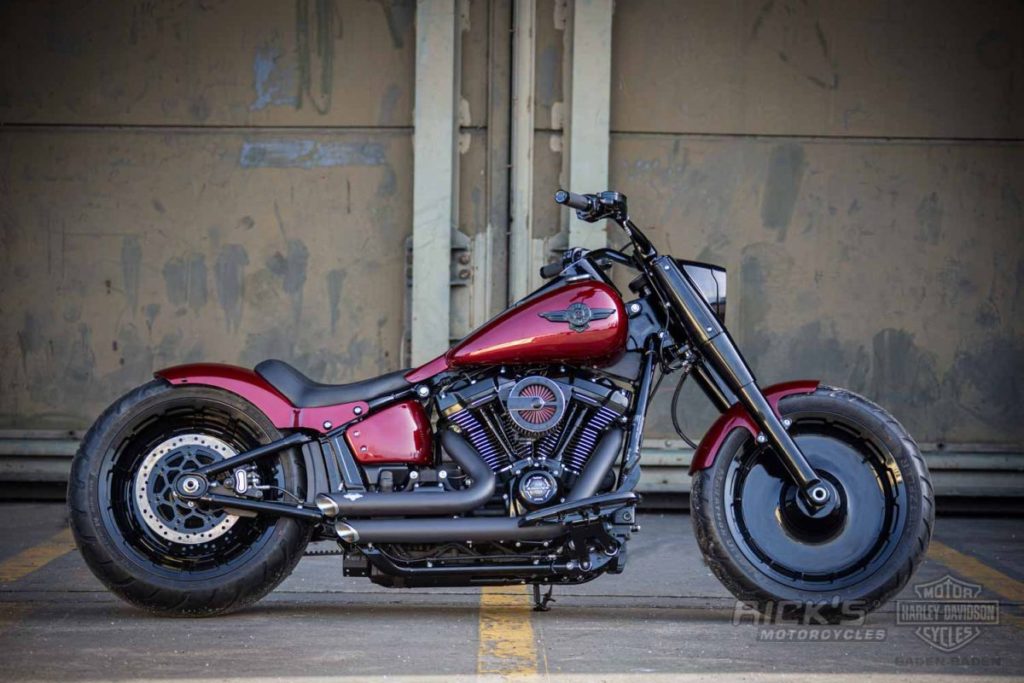 With a targeted approach, the line of the bike was newly defined, the most striking of which should be the change at the rear. The original seat, including the fender, were removed. Rick's is a leading manufacturer of different custom parts for Harley-Davidson models, which include handsome fenders for the Fat Boy. Rick's fenders are also available as a Rick's complete kit. In this case, the matching seat base plate, the tank cover and the necessary mounting material are already included.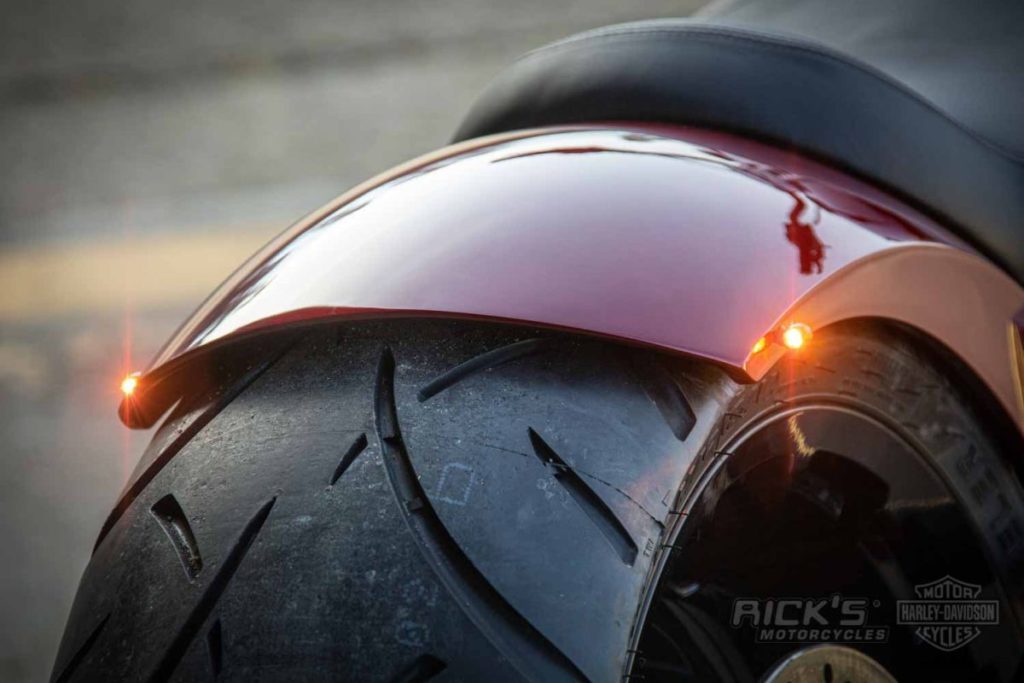 In the photos, the rear fender hovers a few millimeters above the tire, but like this, there would not be enough space between the tire and the fender for a comfortable ride. Thanks to a built-in airride system the motorcycle can simply and quickly be pumped up to the desired height or to a lower level by simply pushing a button.
Let's go from the rear to the front fender. Also here a wheel cover from Rick's was selected. The front fender is made in Baden-Baden in two lengths, and both the contours fit the tire radii perfectly. Rick's has also always been making design wheels for the various Harley-Davidson models, which, of course, also suit the Fat Boy. However, the stock designs are absolutely acceptable and besides the conversion costs can be kept low by reusing them. The here used 260 rear tire fits onto the stock rim and into the swingarm without any problems.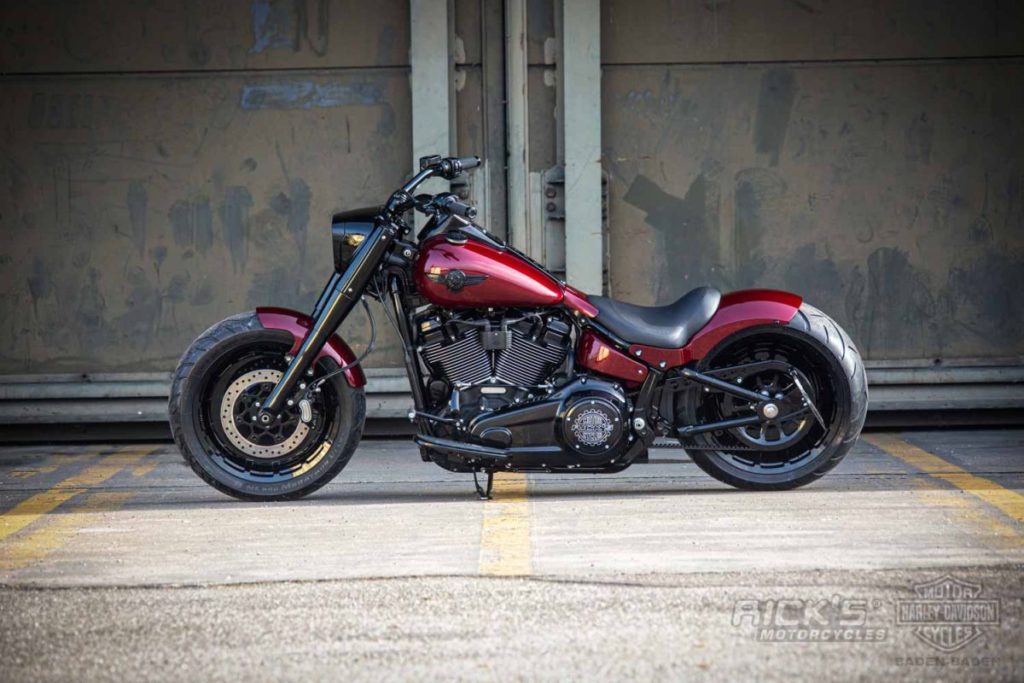 Now let's look at the accessories, of which Rick's Fat Boy has a lot to offer. From the rear to the front, there is the side license plate holder, the belt cover, Rick's grips and the adjustable brake and clutch levers. In addition, there is Rick's handlebar, which is fixed into the in-house made risers.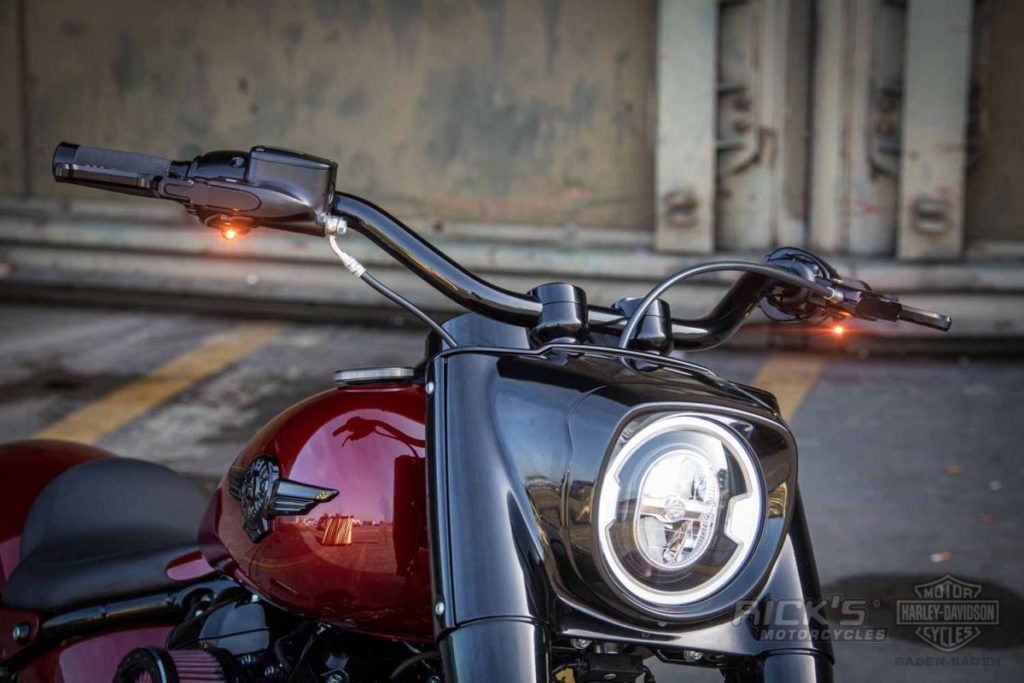 That leaves the question about the indicators, which are so small, they hardly get noticed. Kellermann makes the 'Atto' with a test certificate and therefore all indicators are street legal. At the rear, the 3:1 version with brake and rear light plus indicators was attached directly to the fender struts. At the front, the indicators are hidden below the instrument panel. For this, Rick's holders are attached to the mirror screw and are only noticeable when they get used.
The first part of the name of Rick's Fat Boy is due to the blood red color, the meaning of the second part will become clear to the rider during the first test ride!
Text & photos: Peter Schulz
RICK'S MOTORCYCLES VIDEOS