Builder LORD DRAKE CUSTOMS
Country United States · Spain
Model H-D Softail
Style Bobber
It began by modifying and adapting a type tank Sportster "Peanut", replace the ignition and contact and replace the handlebar with a new model 1" drag bar that would give width to the motorcycle.
Afterward, the rear of the Softail chassis was modified and was manufactured with Bobber-type rear fender and the integrated LED pilot. The floating seat without springs with the brand "Trending Topic" was inserted in the back.
Many other details were added, such as the front wheel of big spokes for Harley Davidson or the digital motor speedometer mini motogadget. In addition, three elements that would break with the typical Bobber-look were incorporated in the front of the motorcycle: a Harley dome, a keel-spoiler and a front grille.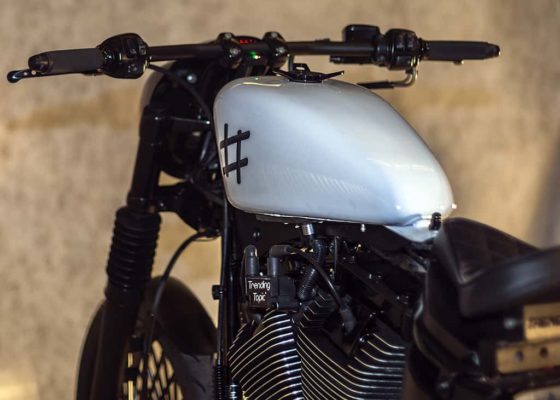 H-D Softail parts
Modified subframe.
Wiring inside handlebars.
Front suspension: Change of internal springs.
External covers between seatposts and bellows in bars.
Rear suspension: Lowering Kit.
Wheels: 21″ Fat Daddy wheels front.
Santee exhausts.
Drag Classic air filter.
Handlebars, Levers, Odometer and indicators (warning lights).
Peanut fuel tank.
Rear fender.
Modified front fender.
Seat.
Side plate holder.
Headlight and Dome.
Spoiler and front grille.
Repositioning the switch on and contact.
Front and rear blinkers, fuel cap, foot controls, painting, graphics, etc.
VIDEOS OF LORD DRAKE KUSTOMS