Builder LORD DRAKE CUSTOMS
Country United States · Spain
Model H-D Softail
Style Springer
Harley-Davidson Softail Springer Classic FLSTSCI of the year 2005. A custom motorcycle "Old School"… really. Built by Lord Drake Kustoms in his custom Harley workshop in Miami (USA).
This motorcycle customized in the motorcycle workshop of Lord Drake Kustoms in Miami (USA), has a detail to highlight, was commissioned by a regular customer of Fran Manen: "SDT Designs". Which collaborated with LDK to result in this powerful Harley Old School. "SDT" are the initials of the name of the owner of the motorcycle transformed on this occasion.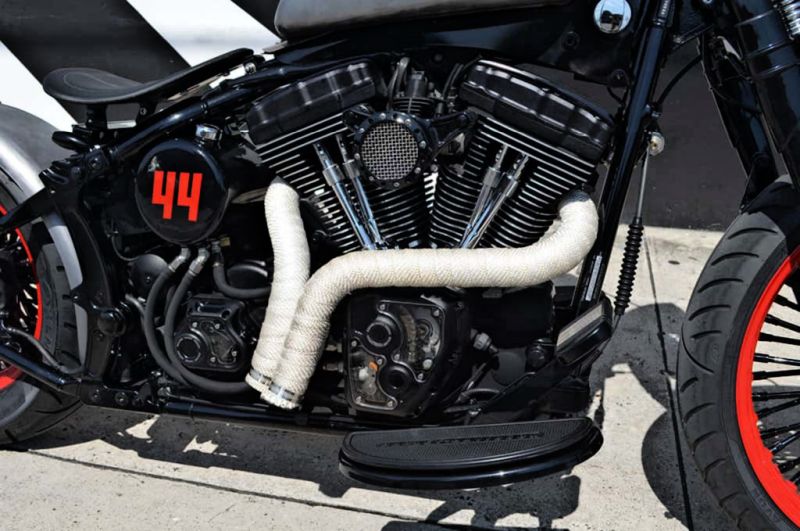 I didn't want to use the typical and cheap Springer Aftermarket forks, so it was clear, you had to start with a very simple base to choose from… a Harley Softail. And for the result, to be more radical and authentic, a Softail Springer Classic.
The first thing was to undress the Harley Softail chassis to the point of removing the oil tank along with all the original engine and transmission covers of the Harley Twin Cam. We had to cut the entire rear of the chassis to start shaping this beauty.
The rear fender, the custom oil tank for Harley, in addition to all the connections, the base of the fuel tank, the base and the entire complete seat, the handlebars and the exhaust pipes, all were manufactured by Lord Drake Kustoms. He was also accompanied by a Sportster fuel tank type peanut which was also modified by LDK.
The rest of the engine and transmission covers of this Springer Softail were treated to move from the original chrome to the black textured powder coat. The finishes were very simple: pure steel with the rust that characterizes it and semi-gloss lacquer to protect it in fenders and fuel tank. It was also applied black powder coat with texture or gloss and red color to the rim of the tires.
The upholstery of the spring seat for this Harley was made with the same skin that uses Ferrari for the interior panels and consoles of its cars.
H-D Softail specs
Bike: HD Softail Springer Classic FLSTSC.
Bike Year: 2005.
Name: Springer SDT Vintage.
Engine: 88 Twin Cam 1,450 cc.
Exhaust: manufactured by LDK.
Oil Tank & Fittings: manufactured by LDK.
Handlebar: manufactured by LDK.
Rear Fender: manufactured by LDK.
Air Filter: RSD.
Wheels: DNA Fat Daddy rims (16′ rear & 21′ front) with Avon tires.
Suspension: -1 inch rear shocks and stock springer front end.
Gas Tank: Peanut 3.3 gallons (modified by LDK).
Gas Tank Base & Ignition Relocation: manufactured by LDK.
Seat: manufactured by LDK.
Seat Base: manufactured by LDK.
Coil Relocation Bracket: manufactured by LDK.
Paint, Powdercoat & Graphics: by LDK (raw steel with rust detail and semi-gloss clearcoat, black powder coat and red ).
Others: RSD clarity covers, engine rocker covers, gas cap, side tag bracket and rear light, Joker Led turn signals, shifter link and speedo relocation, HD vintage footboards, Avon grips.
VIDEOS OF LORD DRAKE KUSTOMS