Builder LORD DRAKE CUSTOMS
Country United States · Spain
Model H-D Sportster
Style Bobber
One of its conditions was that the rear should stand out for the presence of a wide tire. A wide wheel for the Sportster, which could be 240 or 200.
Finally, a 200 wheel was chosen not to be too exaggerated. Another request was that he didn't want any kind of graphics or airbrushing on the motorcycle: "I wanted everything black, except the Harley gas tank that has to be in pure metal."
Tailor-made Harley exhaust pipes painted with ceramic coat, handmade fenders, Rough Crafts air filter, led headlight, custom fuel tank, and many other details; They shaped this personalized Sportster with Old School style.
As for the finishes, Lord Drake Kustoms has a manufacturing and upholstery service for custom motorcycle seats, which has given a different and unique look to the spring seat for Sportster that has been installed.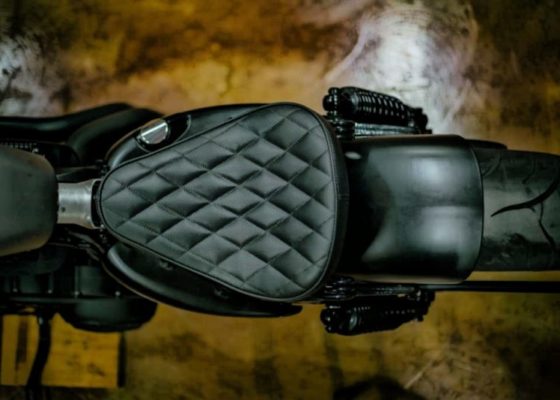 Sportster parts
Base: Harley Davidson Sportster 48
Year: 2014
Displacement: 1200 cc
Exhaust: custom
Air filter: Rough Crafts
Shock absorbers: Burly.
Fork: Original modified + top covers
Odometer: Original
Hand controls: Handlebars, grips, front brake pump, etc.
Foot controls: modified
Wheels: 6×16 spoke rear with 200 tire
Fuel tank: custom with modified height
Seat: handmade seat
Front fender: handmade
Rear fender: handmade
License plate: handmade
Chassis: Modified
Lighting: front turn signals in grips , pilot and rear turn signals LED´s, witnesses, etc.
Powder coating.
VIDEOS OF LORD DRAKE KUSTOMS