Builder LORD DRAKE CUSTOMS
Country United States · Spain
Model H-D V-Rod
Style Muscle
On this occasion, an exhaust pipe for Harley Davidson was not purchased from the catalog. It was decided to modify the original Harley manifolds and adapt some universal exhaust tails, widely used in Cafe Racer motorcycles.
Step by step, this VRod Harley custom motorcycle was completed; but once the work of transforming the motorcycle was finished, the paint and the final finish details were missing.
Painting and airbrushing motorcycle is a field that very few customers value. But in this case, the owner of this transformed Harley VRod, wanted to wear agood airbrush job on the tank and the rear fender.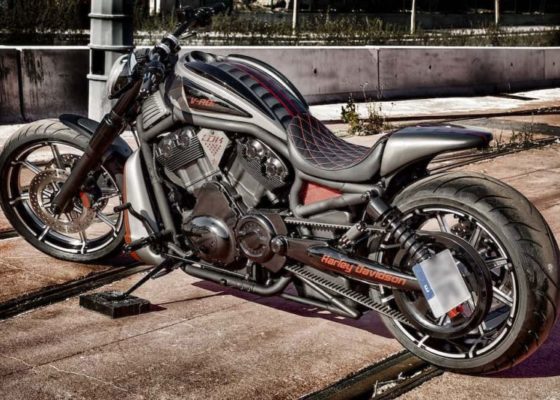 Exhaust: Custom
Air filter: Drag Air Cleaner
Shock absorbers: Progressive Suspension.
Fork: Original modified + top covers
Odometer: Motogadget Mini Spee dometer
Hand controls: Handlebars, grips, front brake pump, etc.
Foot controls: modified
Wheels: Custom 8.5 x 18 rear
Gas tank / Covers air tank: handmade
Seat: handmade
Front fender: handmade
Rear fender: handmade
License plate: handmade
Chassis: modified
Lighting: front turn signals in fists, pilot and rear LED indicators
Paint, airbrushing and powder coating
VIDEOS OF LORD DRAKE KUSTOMS