Builder LORD DRAKE CUSTOMS
Country United States · Spain
Model H-D V-Rod
Style Muscle
This custom motorcycle arrived at Lord Drake Kustoms' Harley Davidson workshop in Malaga, from a client in Morocco who was looking to make a very radical custom transformation on his Vrod.
This Harley Davidson motorcycle underwent a spectacular transformation. The first thing was to replace the original Harley front suspension with the inverted fork from Vrod Muscle. The headlight was replaced by a black LED one and the handlebars and grips were changed; in which kellerman turn signals were installed.
Finishing off the front end, a handcrafted custom bike fender was built and Brembo brake calipers fitted, to go with the stunning Harley RC Components custom rim and its two matching brake discs.
The air filter cover was made of fiber by hand as well as the Vrod spoiler and side covers, which together with the custom single seat and the Vance and Hines 2: 1 exhaust for Harley, shape the central part and front of this custom bike.
But the great transformation of this Harley Davidson is in its rear, which is where the entire arsenal has been used. A spectacular 360 Vee Ruber Monster tire mounted on the beautiful RC Components rim with matching pulley and brake disc.
This spectacular transformed Harley has been finished off with a combination of black powder paint, combined with the candy red body paint.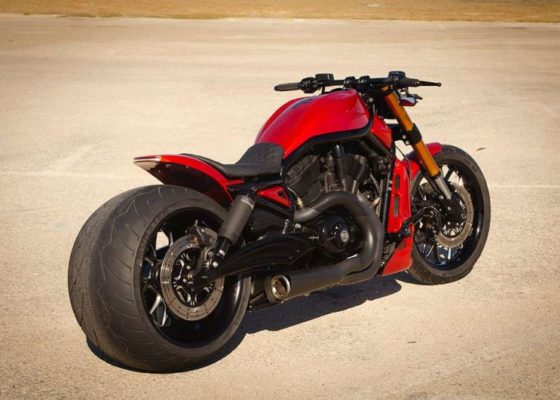 FORK: Inverted
REAR SUSPENSION: Legend Air Suspension
DEPOSIT: Modified
SUBCHASSIS: Handcrafted
SEAT: Manufactured and upholstered by hand
ESCAPES: Vance and Hines
FRONT WHEEL: RC Components
REAR WHEEL: RC Components
LIGHTING: Headlight with bracket, indicators and taillight
SPEEDOMETER: Relocation of speedometer and indicator box.
OTHER WORKS: painting, powder painting, graphics, grips, footpeg modification, etc.
VIDEOS OF LORD DRAKE KUSTOMS