Builder MELK MOTORCYCLES
Contact [email protected]
Country France
Model H-D Sportster
Style Cruiser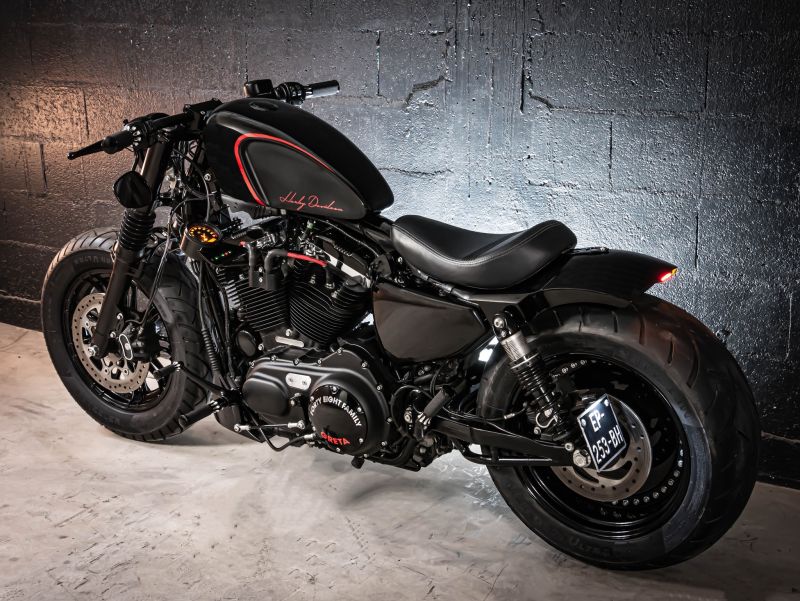 Accessories
Swing Arm – Rick's Motorcycles
Rear Rim – Rick's Motorcycles
Pulley – Rick's Motorcycles
Rear Mud Guard – Rick's Motorcycles
Rear Tire 240 – Metzeler
Avant tire – Metzeler
Exhausts – Vances & Hines
Air Filter – Screamin Eagle
Power Bank Mapping – DynoJet
12l Tank – DS
Cache fork tubes – Cult Werk
Drag bar handle – Fg
Lighthouse Grille – RG
LED Front Blinkers – TB
Custom 3 in 1 taillights – MELK Painting & Motorcycles
Candle Light – CW
Candlemas – Screamin Eagle
Meter Deport – CW
Rockers Inferno Chrome – Harley Davidson
Engine boot – TB
Handlebar Bridge – JM
Grips – Arlen Ness
Front Foot Stags – Arlen Ness
Back Foot Stocks – Arlen Ness
Selector – Arlen Ness
Side plate + plate + Led – MELK Painting & Motorcycles
Fishing Engine – MELK Painting & Motorcycles
Pop Up Cap – Harley Davidson
Aesthetic Preparation / Painting
A mix of black and red was done on this Forty Eight.
We find the bright black Vivid Black Harley Davidson, highlighted by a red Ferrari on the tank delimitation.
The calligraphy was also painted on the Rosso Corsa Ferrari to make a look back on some engine parts.
A slight hint of matte black comes in to contrast this blend of red and glossy black.
Work done
Tank – Vivid Black HD/ Rosso Corsa Ferrari/ Vivid Black Mat HD
Rear Mud Guard – Vivid Black HD
Engine Sabotage – Vivid Black HD
Side Scopes – Vivid Black HD
Dazzling Arms – Vivid Black HD
Superior Rockers – Vivid Black HD
Tringlerie Complete – Vivid Black HD
Brake Pedal – Vivid Black HD
Derby Cover – Vivid Black HD/ Rosso Corsa Ferrari
VIDEOS OF MELK MOTORCYCLES