The Harley-Davidson Softail Breakout GP-Limited 'Highflyer' by Thunderbike from Germany is a motorcycle that is to impress any rider. With its sleek design and powerful performance, it is a true testament to Thunderbike's expertise in customization.
One of the standout features of this motorcycle is the Thunderbike EFI-Cover black wrinkle, which adds an element of style to the bike. Combined with the Thunderbike Exhaust System Grand Prix, it delivers a deep, rumbling sound that is synonymous with Harley-Davidson motorcycles.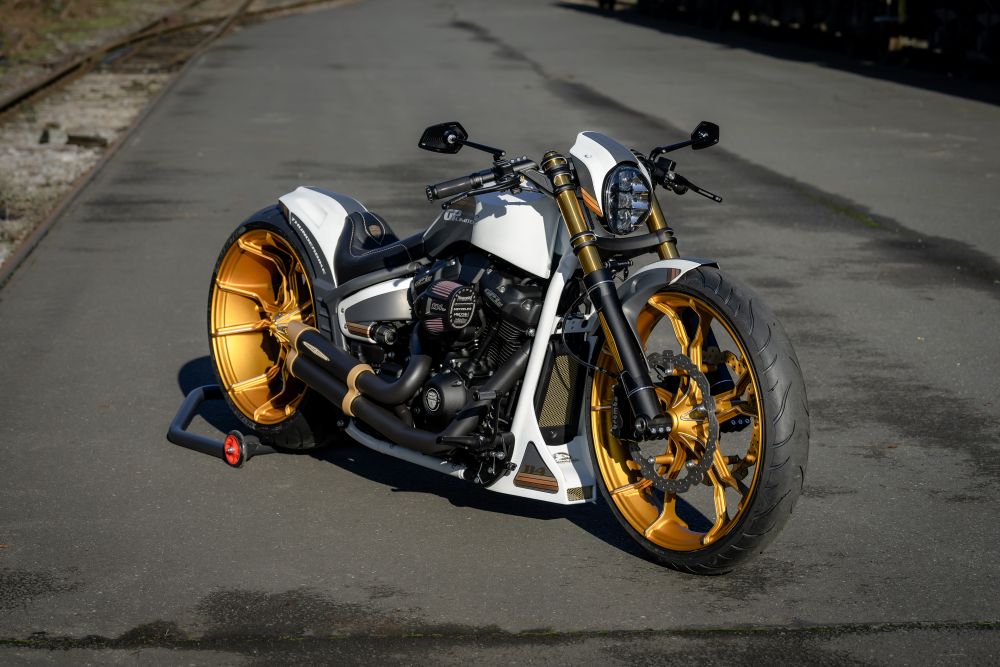 The Thunderbike Frontend Grand Prix and Thunderbike Clip-On Handlebars Grand Prix bicolor enhance the bike's handling and control, allowing riders to feel confident and in command on the road. Additionally, the Thunderbike Headlamp Cap black adds a touch of aggression to the bike's overall look.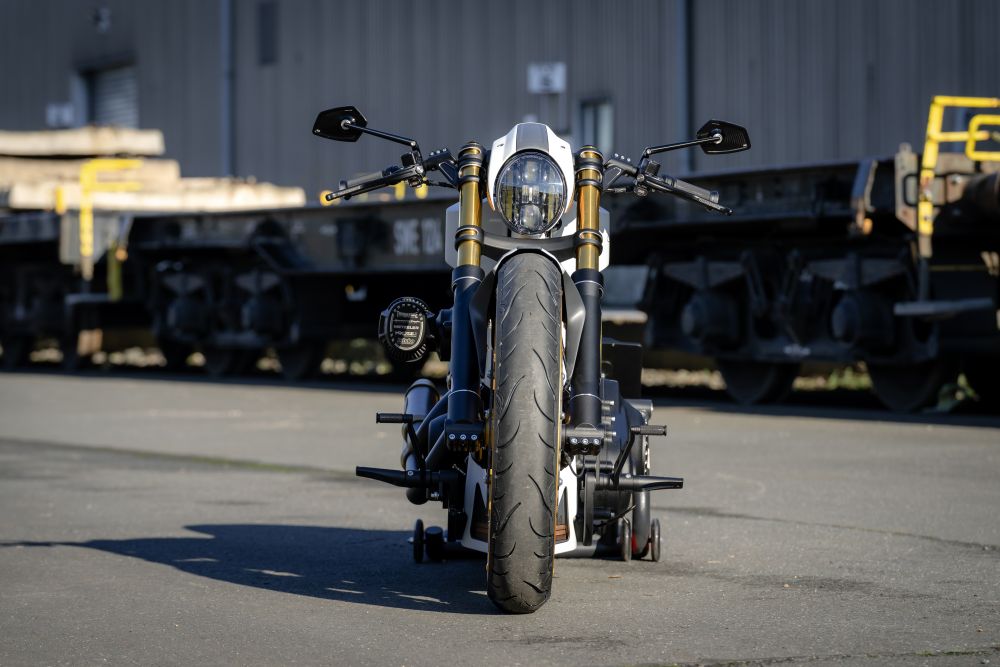 Thunderbike has also paid attention to the finer details of the motorcycle. The Thunderbike Phantom E Grips, Thunderbike Toppers Base, and Rebuffini RR90 Control & Switch Set hydraulic, black matt ensure that every aspect of the bike is both stylish and functional. The Motogadget Mirror mo.view Race left provides a clear view of the road behind, ensuring safety while riding.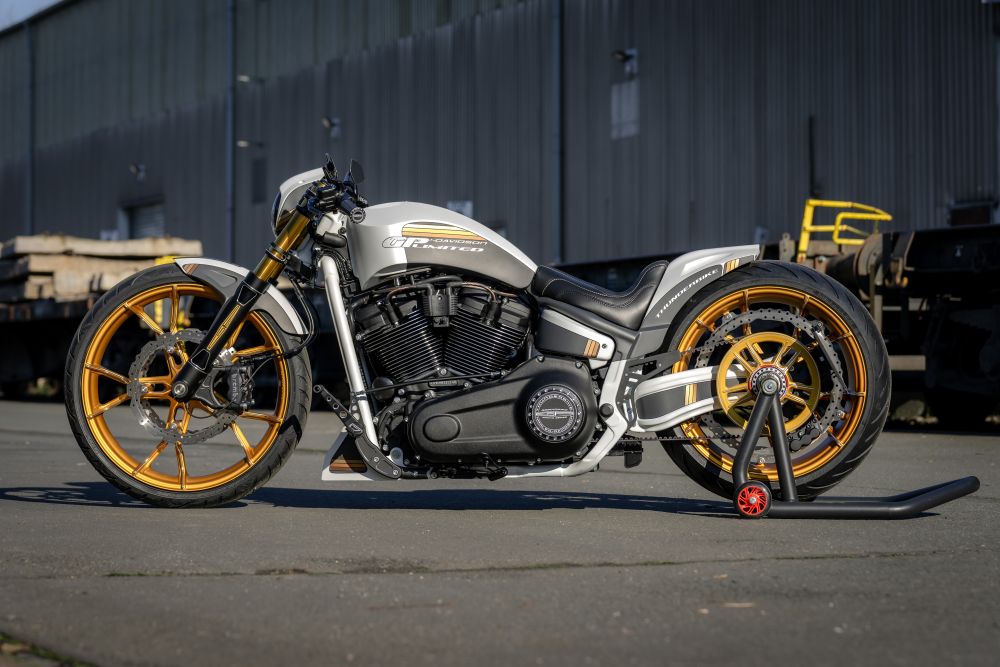 Other notable features of the Harley-Davidson Softail Breakout GP-Limited 'Highflyer' by Thunderbike include the Thunderbike Forward Controls Grand Prix black, Thunderbike Rider Footpegs V-Tech Design, and Thunderbike Turn Signals Stripe LED with housing. These features not only enhance the bike's performance but also add to its overall aesthetic appeal.
The Thunderbike Custom Fuel Tank GP-Style is a signature feature of this motorcycle, adding a unique touch to its design. The Thunderbike Ignition Coil Relocation Kit for Air-Ride switch, black and Thunderbike Axle Cover Swingarm left and right further elevate the bike's appearance.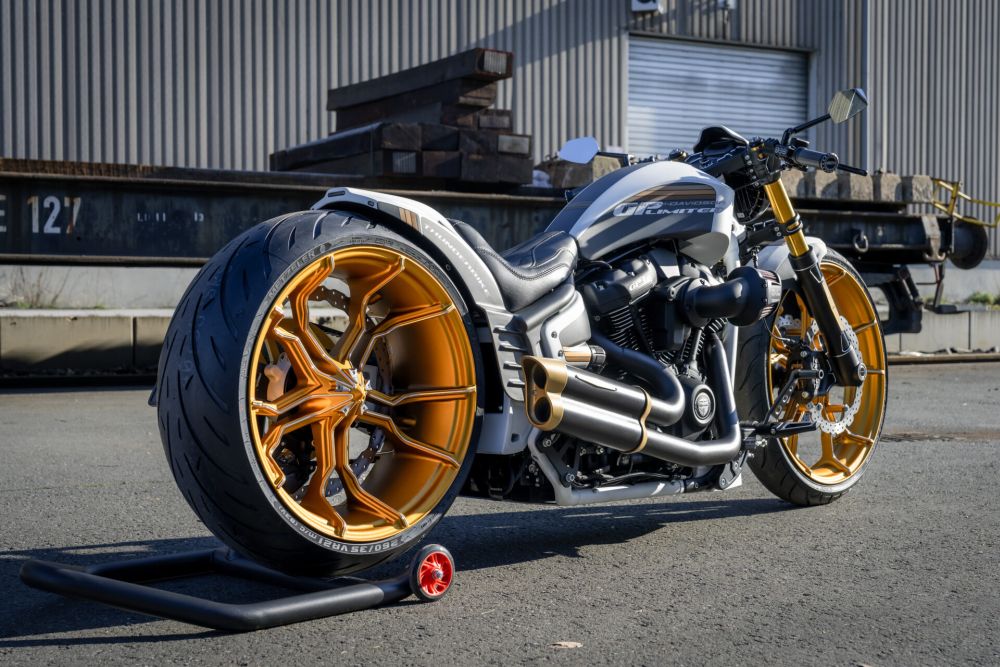 The Thunderbike Single-Side Swingarm Kit 21" Alu, Thunderbike Pulley Grand Prix, and Thunderbike Grand Prix rear and front wheels are all meticulously designed to provide optimal performance on the roads.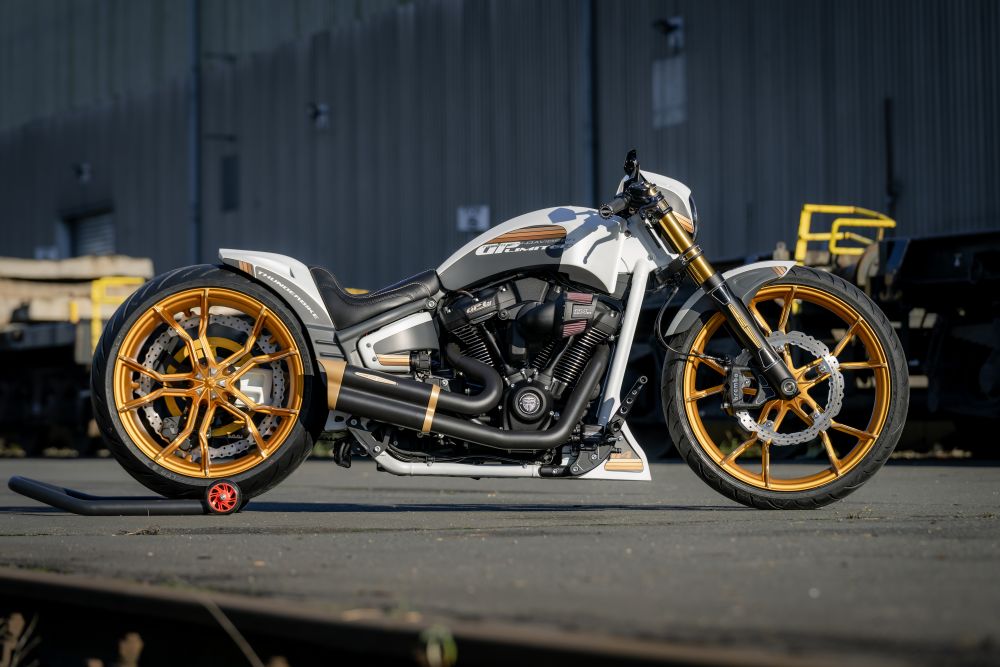 The Metzeler Cruisetec Rear Tire 260/35VR21 83V and Avon Tyres Avon Cobra Chrome, Front/Rear, 130/60VR23 (65V) ensure a smooth and comfortable ride.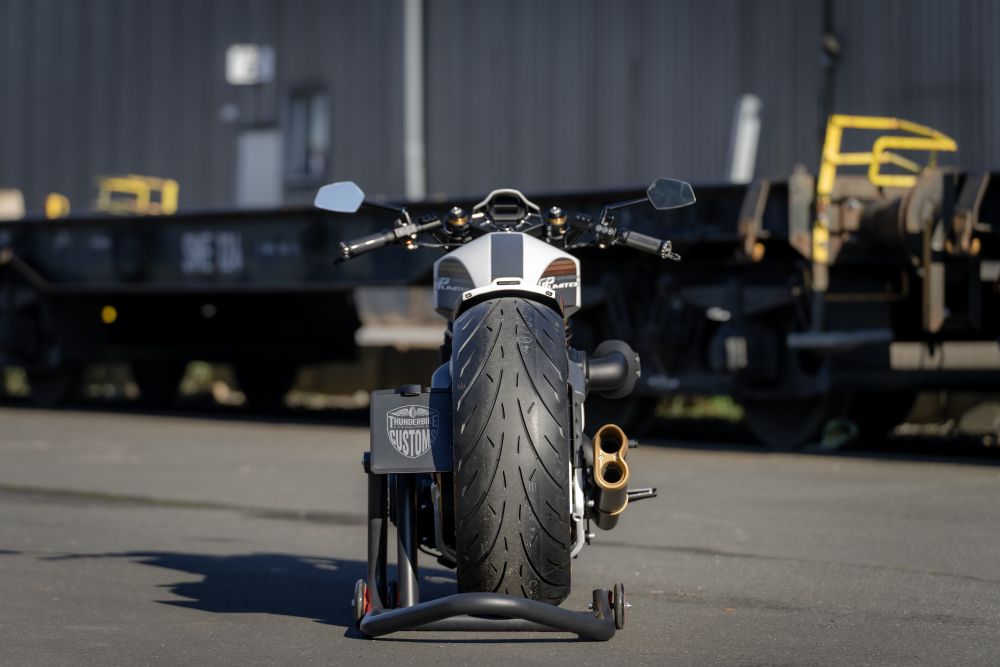 Finally, the Thunderbike Air Ride Suspension Kit completes the motorcycle, allowing riders to customize their riding experience and ensure maximum comfort.
In conclusion, the Harley-Davidson Softail Breakout GP-Limited 'Highflyer' by Thunderbike from Germany is a motorcycle that is not only stylish but also delivers a powerful performance. With its customized features and attention to detail, it is a motorcycle that any rider would be proud to own. To learn more about this motorcycle or to make a purchase, contact [email protected]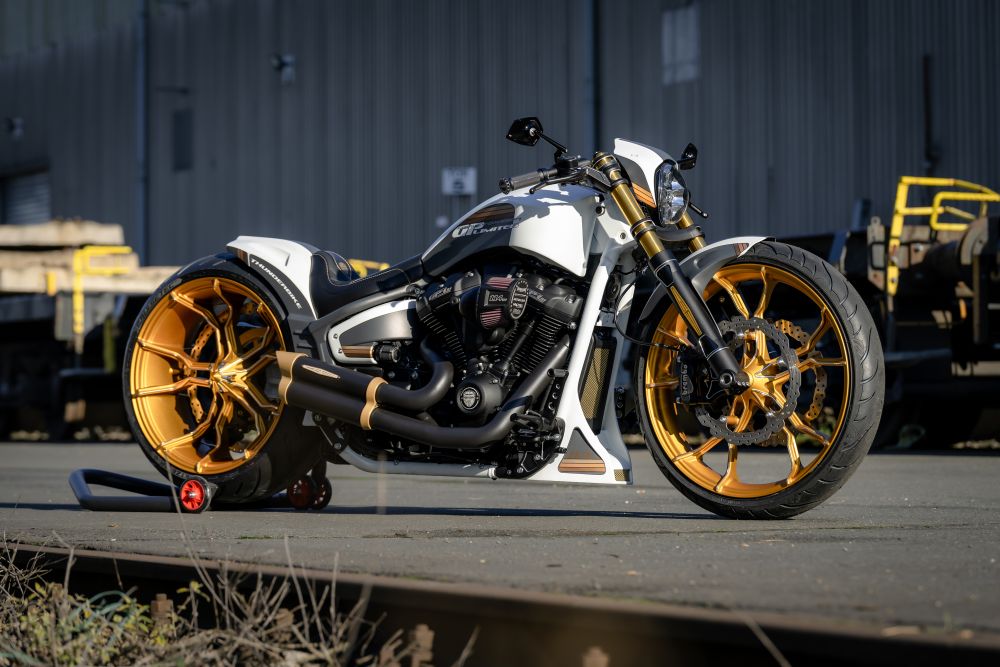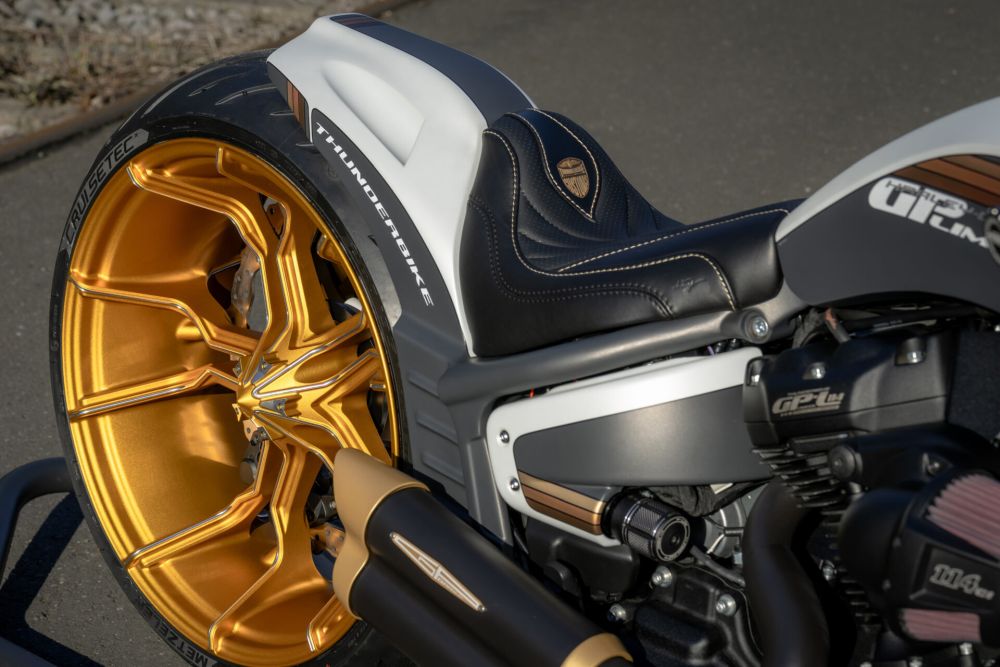 Breakout parts:
Thunderbike EFI-Cover black wrinkle
Thunderbike Exhaust System Grand Prix
Thunderbike Frontend Grand Prix
Thunderbike Clip-On Handlebars Grand Prix bicolor
Thunderbike Headlamp Cap black
Thunderbike Hydraulic clutch Conversion Kit black
Thunderbike Phantom E Grips
Thunderbike Toppers Base
Rebuffini RR90 Control & Switch Set hydraulic, black matt
Motogadget Mirror mo.view Race left
Thunderbike Forward Controls Grand Prix black
Thunderbike Rider Footpegs V-Tech Design
Thunderbike Turn Signals Stripe LED with housing
Thunderbike Custom Fuel Tank GP-Style
Thunderbike Ignition Coil Relocation Kit for Air-Ride switch, black
Thunderbike Axle Cover Swingarm left
Thunderbike Axle Cover Swingarm right
Thunderbike Front Fender GP Style
Thunderbike License Plate Frame Inside Plate
Thunderbike License Plate Lighting
Thunderbike Timer Cover New Custom
Thunderbike Derby Cover Drilled contrast cut
Thunderbike Brembo Radial Monoblock M4 Caliper Set black
Thunderbike Brake Disc Streetmaster
Thunderbike Single-Side Swingarm Kit 21" Alu
Thunderbike Pulley Grand Prix
Thunderbike Grand Prix rear wheel 9.0×21
Thunderbike Grand Prix front wheel 4.0×23
Metzeler Cruisetec Rear Tire 260/35VR21 83V
Avon Tyres Avon Cobra Chrome , Front/Rear, 130/60VR23 (65V)
Thunderbike Air Ride Suspension Kit