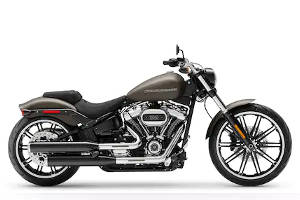 Builder THUNDERBIKE
Contact [email protected]
Custom painting Kruse design
Country Germany
Model H-D Breakout
Style Cruiser
Here we have used some of our very fine parts: Single swingarm, monoblock wheels in 21 and 23 inches and large brake discs give this custom bike a completely new image. Combined with the handmade aluminum parts like tank and rear fender, you could even talk about art on wheels. Including riding fun!
The mega flagship with parts from our GP Racing series
At the front, the TB triple clamps with cutouts and contrast cut in racing look from our CNC production catch the eye. They take the orig. instruments and are complemented by the chic, illuminated Rebuffini fittings, which are very modern and super user-friendly.
In the DLC-coated fork we use a new shock system from Bitubo, which allows perfect adjustment of rebound and compression. By using the orig. speedometer and the orig. electrics, the bike remains quite normal CAN bus capable and the functions of the series vehicle can still be used.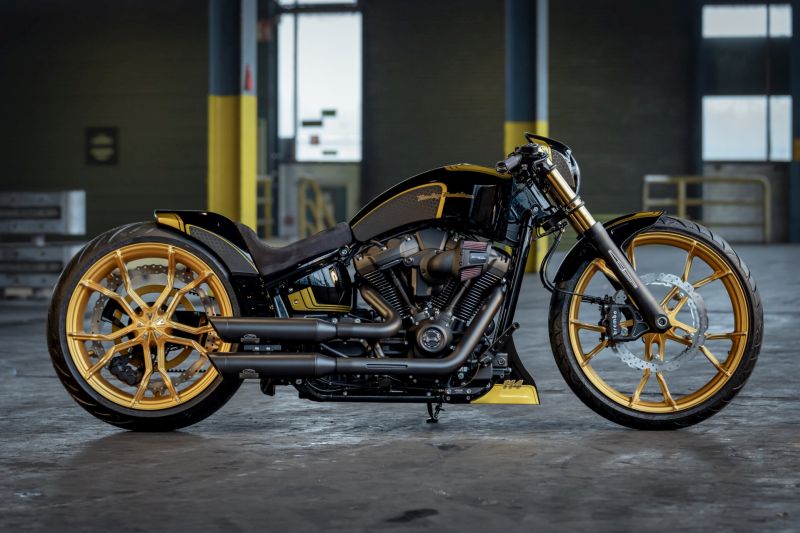 In this type of conversion, of course, the wheels and tires are particularly important. For several years, Metzeler exclusively manufactures tires for our needs. After the ME 88 and the Triple 8 (ME 888), it is a fat Cruisetec that we pull onto our 9×21 inch monoblock wheel.
This wheel – just like the front one (4×23 inches) – was milled from solid aluminium and optimized for weight in the process. The resulting savings in unsprung mass are immediately noticeable when driving. And it's chic, too: The special design allows us to run the wheel design right into the rim flange and close to the hub in the middle.
Not only in terms of chassis technology is the best just good enough: For example, such aluminum tanks and rear parts are created in elaborate manual work from tens of individual parts. This artistic work is particularly evident on the rear end, which is welded to the frame and appears to be cast from one piece.
Kruse Design has again immortalized itself on the paint parts and visually reinforced the shape of our parts with its color design. Is there a better color than a rich gold for a custom bike in this league? Hardly. We have therefore also chosen this color for the monoblock wheels and the fork.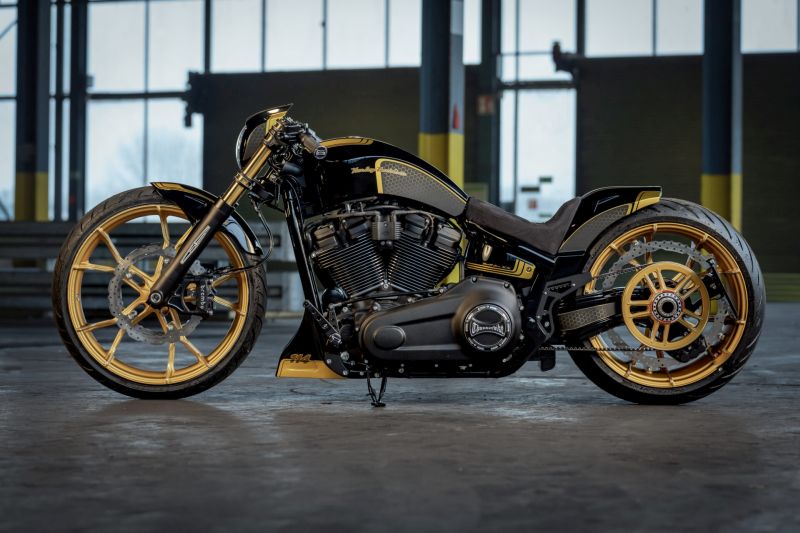 Breakout parts
Thunderbike Frontend Grand Prix
Thunderbike Clip-On Handlebars Grand Prix bicolor
Thunderbike Headlamp Cap black
Thunderbike Custom Fuel Tank GP-Style
Thunderbike Single-Side Swingarm Kit 21" Alu
Thunderbike Pulley Grand Prix
Thunderbike Grand Prix rear wheel 9.0×21
Thunderbike Grand Prix front wheel 4.0×23
Thunderbike Brake Disc Streetmaster
Thunderbike Front Fender GP Style
Thunderbike Brembo Radial Monoblock M4 Caliper Set black
Thunderbike Chin Fairing GP Short GRP
Thunderbike Forward Control Kit black
Thunderbike Rider Footpegs V-Tech Design
Thunderbike Rear Fender GP-Style 260 mm
Thunderbike Grips Base Satin black cut
Thunderbike Toppers Base
Thunderbike License Plate Frame Inside Plate
Thunderbike Timer Cover Torque with Logo
Thunderbike Derby Cover Torque Logo
Harley-Davidson Screamin Eagle Heavy Breather Elite Air Cleaner black
Harley-Davidson Screamin Eagle Stage II Torque Kit
Rebuffini RR90 Control & Switch Set hydraulic, black matt
Metzeler Cruisetec Rear Tire 260/35VR21 83V
Avon Tyres Avon Cobra Chrome , Front/Rear, 130/60VR23 (65V)
Kruse Design Special Custom Painting
Dr. Jekill & Mr. Hyde Exhaust System