The Harley-Davidson Breakout Custom "RAZOR 2.0" by Thunderbike from Germany is the subject of this post.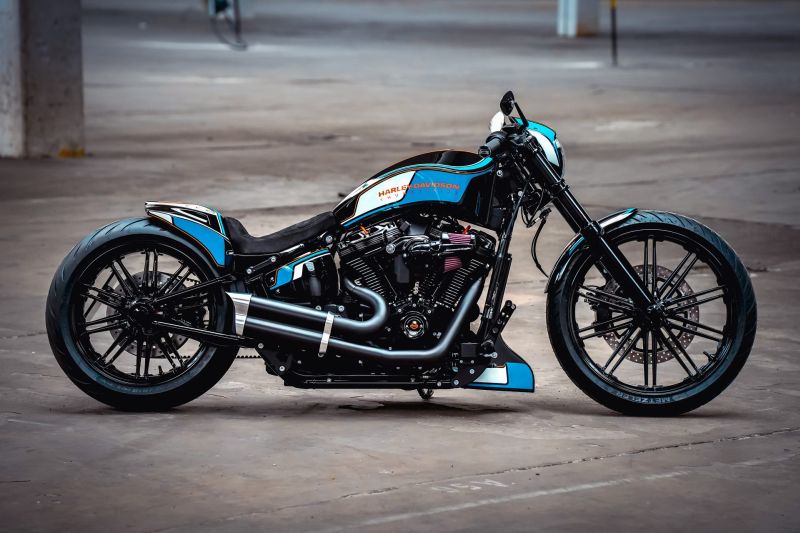 Thunderbike took inspiration from their Razorback model, known for its razor-sharp edges and the seamless line that runs across the tank, fenders, and spoiler from their GP Style series.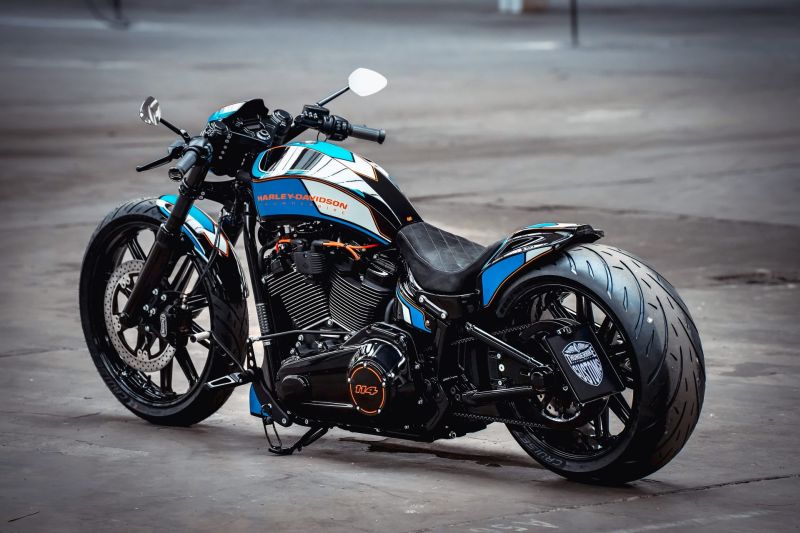 The starting point for this project was the Breakout, which had a more rounded shape.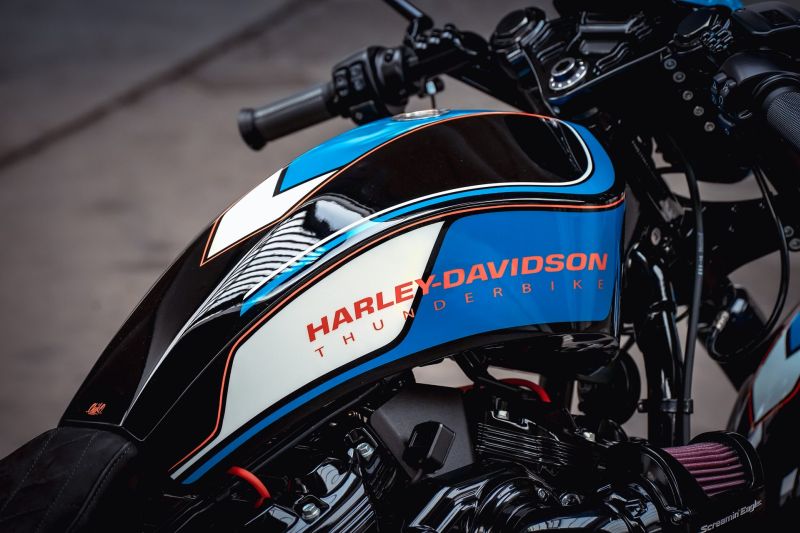 The goal with the conversion to the Razor 2.0 was to inject an additional dose of sportiness.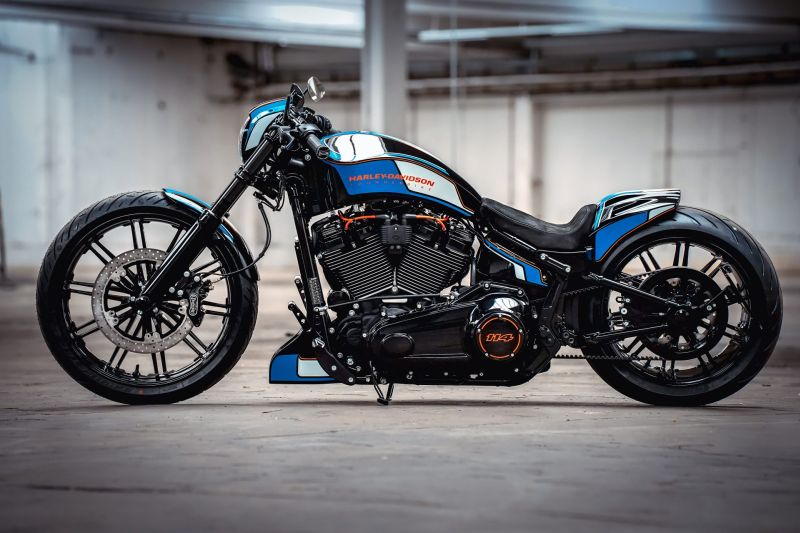 To achieve this, they incorporated triple clamps and stub handlebars from their GP Style Series, making the Razor 2.0 even sportier compared to the Razorback.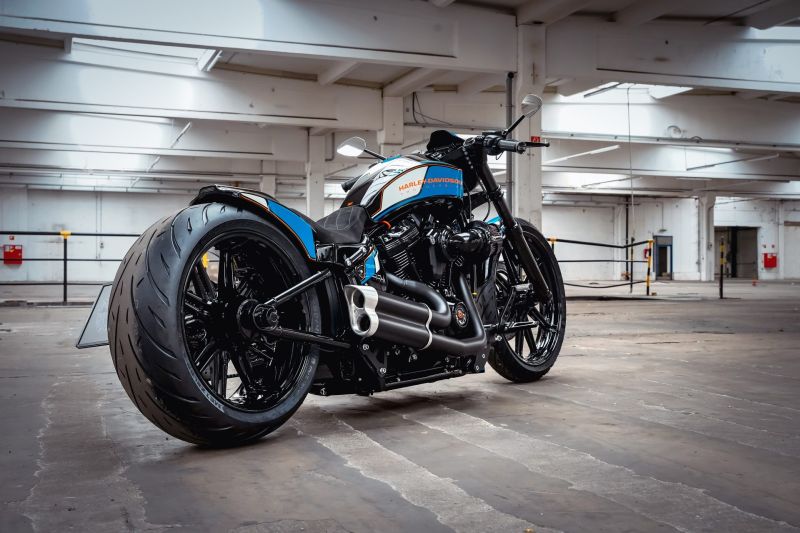 One cannot overlook the remarkable four-color scheme conceived and executed by Chiko of Chiko's Pinstriping.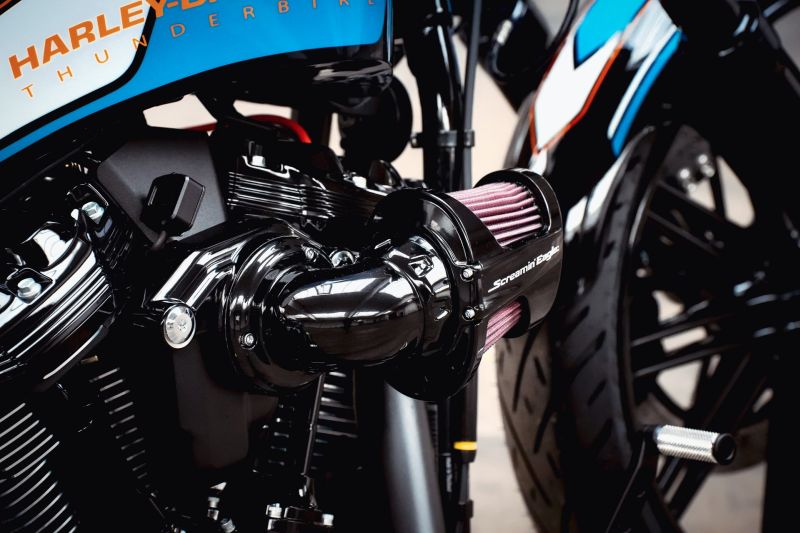 This is especially noteworthy since certain parts, including the engine cover, received a black powder coating, and the fork was DLC-coated, resulting in a striking deep black appearance.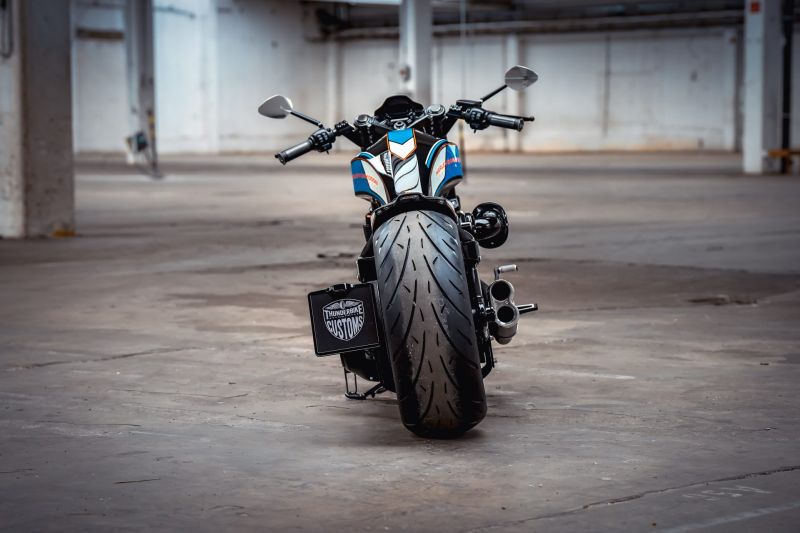 The rear end was lowered using Air Ride, ensuring a comfortable resting position on the thick rubber tires.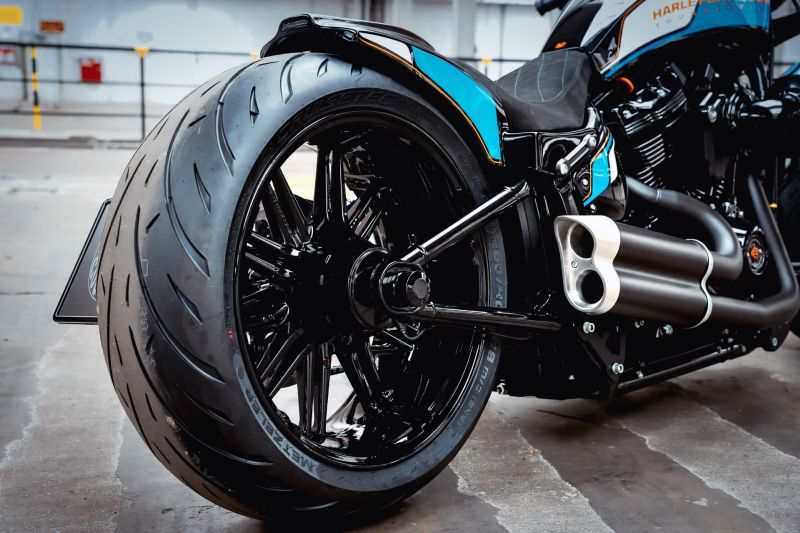 The 260 Metzler tire from the new generation was beautifully showcased through the relocation of the license plate and the installation of a left-hand pulley brake.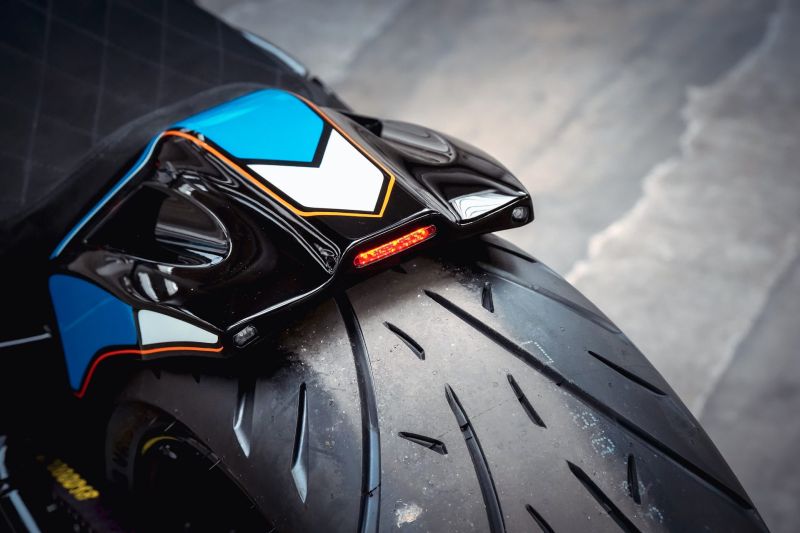 This required modifications to the swing arm, rim, and pulley.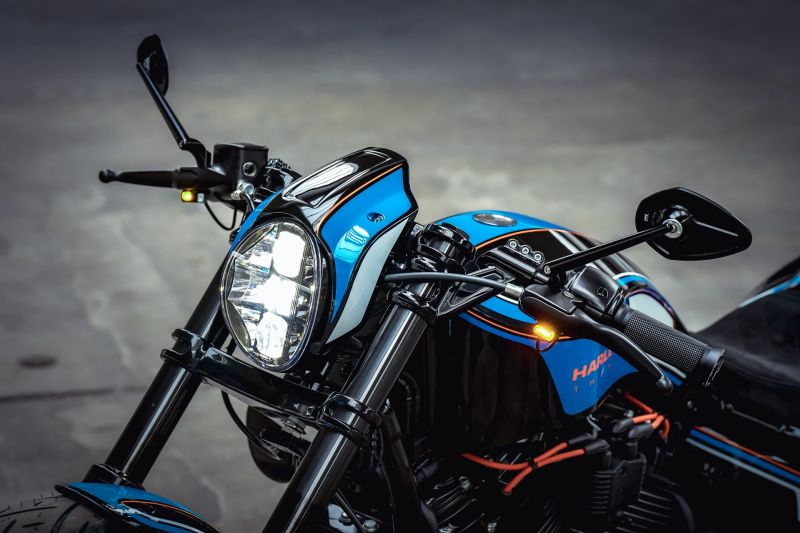 To boost the power and sound of the muscle bike, they equipped it with the Screamin' Eagle Stage II Torque Kit, their Grand Prix Exhaust System, and the Heavy Breather.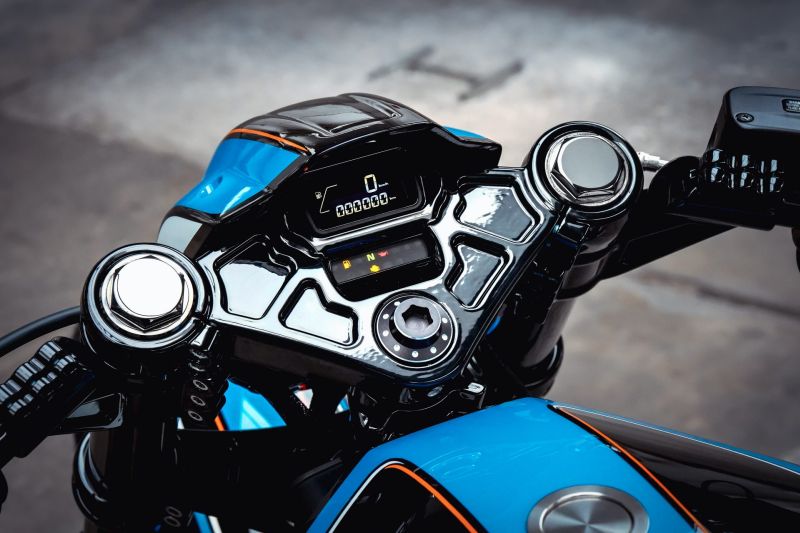 Thunderbike Rear Fender GP-Style 260 mm
Thunderbike Custom Fuel Tank GP-Style
Thunderbike Chin Fairing GP Style Long
Thunderbike Seat Plate
Thunderbike Air Ride Suspension Kit
Thunderbike Triple Tree Grand Prix bicolor
Thunderbike Clip-On Handlebars Grand Prix bicolor
Thunderbike Headlamp Cap Alu raw
Thunderbike License Plate Frame Inside Plate
Thunderbike License Plate Lighting
Thunderbike Pulley Brake Kit Original Wheel
Thunderbike Brake Disc Vegas Floated 340mm
Thunderbike Brake Caliper Adapter 300->340mm, left black
Thunderbike Brake caliper cover
Thunderbike Ignition Coil Relocation Kit for Air-Ride switch, black
Thunderbike Frontfender Breakout 21"/23"
Thunderbike Turn Signals Stripe LED with Housing
Thunderbike Toppers Base
Thunderbike Rear Axle Cover Set
Thunderbike Front Axle Cover-Set
Thunderbike Axle Cover Swingarm left
Thunderbike EFI-Cover with Manometer Bracket black wrinkle
Thunderbike Exhaust System Grand Prix
Harley-Davidson Screamin Eagle Heavy Breather Performance Air Cleaner, black
Harley-Davidson Screamin Eagle Heavy Breather Billet Aluminum Filter Cover, black
Harley-Davidson Cover Battery Right, Gloss Black
Motogadget mo.View Mirror Sport black
Thunderbike Forward Controls V-Tech
Metzeler Cruisetec Rear Tire 260/40VR18M/CTL 84V
Metzeler Cruisetec Front Tire 130/60B21M/CTL 63H