Builder ROARING TOYZ
Contact [email protected]
Country United States
Model Suzuki Hayabusa
Style Outside drive
When Kawasaki unleashed the Ninja ZX-14 back in 2006 they forever changed the landscape of the American Sportbike scene. Even more revolutionary than the big bike was the manner in which Kawasaki chose to market it. Rather than relying on the traditional racer endorsed advertising backed by knee dragging visuals, Kawasaki put two brand new big bikes into the hands of Robert Fisher of Roaring Toyz and asked Fisher to work his magic.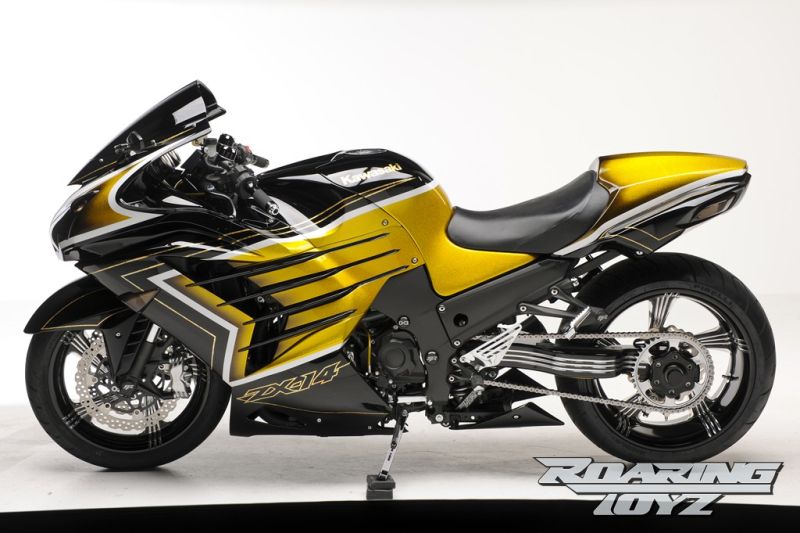 The marketing minds at Kawasaki knew that in order to capture the interest and imagination of Sportbike enthusiasts they needed to do more than just demonstrate the bike's performance capabilities; they needed to showcase the motorcycle's intense aesthetic appeal. In response Fisher created two fully customized Ninja ZX-14s that would take the motorcycle industry by storm, popping up in magazines, blogs and videos from across the world.
So when it came time to introduce the 2012 Ninja ZX-14 to the world the marketing gurus over at Kawasaki knew just who to turn to. "I was incredibly excited when I picked up the phone!" Robert Fisher grins remembering the day he got the call from Kawasaki executives regarding the 2012 launch. "Over the past decade I've had an amazing relationship with the folks over at Kawasaki. Together we have worked on a number of exciting custom projects including the most recent custom Kawasaki Vulcan Vaquero. But the ZX-14 is close to my heart. It's an amazing motorcycle that really transformed our industry, and my business, and I couldn't wait to get my hands on the new model."Once the 2012 ZX-14 was off the truck and torn down, Fisher got to work integrating a variety of custom parts and accessories designed to accentuate and highlight the bike's aesthetic and performance qualities. Fisher started by adding four inches of stretch to the big bike's back end with the addition of a Roaring Toyz 240 CNC billet machined single sided swingarm custom contrast cut to perfectly compliment the Performance Machine Platinum Finish wheels.
"The custom contrast cut swingarm and the matching Performance Machine wheels look stunning on this bike!" Fisher exclaimed. Having spent over a decade designing, engineering, and testing his very own swingarms, Fisher is justifiably proud of this set up. "Like all Roaring Toyz swingarms, this swingarm looks incredible, especially when matched with the PM wheels, but it's also going to stand up to the toughest riding conditions and that's what really matters."
To add a little more juice to the ZX-14′s already impressive performance Fisher added a Brock's Performance Alien Head full Exhaust System. To ensure the ZX1-4 stops on a dime Fisher included Roaring Toyz own custom gold and black stainless steel brake and clutch lines.
As with all Roaring Toyz custom builds the devil is in the detail and the 2012 ZX-14 showcases a host of custom touches including M43 Powersports chrome plated clear clutch and stator covers, Roaring Toyz billet mirrors and gas cap and Roaring Toyz billet and rubber 'Hustler' grips with RSD billet bar ends. Roaring Toyz own billet contrast cut front and rear axle caps, Roaring Toyz contrast cut motor mount caps and contrast cut swingarm pivot caps ensure the contrast cut theme is carefully wound throughout the build, as do the Roaring Toyz billet contrast cut fork caps and contrast cut yoke stem cap.
Roaring Toyz Billet contrast cut lowering links enhance the 2012 ZX-14s aggressive stance while a cutting edge Roaring Toyz billet contrast cut lowering kickstand ensures the new ZX-14 sits sturdily.
This build was incredibly close to Fisher's heart, so the paint job had to be exceptional. Roaring Toyz go-to painter Ryan Hathaway cloaked the 2012 ZX-14 in candy pagen gold paint with metal flake, highlighted with black accents and real 24 karat gold leaf stripes for a spectacular finish.
The 2012 Ninja ZX-14 was officially unveiled at the Kawasaki 2011 dealer meeting October 10th in Orlando Florida. Robert Fisher was on hand to unveil the bike, chat with dealers and talk to the press. Enthusiasts lucky enough to be attending Biketoberfest this week in Daytona can look forward to seeing this exceptional motorcycle in person, as Roaring Toyz will be live on location with their new rig. Can't make it out to Daytona?
Hayabusa parts
Roaring Toyz 4″ Over 240 CNC Billet Machined Single Sided Swingarm
Custom Contrast Cut Swingarm Finish to match PM Wheels
PM Element Platinum Finish Wheels 17×3.5 / 18×8.5 Pirelli Diablo XXL 240 Rear Tire
Brocks Performance Alien Head Full Exhaust System
M43 Powersports Chrome Plated Clear Clutch & Stator Covers
Roaring Toyz Billet Mirrors
Roaring Toyz Chrome Quick-Release Gas Cap
Roaring Toyz Axle Caps
Roaring Toyz Fully Adjustable Lowering Links
Roaring Toyz Billet Contrast Cut Lowering Kickstand
Roaring Toyz Billet Contrast Cut Motor Mount Caps
Roaring Toyz Billet Contrast Cut Swingarm Pivot Caps
Roaring Toyz Billet Fork Caps
Roaring Toyz Billet Contrast Cut Yoke Stem Cap
Roaring Toyz Billet/Rubber Hustler Grips
Roaring Toyz Billet Exhaust Hole
Block Off Plugs
Roaring Toyz Color Custom Steel Braided Brake Lines
RSD Billet Bar Ends
Custom Paint by Ryan Hathaway
SUZUKI HAYABUSA VIDEOS