Builder THUNDERBIKE
Contact [email protected]
Custom painting Kruse design
Country Germany
Model H-D FXDR
Style Racer
From the series of our sporty FXDR Customs are now some GTs on the road! With different paint jobs and different details parts they all become unique. The GT Style built about a year ago comes closest to this conversion.
Again, the lines are changed with the bolt-on rear end, the big wheels in 21 and 23 " from our Big Speed series and the lowering to showcase the racing gene of this model. And the mapping from DON Performance, along with the air filter and short Jekill & Hyde system, ensures that everything is tickled out of the Milwaukee-Eight 114.
Adding to the original tank is our bow spoiler, headlamp cap, small fender and a terrific paint job by Ingo Kruse that accentuates our concept.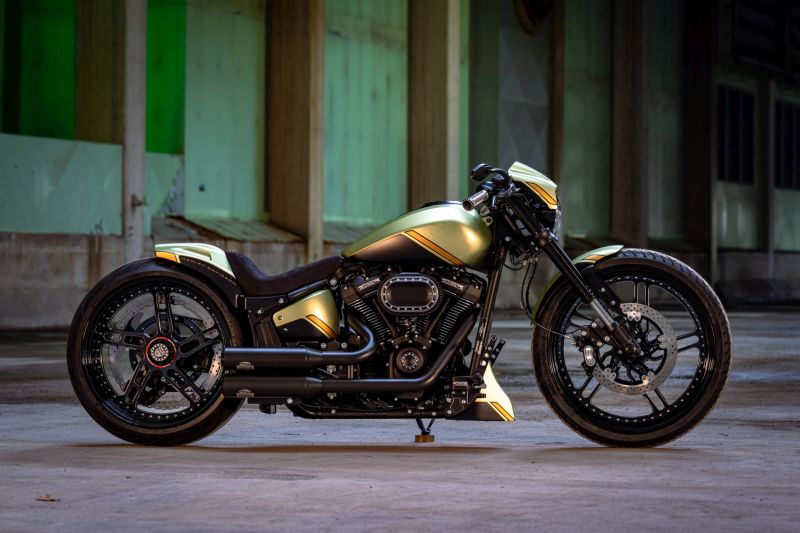 Thunderbike Fork Modification Lowering Destruction
Thunderbike Triple Tree GT 23"
Thunderbike Handlebar Clip-On Lowering black
Thunderbike Front fender GT 23" GRP
Thunderbike Chin Fairing GP Short GRP
Thunderbike Big Speed wheel
Thunderbike Single-Side Swingarm Kit 21" Alu
Thunderbike Pulley Big Speed
Thunderbike Brake Disc Floated Big Speed 340mm
Thunderbike Slamtail Suspension Kit
Thunderbike Rear Fender GP-Style 260 mm
Thunderbike License Plate Frame Inside Plate
Thunderbike Forward Controls Grand Prix black
Thunderbike Grip-Set Base Alu
Thunderbike Toppers Base
Motogadget mo.Blaze Pin Turn Signal Set
Thunderbike Tank Mount black
Thunderbike Airbox Cover Oval Drilled
Thunderbike EFI-Cover black wrinkle
Thunderbike Timer Cover Drilled
Thunderbike Derby Cover Drilled contrast cut
Thunderbike Front Axle Cover-Set black matte
Thunderbike Axle Cover Swingarm left
Shin Yo Mirror Set Luca black
Metzeler Cruisetec Rear Tire 260/35VR21 83V