HD FXDR Racing "GT Style" by Thunderbike
DARK KUSTOM Custom bikes
Rating:

7.7

/ 10
HD FXDR Racing "GT Style" by Thunderbike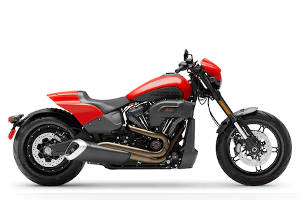 Harley Davidson FXDR for sale
With this conversion based on the Softail FXDR, we show how the look of our Racing Series can be achieved with some bolt-on parts. With a relatively simple work we have given this FXDR a fat racing style. Our bolt-on parts make it possible. Rear fender, seat and front spoiler are screwed on, the sporty paint design by Ingo Kruse underlines our concept perfectly.
This project shows once again that you can build a high-end custom bike with the bolt-on parts from our catalog. Front and rear fenders with seat shell as well as front spoiler and side covers are the molded parts that were replaced on this FXDR.
The handlebars and also the upside down fork were lowered and equipped with new bridges and brake caliper adapters to accommodate the 23″ wheel from our New Digger Series with the 340 brake discs. In our single-sided swingarm, the matching 21″ wheel with the discreetly labeled cover on the central locking system is shown to its best advantage.
Ingo Kruse's matt lacquer design emphasizes the sporty silhouette. The Screamin' Eagle Stage II and the Don Performance Mapping also reflected this in the interior of that bike.
Thunderbike Single-Side Swingarm Kit 21" Alu
Thunderbike Triple Tree GT 23"
Thunderbike Rear Fender GP-Style 260 mm
Thunderbike Front fender GT 23" GRP
Thunderbike Fork Modification Lowering Destruction
Thunderbike Handlebar Clip-On Lowering black
Thunderbike Grip-Set Base Alu
Thunderbike Toppers Base
Thunderbike Turn Signal Bracket front M8 black
Motogadget mo.Blaze Pin Turn Signal Set
Thunderbike Seat Plate
Thunderbike Chin Fairing GP Short GRP
Thunderbike Brake Disc Spoke Floated 340mm
Thunderbike Brake Caliper Adapter Set 300->340mm black
Thunderbike License Plate Frame Inside Plate
Thunderbike License Plate Lighting
Thunderbike Side Cover Kit gloss black
Thunderbike EFI-Cover black wrinkle
Thunderbike Timer Cover Drilled
Thunderbike Derby Cover Drilled contrast cut
Thunderbike Front Axle Cover-Set black matte
Thunderbike Axle Cover Swingarm left
Thunderbike Tank Mount black
Thunderbike Airbox Kit Oval
Thunderbike Airbox Cover Oval Drilled
Thunderbike Exhaust System Grand Prix
Harley-Davidson Screamin' Eagle Stage II Torque Kit
Metzeler ME888F Front Tire 130/60B23 M/C TL 65H
Metzeler ME888 Rear Tire 260/35VR21 83V
Motogadget mo.view race Metal Mirror, Right, Black
Motogadget mo.view race Metal Mirror, Left, Black
GT Edition
HD FXDR Racing "GT Style"