Builder RICK'S MOTORCYCLES
Contact [email protected]
Country Germany
Model Harley-Davidson Softail
Style Cruiser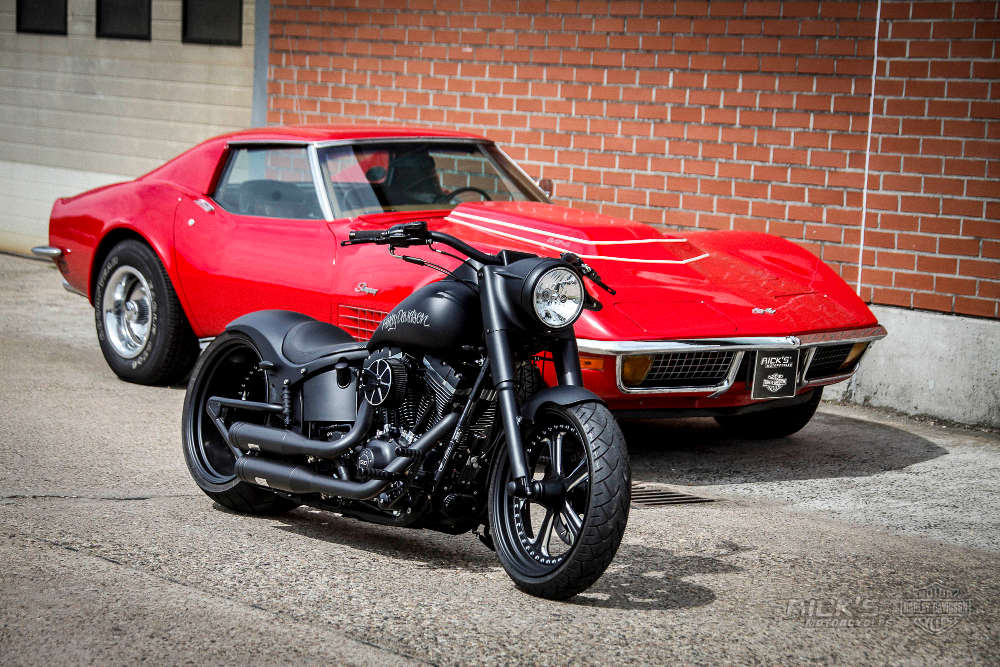 Is it still a number darker?
The answer to this question: Probably not! Otherwise, in place of this custom Harley, a "black hole" would grace the screen and suck in all visible light! Anyone who knows the Rick's team knows that Baden-Baden has already put many a "dark" bike on the design wheels (in a positive sense of course, because many Rick's customers still find "Black is beautiful"), but this semi-matt creation beats in some ways, even the F-117 "Nighthawk" Stealth Fighter! Not in the "Skunk Works" by Lookheed, but in the metal workshop of Rick's was this exclusive bike, with which you easily fly through "under the radar", you should turn up the massive 110 Cubic Inch Twin Cam times to the stop! Even in the production version, this engine offers an incomparable driving experience – and already pulls the series "Fat Boy" of 2016 vigorously forward.
Once again, the Rick's team reached deep into the (T) Rick box and widened the rear with the "Rick's Trick'n'Roll kit with redirection", the GIMMI 5 design wheel with Drive Side braking system tightens up a really fat 300 Metzeler 10.5 inches wide on! Stretchtank and exactly adapted rear part are from Rick's – Harley-Davidson, thanks to the machine comes out without taillight. This function (and the brake light) is taken over by the two bullet turn signals from Rizoma. Those are very bright, but who is traveling at night and in the rain – especially with this paint job – should not overestimate its visibility.
Twin cam clutch cover in front there is not only an adequate "GIMMI 5" wheel to see, but also the Rick's "Good Guys" fork, which changes the look of the former "Fat Boy" decisively. Instead of bulky chrome headlights now "V-Rod" headlights in matt black. Watch out!
With every amount of Rick's accessories, almost every memory of the "Fat Boy" has been eradicated. In addition, there are Kess Tech manifolds and end pots, so that this bike is at least not overheard! For the extreme paint dress – and in this case, the flawless workmanship is visible on every square millimeter and requires the most careful preparation – is responsible for Marcel Sinnwell. Unfortunately, unfortunately, this is not the nanocomposite paint of the F-117, which makes the "Stealth Fighter" as well as the SR 72 and the B2 invisible to the radar. So even at the next speed camera applies: From the gas!
Air Cleaner Rick's Motorcycles Good Guys
Exhaust System Dr.Jekill and Mr.Hyde
Fork Harley-Davidson
Swingarm Rick's Motorcycles 300
Shock Legend Air
Wheels Rick's Motorcycles 11,5″ x 18″ 4,5″ x 18″
Tyre Metzeler 300/35 18″ 130/60 18″
Riser Rick's Motorcycles
Handlebar Harley-Davidson Narrow
Grips Rick's Motorcylces Good Guys
Pegs Rick's Motorcycles O-Ring,+2″
Gas Tank Rick's Motorcycles
Front Fender Rick's Motorcycles 18″
Rear Fender Rick's Motorcycles
License Plate Holder Rick's Motorcycles
Mirrors Rizoma
RICK'S MOTORCYCLES VIDEOS