Harley Davidson Custom Street Glide Touring by Thunderbike
DARK KUSTOM Motorcycles 2023
Rating:

7.9

/ 10
Harley Davidson Custom Street Glide Touring by Thunderbike
A complete Thunderbike customization of the Harley-Davidson Street Glide with 30″ front wheel in Spoke Light design.
The forged Aluminum Wheel is black anodized and contour-milled (bicolour-cut) and with a size of 4.00 x 26 it can be easily mounted in our Daytona Bolt-On excavator rake kit. Including mount for the frame-fixed fairing!
The chin fairing – the addition to our Bagger parts such as the Daytona rear fender case kit (Deep-Cut), the alu custom tank and the 26″ front fender Daytona. The radial kit in combination with our 340 brake discs provides a high torsional rigidity and very good braking performance on 26″ wheels.
Bolt-On Bagger Rake Kit Daytona – Due to the special construction, no changes to the vehicle are necessary despite the extreme fork position. The standard driving dynamics is maintained by the tail of 175mm.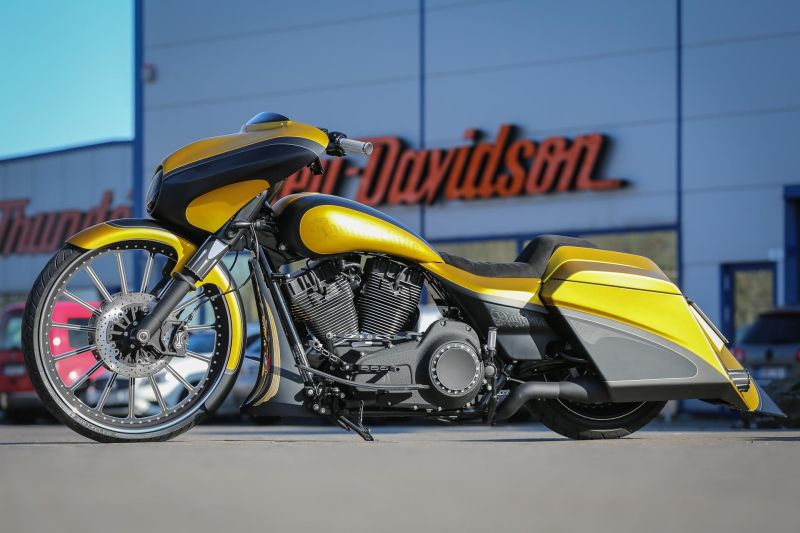 All original parts such as: Exterior and interior trim (Road Glide, E-Glide, Road King and Street Glide), fork length, turn signal mount, steering lock, steering stop, headlight etc. are preserved and do not need to be changed. On Road King triple trees, a headlamp cap is included to compensate for the headlight position, Road Glide parts include mounting for the frame-fixed fairing.
THUNDERBIKE VIDEOS
Top motorcycle videos