Builder THUNDERBIKE
Contact [email protected]
Custom painting Kruse design
Country Germany
Model H-D Fat Boy
Style Ape hanger
With this limited anniversary edition of the Fat Boy to the 115th of the company has anything but limitation in mind!
You can recognize the 115th birthday by the paint in Legend Blue Denim and the logo in a somewhat snotty tattoo style. Master Kruse carried it on brilliantly on our newly added parts like the fenders, the spoiler and the cover.
Our popular Force style is again characterized by the single-sided swingarm, wheels in 21 and 23″ (orig. 18″), air ride and lowering at the front and rear, and high handlebars.
The exposed fat rear tire burns with the 131 cui kit from Screamin' Eagle with round about 130 hp in the street. Thus, this fine bullet goes to a Dutch customer, a registration for German roads is still in work.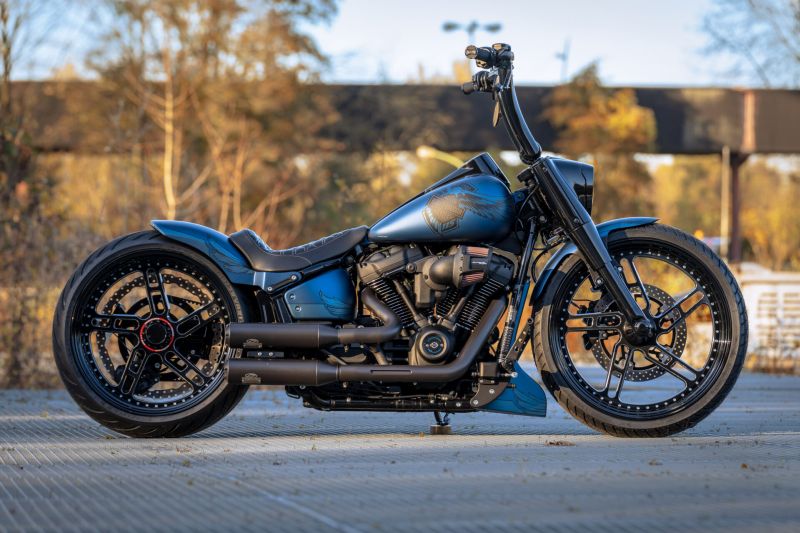 H-D Fat Boy parts
Thunderbike Single-Side Swingarm Kit 21" Alu
Thunderbike Big Speed wheel
Thunderbike Pulley Big Speed
Thunderbike Brake Disc Floated Big Speed 340mm
Thunderbike Rear Fender Steel 260 mm
Thunderbike Air Ride Suspension Kit
Thunderbike Seat Plate
Thunderbike Chin Fairing GP Style Long
Harley-Davidson Screamin' Eagle Stage IV 131 ci Kit black/highlighted
Harley-Davidson Screamin' Eagle Heavy Breather Elite Air Cleaner black
Thunderbike License Plate Frame Inside Plate
Thunderbike License Plate Lighting
Thunderbike Front Fender 23" Fiberglass
Thunderbike Tele Fork Lowering Kit
Thunderbike Toppers Base
Harley-Davidson Hand Control Lever Kit black
Thunderbike Mirror Joker
Thunderbike Front Axle Cover-Set
Thunderbike Axle Cover Swingarm left
Thunderbike Cover Tank to Seat, black
Thunderbike Derby Cover Torque Logo
Thunderbike Turn Signals Stripe LED with Housing
Thunderbike Ignition Coil Relocation Kit for Air-Ride switch, black
Thunderbike Tank Mount black
Thunderbike Hydraulic clutch Conversion Kit black
Küryakyn Kool Kaps Engine Kit gloss black
Metzeler Cruisetec Rear Tire 260/35VR21 83V
Metzeler ME888F Front Tire 130/60B23 M/C TL 65H
Dr. Jekill & Mr. Hyde Exhaust System
Kruse Design Special Custom Painting