Harley Softail Breakout "Performance" by Rick's Motorcycles
DARK KUSTOM Motorcycles 2022
Rating:

7.7

/ 10
Harley Softail Breakout "Performance" by Rick's Motorcycles
7.7
Builder RICK'S MOTORCYCLES
Contact [email protected]
Country Germany
Model Harley-Davidson Softail
Style Cruiser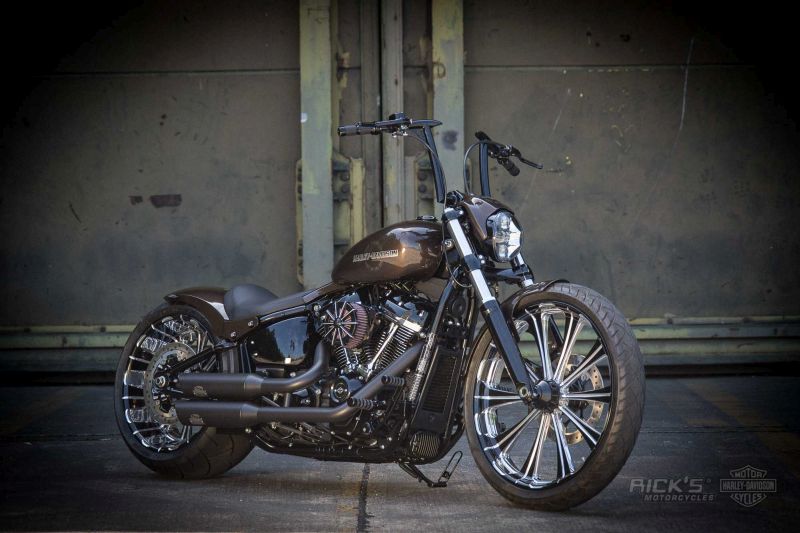 For this project it was decided to use somebody else's, namely Performance Machine wheels from their Contour Collection in Platinum Cut. At the front is a 3,5 x 23 inch and at the rear a 9 x 18 inch Made in the USA. The extreme contrast between the black and the blank polished surfaces is especially impressive, and Rick's wheel covers fit of course the contour of the wheels. The steel rear fender can be ordered from Custom Chrome or direct from Rick's and included are a mounting kit and the seat base plate. In order to conceal the gap between the tank and the seat, Rick's developed a special tank cover which hugs the seat on one side and the tank on the other. The foot controls are also Made by Rick's, and especially taller riders will appreciate the two-inch longer version. Rubber O-rings reduce the risk that boots slip off the controls, and the black, polished surface matches the black surfaces on the bike.
A further, relatively nondescript detail on this bike should however be noted, which is the headlight mask. While the stock headlight looks good and gives a brilliant light, the design was not further thought out by the Company. Latest when looking at it from the side, the stock part with its ribbed look seems less than perfect. Rick's mask conceals this weak point in a simple way and was one of the first parts which were developed in Baden-Baden for the Milwaukee-Eight Breakouts.
That Italians traditionally know a thing or two about design is a well known fact, and it was clear that this Breakout was to receive grips and instruments Made in Italy, and Rebuffini parts can now be found at both ends of Rick's handlebar. The latest generation supports the Can Bus on all Harley-Davidson Dyna, Softail and Sportster models which were made between 2011 and the latest model series. With six illuminated keys, almost all functions can be carried out, and in addition to indicators and lighting also activation of the ignition and the starter motor.
Rick's design air filters are also available for the 2018 models, but for the Custom Chrome Breakout it was decided to use the "Spoke" model in the two-tone version, which matches the bicolor wheels.
Since this year, the Custom Chrome catalog also carries Jekill and Hyde exhaust systems, so no question that these were first choice for this bike. The adjustable systems are also already adjusted to the new Milwaukee-Eight engines and thanks to EGABE legal on Europe's roads.
Text: Peter Schulz
Photos: Peter Schulz
Photographic Assistants: Dom. I. Nick & Prince Achim
Exhaust System Dr.Jekill and Mr.Hyde
Tailend kit Rick's Motorcycles
Front fender Rick's Motorcycles
Handlebars Rick's Motorcycles
Air cleaner Rick's Motorcycles
Foodpegs Rick's Motorcycles
Wheels Performance Machine
Tires Metzeler Marathon
Grips Rebuffini
Clutch Rebuffini
Brake Levers Rebuffin
RICK'S MOTORCYCLES VIDEOS
Top motorcycle videos