Builder RICK'S MOTORCYCLES
Contact [email protected]
Custom paint Sinnwell Design
Country Germany
Model Harley-Davidson Softail
Style Big ass
This custom bike was built by Rick's many years ago, but every few years the bike came back to Rick's in order to give it a new paint job, and this time Marcel Sinnwell was chosen to give it a matt green coat and to decorate it with skulls, roses and other motives.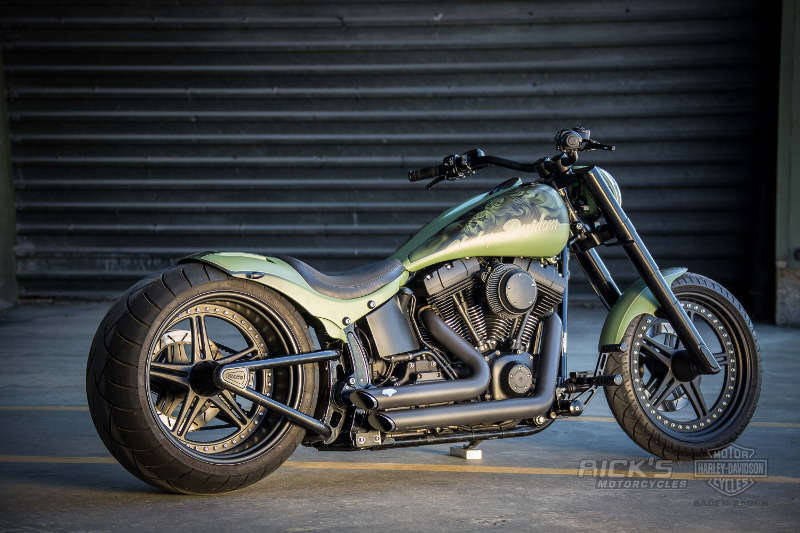 Text & photos: Peter Schulz
For all who can see that this bike has a lot more to offer than a really cool paint job should know what the proud owner actually wanted the first time round. Rick's 3-part design wheels coated in matt black are real classics and still available under the name 'Apollo'. Rick's swingarm kit supports the original rigid frame look and enables the use of wider tire dimensions. The short cut rear fender 'Race' is available in steel or for more price-conscious riders also in plastic reinforced fibre. The tank was elongated and received a cut-out, which runs to the tachometer inserted by Rick's.
The cleaner front end was also made in matt black in Baden-Baden; only the headlight was once intended for a V-Rod model. Rick's foot controls, grips and of course the adjustable brake and clutch levers are only a few accessories which are the icing on the cake for a harmonious concept bike look.
Exhaust system 

Vance and Hines Short Shots 2-in-2 Black