Builder RICK'S MOTORCYCLES
Contact [email protected]
Country Germany
Model H-D Breakout
Style Cruiser
As already mentioned, the Breakout is already stretched quite long and has a total length of 2,370 mm with a wheelbase of 1,695 mm, a steering head angle of 34 degrees and a 145 mm trail. While at the front is a 21 inch wheel, for the rear wheel an 18 incher was selected. This was the basis of the build, and if it would have been decided to deviate from this, that would not only have meant considerably changing the Breakout gene, but also a massive increase in costs.
For this reason, every step was carefully considered, the most striking of which is the paint. Aurum comes from Latin and means gold, which explains the name of the bike. The wheels are the stock version and simply powder-coated in a golden tone. Instead of the stock 240 tire at the rear, Rick's used the 260 Metzeler. This tire looks much beefier and performs well in bends. In addition, the tire fits into the stock swingarm without an offset kit.
The rear fender was made completely new by Rick's and it offers the rear fenders in steel also as a complete kit, including the seat base plate, tank cover and mounting kit. By the way, the program comprises suitable steel rear fenders for all Harley-Davidson models. This also applies to front fenders, which are also made by Rick's in small series and which are also in the program for all other Harley-Davidson models.
Apart from Rick's headlamp mask for Breakout models, none of the accessories used is model-specific. The air filter that was chosen is available at Rick's under the name "Apollo". Apart from the fact that the design perfectly matches the "Lakester" cast wheels, any of the other seven design motives could have been chosen. All of Rick's air filters are available for almost all Harley-Davidson models.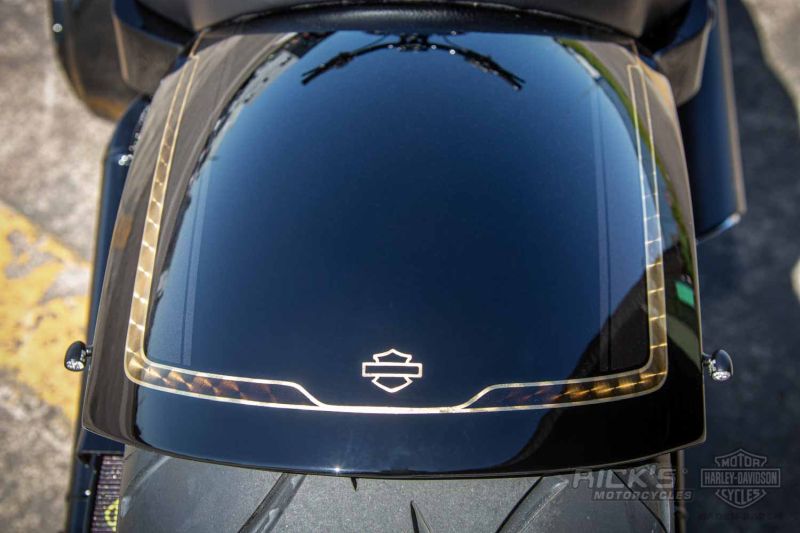 The rubberized Rick's grips are available for E-throttle and throttle cable. Derby covers, belt covers and side license plate holders are made by Rick's also for almost all other models. That only leaves to clarify the question about the indicators. At the front, Kellermann "Atto" indicators were fixed with Rick's adapters below the handlebar onto the mirror screw. At the rear, the Kellermann Atto DF was screwed directly into the struts. This is the 3 into 1 version, which combine rear light, brake light and indicator in a tiny housing. Both pairs come with an ECE certificate and are street legal.
Text & photos: Peter Schulz
RICK'S MOTORCYCLES VIDEOS