Builder RICK'S MOTORCYCLES
Contact [email protected]
Country Germany
Model Harley-Davidson Sportster
Style Bobber
With the "Forty Eight", Harley-Davidson created one of the most popular Sportsters with stock fat wheels. Two 16 inch rims serve as a reminder of the Bobbers built just after the second world war – a treat for customizers! Rick's Harley-Davidson went one step further and created on the basis of the model their own motorcycle style: ""survival bikes" running on fat, knobbly tires, which look like a two-wheel version of a tractor, which resemble "Rokon" motorcycles with 4-wheel drive. The "Big Foot" bikes were a big success and are still in demand in various paint jobs and other variations.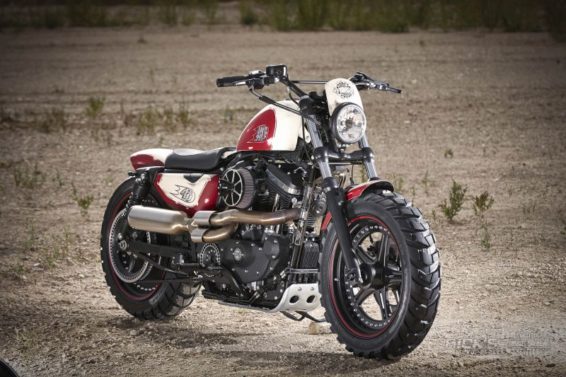 The look is based on the enlargement of the wheel diameter to a 17 inch wheel set front and rear; in this case Rick's "Apollo" design wheels with 4.5" rim width at the front and 6" at the rear on a Rick's Motorcycles disc wheel – black powder-coated, matching the engine, and with matching brake discs and pulley. Knobbly tires are from Metzeler and also allow rides on rough terrain.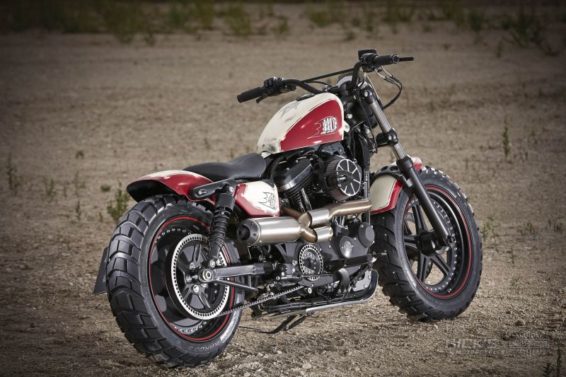 A wide dirt track handlebar and small handlebar fairing dominate the "commando stance". On this bike nothing is superfluous and functionality is top priority. The two short fender at front and rear don't protect the bike and rider from mud – or rain on asphalt – but the shield at the bottom of the engine does so from larger pieces when riding off road. On request, the stock swingarm of the "Big Foot" can be reinforced by Rick's team with additional bottom struts, and also the primary pulley conversion is a favoured variation.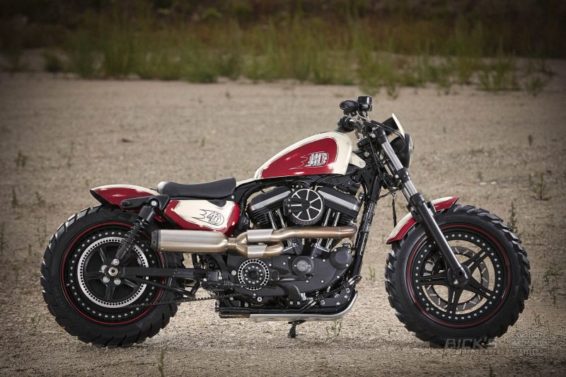 Rick's "Good Guys" air filter and BSL's "The Bomb" exhaust systems are further additions to this extreme bike, which does not need any modifications to the frame, and also keeps the popular "peanut" tank of the stock bike.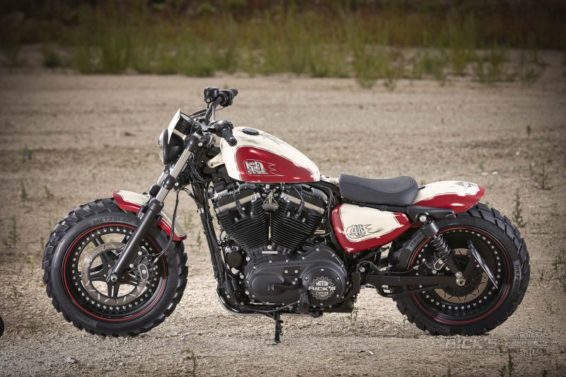 Rick's Motorcycles is prepared for the "Tracker style" wave because all parts were developed based on practical experience and with passion: Rick himself is not only and experienced Harley rider on the tarmac, but in his little spare time he also rides a trials bike. Several "Big Foot" Sportster conversions have already been carried out and more are in preparation. If you want to convert your "Forty Eight" into a "Dirty Eight", Rick's Motorcycles can achieve this in very little time…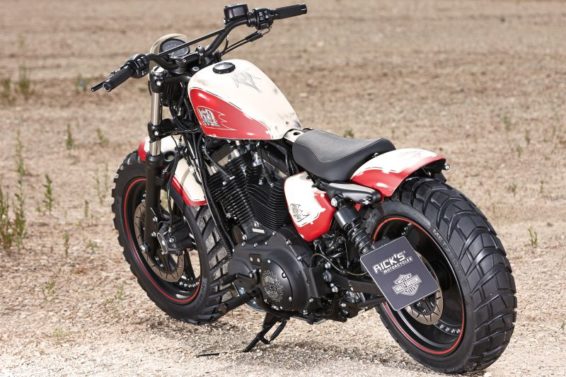 RICK'S MOTORCYCLES VIDEOS