Builder THUNDERBIKE
Contact [email protected]
Custom painting Kruse design
Country Germany
Model H-D FXDR
Style Racer
The single-sided swingarm, the lowrider wheels in 21 and 23 inches, the wide steel rear end and the spoiler give the GT-5 a mega-fat appearance!
The great thing about this custom bike: the rear and spoiler are welded like our GT-2 and not bolted on. Our GT fork bridge makes the installation of the large front wheel possible, at the rear our single-sided swingarm ensures the use of a wide large wheel. Lowering at the front and rear brings us back down to the desired level.
In the end, it's the big package of lid and cover that visually rounds out Master Kruse's slick paint job. The gloss black powdercoated parts and the black brushed parts from Harley's Dominion series perfectly complement the bold colors on the paint parts.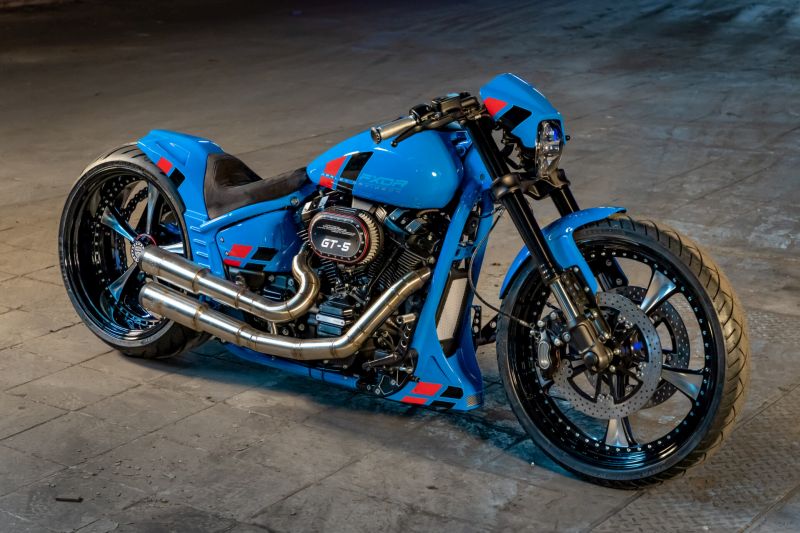 Thunderbike Single-Side Swingarm Kit 21" Alu
Thunderbike Triple Tree GT 23"
Thunderbike Lowrider Wheel
Thunderbike Pulley Vegas
Thunderbike Front fender GT 23" GRP
Thunderbike Fork Modification Lowering Destruction
Thunderbike Handlebar Clip-On Lowering black
Motogadget mo.Blaze Pin Turn Signal Set
Thunderbike Brake Disc Vegas Floated 340mm
Thunderbike Forward Controls Grand Prix black
Thunderbike Seat Plate
Thunderbike Grip-Set Base Alu
Thunderbike Toppers Base
Motogadget mo.view Sport Mirror black
Thunderbike Airbox Cover Oval Grand Prix
Thunderbike Side Cover Kit gloss black
Thunderbike EFI-Cover black wrinkle
Thunderbike Axle Cover Swingarm left
Thunderbike Front Axle Cover-Set black matte
Harley-Davidson Dominion Oil Fill Insert, Outer Primary – Brushed Black
Harley-Davidson Dominion Outer Primary Cover gloss black
Harley-Davidson Dominion Upper Rocker Box Covers – Gloss Black with Highlighted Slots
Harley-Davidson Dominion Transmission Side Cover black
Harley-Davidson Dominion Insert, Large – Brushed Black, HDMC
Harley-Davidson Dominion Cam Cover – Gloss Black with Hilighted Slots
Harley-Davidson Defiance Upper Rocker Covers, black