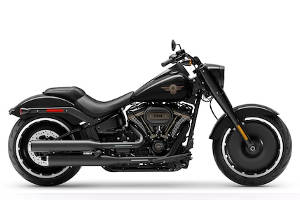 Builder RICK'S MOTORCYCLES
Contact [email protected]
Country Germany
Model H-D Fat Boy
Style Cruiser
Rick's offers complete conversion kits for almost all Harley-Davidson models. Each single one is largely handcrafted from high-quality steel. The material strengths of struts and fenders are so high that even a passenger can be carried without any problems. In addition to the suitable fender for the later tire dimension, the kits contain the correct seat base plate, a tank cover for a smooth transition from seat to tank and the necessary mounting kit.
So that the bike also looks good when stationary, an airride system was added. With this, the bike can, as required, be lifted to a desired ride level or lowered for an ultra-low look, as seen in these photos, in seconds by simply pressing a button. The steel front fender is also made by Rick's specially for the Fat Boy models. While here an extra short version was used, Rick's also offers another version in standard length.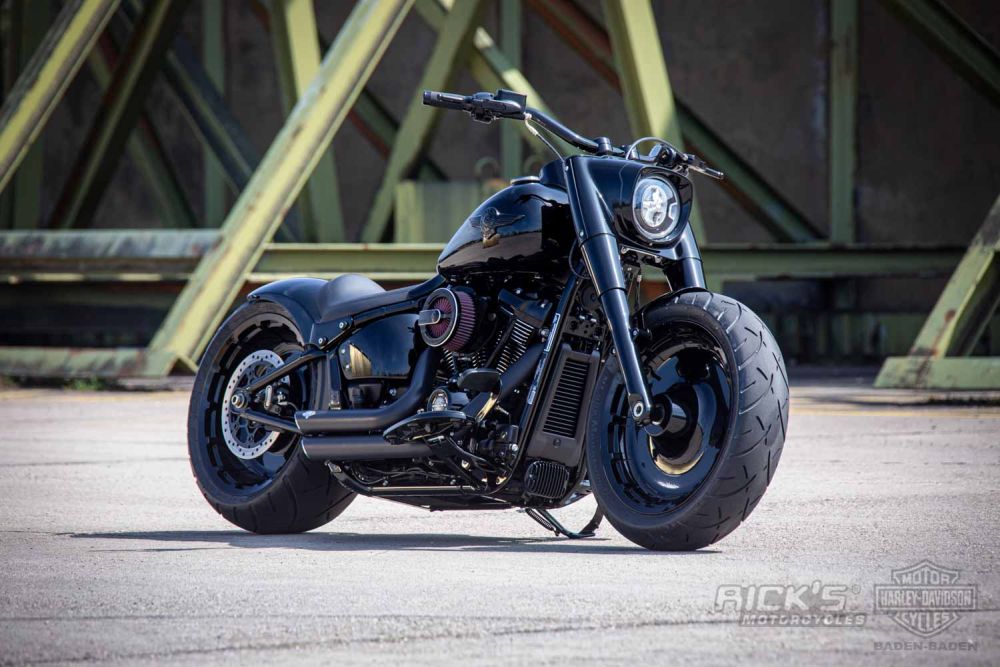 Handlebar and risers from Rick's ensure an optimized sitting position, and due to Rick's rubberized grips the hands find a safe halt. The adjustable brake and clutch levers are unbeatable. Depending on the size of the hands or gloves, the distance from grip to lever can be adjusted, and thanks to the supplied extensions, even the lever length can be adjusted. Rick's derby cover has a Makrolon window which allows a view of the clutch mechanics. Instead of the plastic stock belt cover, Rick's coated stainless steel belt cover was mounted. The side license plate holder on a Harley is almost a must, and on this Fat Boy it is, of course, also from Rick's Motorcycles' production.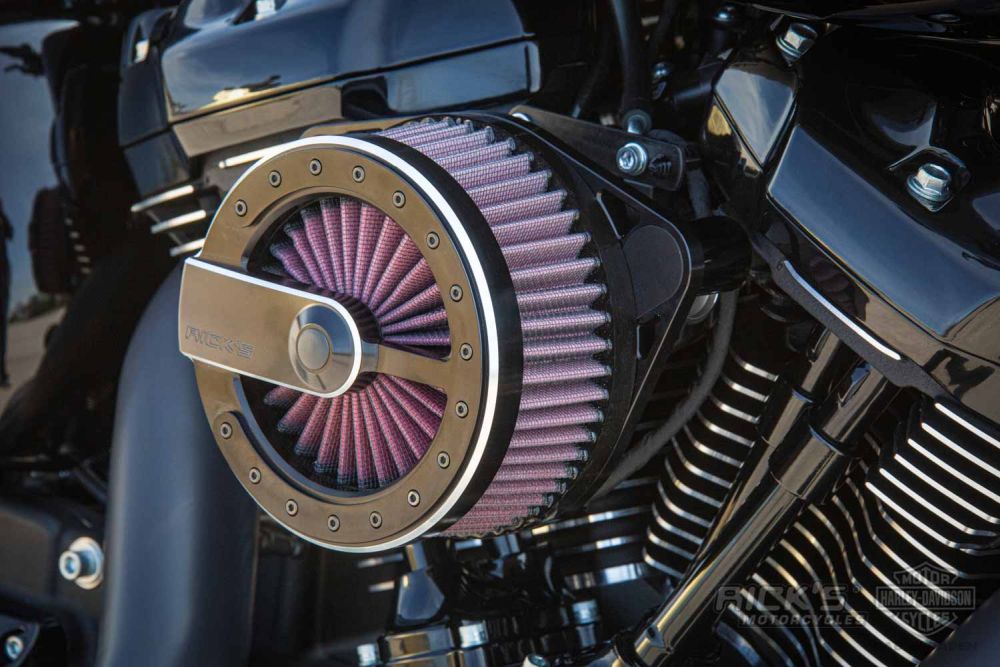 Rick's flow-optimized air filters are available in various designs for almost all Harley-Davidson models. Here the design "Bandit" was selected, which now ensures optimal fresh air supply.
Lastly there remains the question about the indicators. It is quite intentional that they can't be spotted at first. With the Atto indicators, Kellermann probably has the smallest indicator with an ECE test certificate in its program that can be used legally on the road. At the rear, the Atto DF 3 in 1 version is used, which in addition to the indicator also houses brake and rear light. At the front the indicator is enough. Here the Attos are mounted with Rick's adapters below the instruments to the mirror screw.