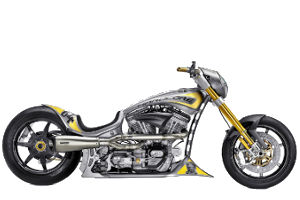 The Walz Hardcore Cycles' Blue Matte Dragster Motorcycle with Handmade Exhaust Pipes
Builder WALZ CYCLES
Contact [email protected]
Country Germany
Model Hardcore Cycles
Style Dragster
The Dragster Motorcycle, a creation of Walz Hardcore Cycles from Germany, is a sight to behold. The blue matte finish with yellow highlights catches the eye, while the handcrafted exhaust pipes and 300mm rear tire give it a menacing look. The aggressive design is guaranteed to turn heads wherever it goes, but there is more to this machine than just its appearance.
Take a ride on the ultimate motorcycle from Walz Hardcore Cycles
Built for speed and power, the Dragster Motorcycle is perfect for those who love the thrill of the ride. The bike's aerodynamic design ensures that it cuts through the air with ease, allowing for lightning-fast acceleration and high speeds. The power comes from a custom-built engine that delivers an exhilarating ride, making it a popular choice among drag racing enthusiasts.
Walz Hardcore Cycles brings you the adrenaline rush of a german style.
The attention to detail on this machine is truly impressive. The handmade exhaust pipes not only add to the aesthetic appeal but also improve performance. The 300mm rear tire provides ample traction for fast acceleration, while the overall design helps to increase stability at high speeds. The ergonomics of the bike ensure that riders are comfortable even during long rides.
Cruise through the streets like a champion on your bike from Walz Hardcore Cycles.
Walz Hardcore Cycles has a reputation for building high-quality custom motorcycles, and the Dragster Motorcycle is no exception. With its unique design and unparalleled performance, it is the perfect bike for those who want to stand out from the crowd. Whether you are a seasoned rider or a newcomer to the world of custom motorcycles, this machine is sure to impress.
Feel the power of the road with the incredible Dragster Motorcycle from Walz Hardcore Cycles.
In conclusion, the Dragster Motorcycle from Walz Hardcore Cycles is a true masterpiece. Its aggressive design, impressive performance, and attention to detail make it a must-have for any motorcycle enthusiast. Whether you are a fan of drag racing or just want a bike that looks and performs like no other, the Dragster Motorcycle is the perfect choice. With its unbeatable combination of style and performance, it is sure to turn heads and deliver an unforgettable ride every time.