The Harley-Davidson Softail Fat Boy 114 customized by Thunderbike of Germany is a true marvel of design and engineering.
This motorcycle has been enhanced with top of the line parts and accessories, making it stand out in the crowd.
One of the most aesthetic features of the Softail Fat Boy is the ape hanger handlebars that bring a nostalgic feel to the bike. These handlebars attach to the Riser Kit Old Style with wireholes, allowing for easy installation of the Grip-Set Base Rubber and Toppers Base.
The Tele Fork Lowering Kit combined with the Side Stand Modification 155mm helps to improve the bike's stability, as well as lower the bike's center of gravity. This enhances the bike's performance and makes it more agile on the road.
The Big Speed wheel and Single-Side Swingarm Kit 21" Alu are impressive modifications that add to the bike's visual appeal while also improving its overall performance. The Air Ride Suspension Kit also enhances the bike's performance, providing better stability and handling on the road.
The Pulley Big Speed and Belt 1" heavy duty provide the bike with better power and torque, while the Brake Disc Floated Big Speed 340mm and Brake Caliper Adapter 300->340mm, left black, provide the bike with superior stopping power.
The Front Fender 23" Fiberglass and Rear Fender Steel 260 mm adds to the bike's custom look, while the Chin Fairing GP Style Long keeps the engine protected from the elements. The Flip 2 Handlebar 32cm and Mirror Joker design provide both comfort and visibility while on the road.
Other enhancements include the license plate frame and lighting, as well as the Airbox Base Plate Oval black matt, Airbox Cover Oval Torque TB-Logo, and EFI-Cover black wrinkle.
The Hydraulic clutch Conversion Kit black and Ignition Coil Relocation Kit for Air-Ride switch, black add to the bike's performance and durability.
The Cover Tank to Seat, black and Derby Cover Torque Logo provide the finishing touches to this impressive project. The Front Axle Cover-Set and Axle Cover Swingarm left further add to this Softail Fat Boy's visual appeal.
The Dr. Jekill & Mr. Hyde Exhaust System and Metzeler ME888F Front Tire 130/60B23 M/C TL 65H round out the impressive features of the Softail Fat Boy 114 customized by Thunderbike. This motorcycle is both stunning and powerful, showcasing the best in custom motorcycle design.
Motorcycle parts
Thunderbike Tele Fork Lowering Kit
Thunderbike Side Stand Modification 155mm
Thunderbike Big Speed wheel
Thunderbike Single-Side Swingarm Kit 21" Alu
Thunderbike Air Ride Suspension Kit
Thunderbike Pulley Big Speed
Thunderbike Rear Fender Steel 260 mm
Thunderbike Seat Plate
Thunderbike Front Fender 23" Fiberglass
Thunderbike Brake Disc Floated Big Speed 340mm
Thunderbike Brake Caliper Adapter 300->340mm, left black
Thunderbike Belt 1" heavy duty
Thunderbike Chin Fairing GP Style Long
Thunderbike Flip 2 Handlebar 32cm
Thunderbike Riser Kit Old Style with wireholes
Thunderbike Grip-Set Base Rubber
Thunderbike Toppers Base
Thunderbike Turn Signals Stripe LED with Housing
Thunderbike Mirror Joker
Thunderbike Side Mount Licence Plate Bracket medium
Thunderbike License Plate Frame Inside Plate
Thunderbike License Plate Lighting
Thunderbike Reflector Inside Plate
Thunderbike Airbox Base Plate Oval black matt
Thunderbike Airbox Cover Oval Torque TB-Logo
Thunderbike EFI-Cover black wrinkle
Thunderbike Hydraulic clutch Conversion Kit black
Thunderbike Ignition Coil Relocation Kit for Air-Ride switch, black
Thunderbike Timer Cover New Custom
Thunderbike Cover Tank to Seat, black
Thunderbike Derby Cover Torque Logo
Thunderbike Front Axle Cover-Set
Thunderbike Axle Cover Swingarm left
Thunderbike Forward Controls Base Rubber
Dr. Jekill & Mr. Hyde Exhaust System
Metzeler ME888F Front Tire 130/60B23 M/C TL 65H
Credits @thunderbike
Summary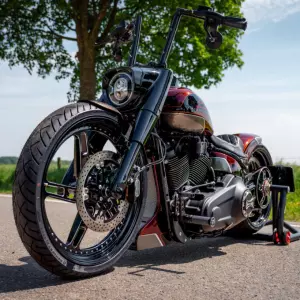 Article Name
This Fat Boy 114 is a true marvel of design
Description
This motorcycle is both stunning and powerful, showcasing the best in custom motorcycle design
Author
Publisher Name
Publisher Logo