Harley-Davidson Sportster 1200 "Sprint Race" by Rick's motorcycles
DARK KUSTOM Custom bikes
Rating:

7.8

/ 10
Harley-Davidson Sportster 1200 "Sprint Race" by Rick's motorcycles
Builder RICK'S MOTORCYCLES
Contact [email protected]
Country Germany
---
Brand Harley-Davidson
Model Sportster XL 1200 "Sprint Race"
Style Chopper
Text & photos: Peter Schulz
Sportster 1200 review
By now there is a comprehensive parts program available in Baden-Baden, with each component being exchangeable and designed to perfectly match all the others. The results are always very special Sportsters which show a high level of individuality and perfection, while also paying tribute to the customizer. New wheels with wider tires, new rear, optimized swingarm, new handlebar, and, of course, a first-class design air filter, all Made in Baden-Baden, all from Rick's workshops.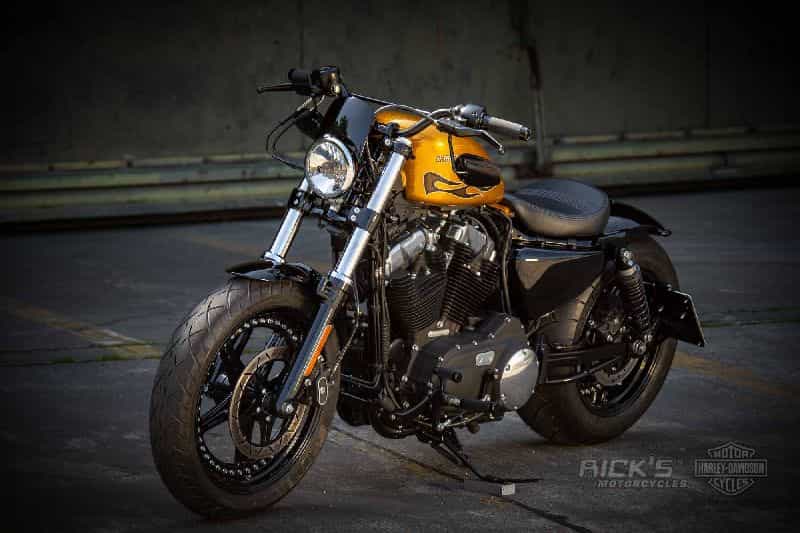 The most striking conversion measure on this Sportster can be found at the rear end, as Rick's implanted a fat 240 tire into the small Sportster, however, the stock version doesn't allow for such an XXL dimension. For this problem Rick's Motorcycles widens the swingarm to increase the box swingarm to the necessary width. At the same time the converted stock part gets a beam, which ensures increased torsional stiffness when changing load quickly. But, as so often with customizing, one change immediately starts a chain reaction. The belt drive has to be relocated to the outside since otherwise it would touch the tire, but Rick's also has a solution for this problem. The offset kit for Sportster models, including a matching cover, is not only useful, but also an optical highlight.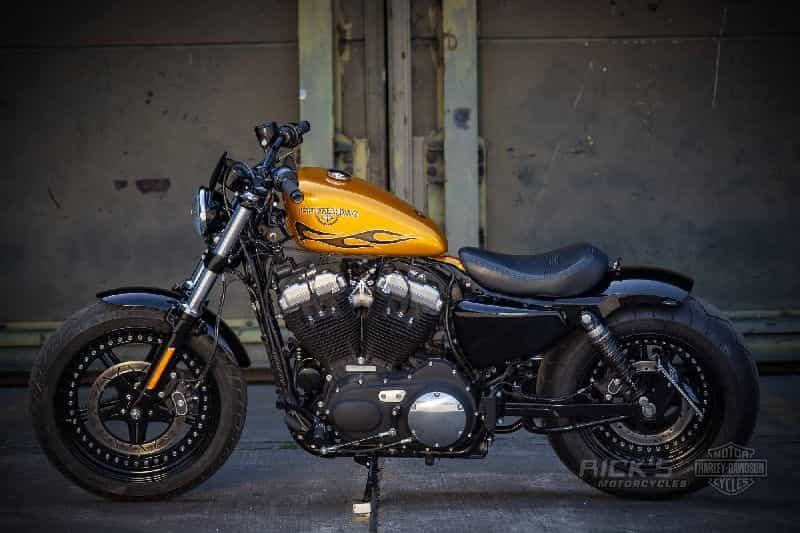 Now that the swingarm is widened, the tire would fit, the belt drive is right…but now the tire no longer fits into the stock rim. Rick's has a wide portfolio of different wheel designs, which all also fit the Sportsters. For this conversion, 3-piece screwed together raven black coated wheels named "Apollo" were chosen, and with a brake disc in matching design, the XL gets a completely new look.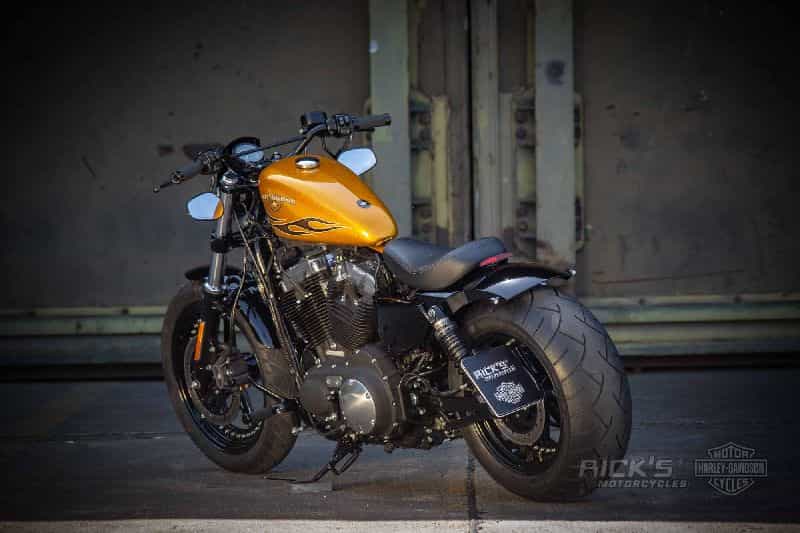 But that's not the end of it, because the former stock fender of the Forty Eight doesn't fit the new dimensions any longer either. Needless to say that also for this there is a solution in the program. Rick's offers numerous designs which were especially developed for the Sportsters. A real bestseller is the round steel fender, which is mainly being handmade in Baden-Baden with great care. The best about Rick's wide tire Sportsters is that they are TÜV approved, and as so often with Rick's parts, a lot of effort was made so that also these components comply with the strict rules of the German TÜV testers.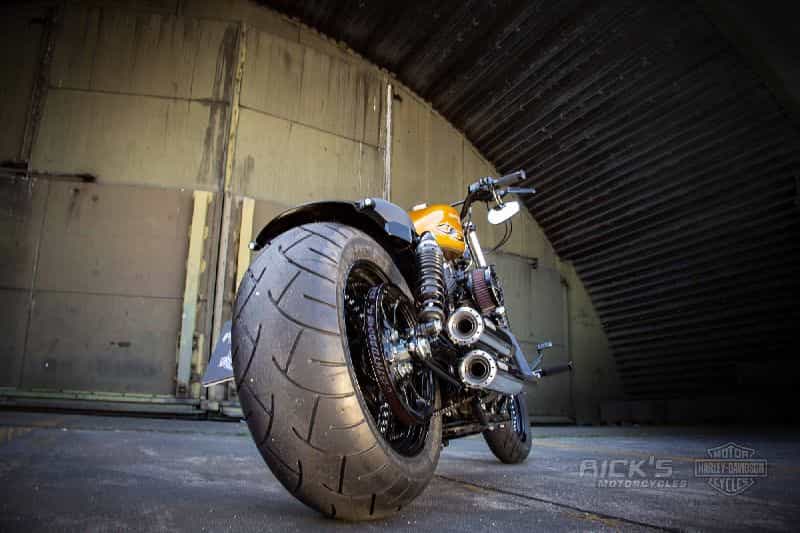 Also typical for Rick's wide tire conversions is that the tire runs absolutely centered in the track, whereby ride performance is hardly altered when compared to stock, which saves sweat and tears when approaching a bend. To avoid further similar problems, Rick's mechanics also mount the Dirt Track handlebar, which is also made in-house, as well as matching Rick's grips, which harmonize perfectly with Rick's new foot controls.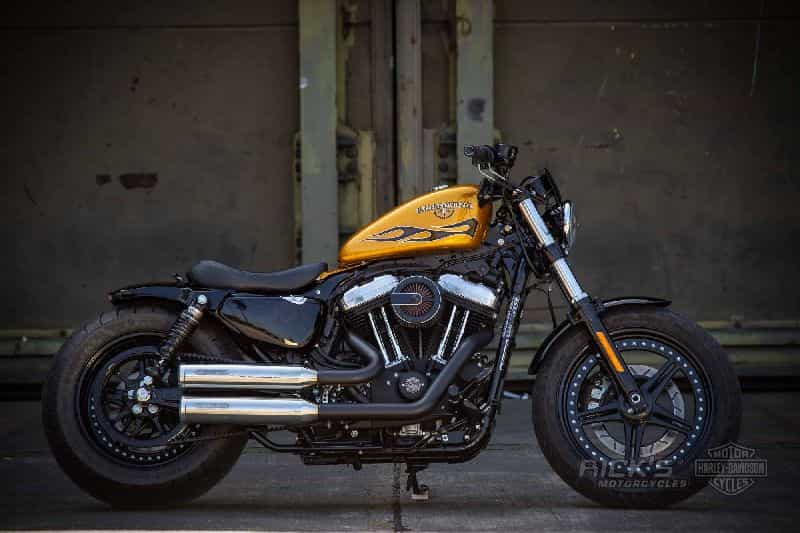 A further small detail at the front should be noted. Rick's windshield not only looks nice, but also tidies up the cockpit.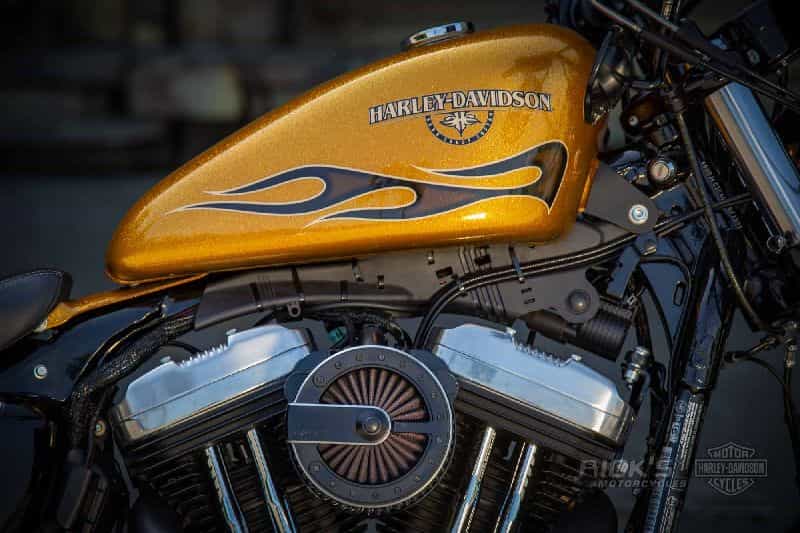 All that remains mentioning is the air filter, which can be found in Rick's program in addition to many other designs. Or the side licence plate holder, the indicator holder…or…or…or!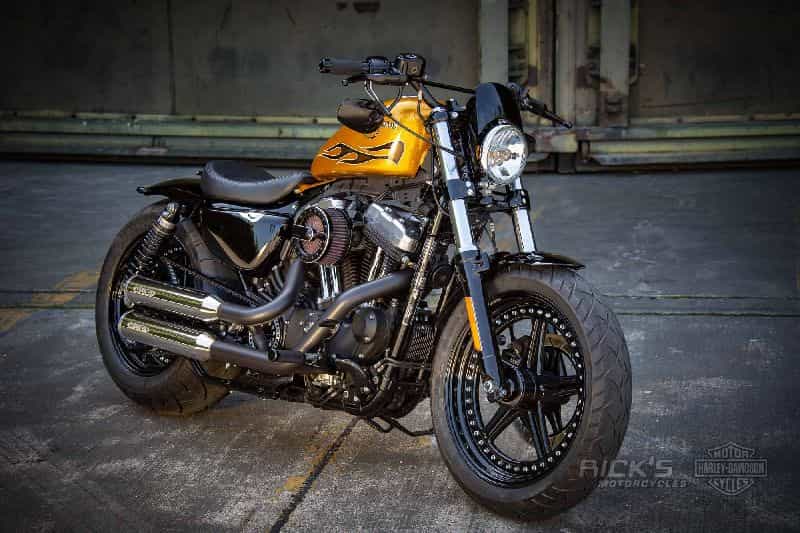 Top Sportster searches
Review of Harley Sportster 1200 Chopper "Sprint"
7.8
While the Harley-Davidson Sportster is often ignored by customizers, Rick's Motorcycles have been dedicating themselves for years to the XL models. We think that another hot Sportster was created here…perfect in every detail and typically Rick's!