Builder THUNDERBIKE
Contact [email protected]
Country Germany
Model H-D Breakout
Style Racer
Our handmade custom tank, nose spoiler, seat and rear fender from our GP series give this Softail model a meaningful new line. It quickly becomes clear what this is all about: performance! And not just visually.
With its 114 cubic inch Milwaukee-Eight engine, the Breakout brings the best prerequisites for this racy custom bike. With the Screamin' Eagle Heavy Breather and mapping from Don Performance, a few more horses go into the race. The exhaust system from Kess Tech is not only extremely sexy and makes a great sound, it also fits perfectly into the performance concept.
Following this concept, we like to use our Slamtail for these conversions. It is the sporty version of an airride, which lowers the rear as desired when stationary and springs linearly when riding. At the front, the aluminum machined triple clamp with 3″ rake from our GP series ensures that the bike also looks ducked in front.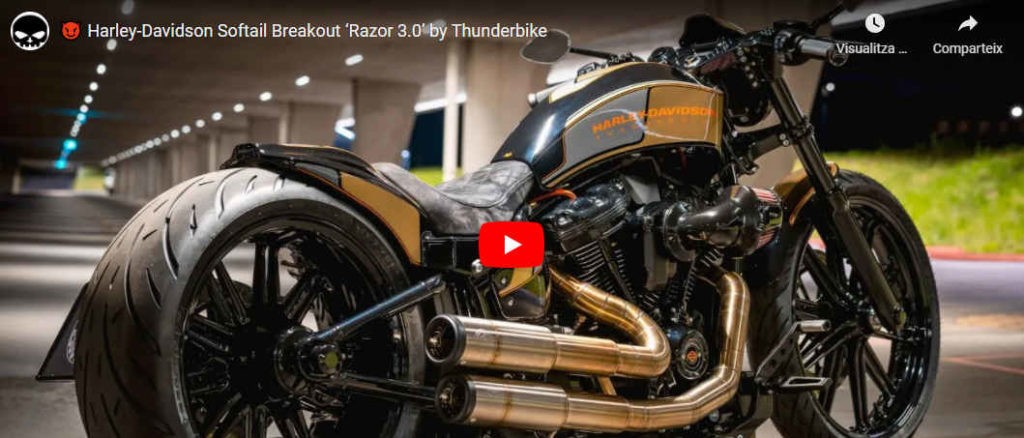 Breakout custom parts
Thunderbike Custom Fuel Tank GP-Style
Thunderbike Chin Fairing GP Style Long
Thunderbike Headlamp Cap Alu raw
Thunderbike Triple Tree Grand Prix bicolor
Thunderbike Clip-On Handlebars Grand Prix bicolor
Thunderbike Grips Base Satin black cut
Thunderbike Rear Fender GP-Style 260 mm
Thunderbike Seat Plate
Thunderbike Slamtail Suspension Kit
Thunderbike Pulley Brake Kit Original Wheel
Thunderbike Brake Disc Vegas Floated 340mm
Thunderbike Brake Disc Vegas Floated 292mm
Thunderbike Brake Caliper Adapter 300->340mm, left black
Thunderbike Frontfender Breakout 21"/23"
Thunderbike Sidemount License Bracket Kit Medium Alu black
Thunderbike License Plate Frame Inside Plate
Thunderbike License Plate Lighting
Thunderbike Turn Signals Stripe LED with Housing
Thunderbike Toppers Base
Harley-Davidson Cover Battery Right, Gloss Black
Thunderbike EFI-Cover black wrinkle
Harley-Davidson Defiance Upper Rocker Covers, black
Harley-Davidson Tappet Covers, Black
Thunderbike Forward Control Kit black
Thunderbike Rider Footpegs V-Tech Design
Thunderbike Ignition Coil Relocation Kit for Air-Ride switch, black
Thunderbike Front Axle Cover-Set
Thunderbike Rear Axle Cover Set
Harley-Davidson Screamin' Eagle Heavy Breather Elite Air Cleaner black
Motogadget mo.View Mirror Sport black