Builder THUNDERBIKE
Contact [email protected]
Country Germany
Model H-D V-Rod
Style Muscle
What on earth, except the 97 centimeter wide flyer bar should fit on this bike? With Kellermann's almost classic BL 1000 handlebar end indicators, you have to be careful which driveway you steer through.
Of course, there's also the forward-mounted footpeg system and the flat seat perfectly fitted between the dummy tank and the rear fender for the only real flying position on the V-Rod. Stretched out with limbs outstretched, you can already recognize an oncoming V-Rod by its characteristic silhoutte.
Even at the rear, there's no question who's boss here: thanks to our swingarm conversion, a 280 rubber burns itself into the asphalt, set in motion via our Spectacula Pulley. When stationary, the Fat Mary is flattened with the Thunderbike Air Ride and shows off all its chrome glory.
Our Spectacula wheels aren't called that for nothing. In this high-gloss version, they are among the most eye-catching wheels we produce. The multi-part custom wheel in curved 6-spoke style was originally developed for our show bike Spectacula of the same name.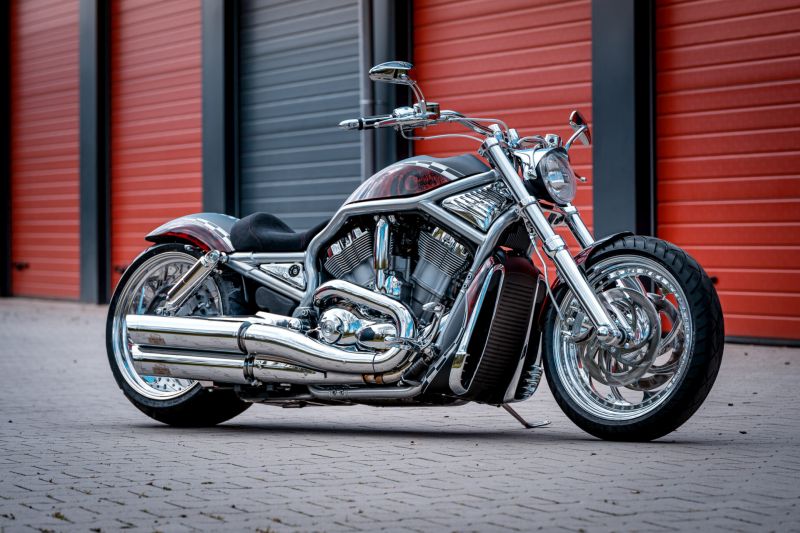 V-Rod parts
Thunderbike Spectacula Wheel
Thunderbike Swingarm Modification
Thunderbike Air-Ride Suspension Kit
Thunderbike Pulley Spectacula polished
Thunderbike Primary Offset Pulley
Thunderbike Brake Disc Spectacula
Thunderbike Rear Fender Recall 280
Thunderbike Seat Plate
Thunderbike Custom Tank Dummy
Thunderbike Front Fender Recall
Thunderbike Side Mount Licence Plate Bracket short
Thunderbike Handlebar Flyerbar 1" chrome
Harley-Davidson Hand Grips Chrome & Rubber small
Thunderbike License Plate Lighting
Thunderbike License Plate Frame Inside Plate
Kellermann Micro 1000 DF 3in1 LED turn signal set
Thunderbike Turn Signal Load Equalizer
Harley-Davidson Switch Housing Kit, chrome
Thunderbike Rear Turn Signal Bracket
THUNDERBIKE VIDEOS