▷ Harley Davidson Softail Ape Hanger Cross Bob by Thunderbike
Builder Thunderbike
Country Germany
Brand Harley-Davidson
Model Softail Cross Bob
Name "Bolt On and Ride"
Style Ape Hanger | Bobber
✅ Cross Bob video
✅ Softail Cross Bob review
Time does not stand still, as much as we would like to – but there is a consolation: even after six decades of Harley customizing, even with the very latest, most technically sophisticated HD models of all time, maintaining the popular and proven custom styles is possible , even though Harley-Davidson is currently looking for new customers, new "climbers" in the saddle of their products – sometimes you have to search for the future in the past. Because a surprising number of "newcomers" in the scene are looking for and even in modern motorcycles, the "old values": And the team of Thunderbike knows exactly these values ​​in Harley's most modern models to "wake up" …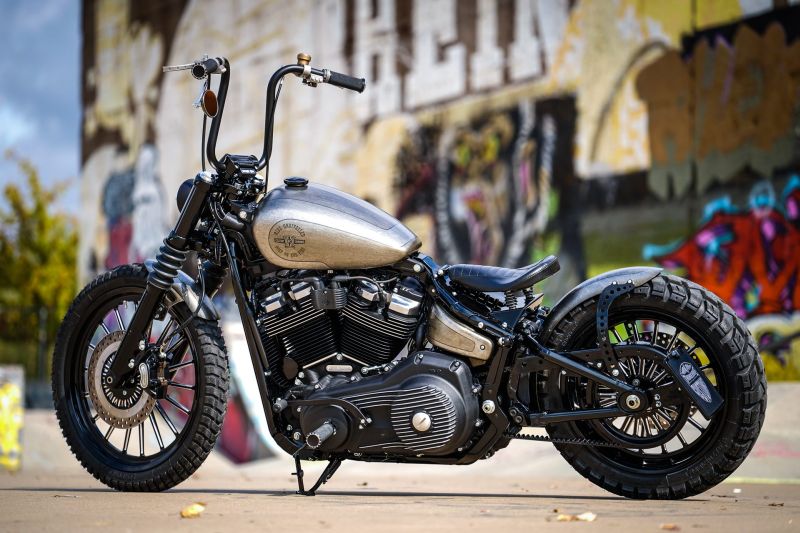 Introducing a "Bolt On and Ride" bike just at the end of the motorcycle season may seem a bit counterproductive – especially if you take the word "Ride" literally. But the motorcycle season at Custom Chrome Europe has always lasted into autumn – and last but not least there's a not-so-unimportant season: customizing over the fall, winter and spring months. They like to show the latest parts on a complete motorcycle, especially if it is such a successful setup as the "Cross Bob" built by the longtime CCE partner Thunderbike in Hamminkeln. Because it's based on one of the newest Harley models, the 2018 FXBB "Street Bob".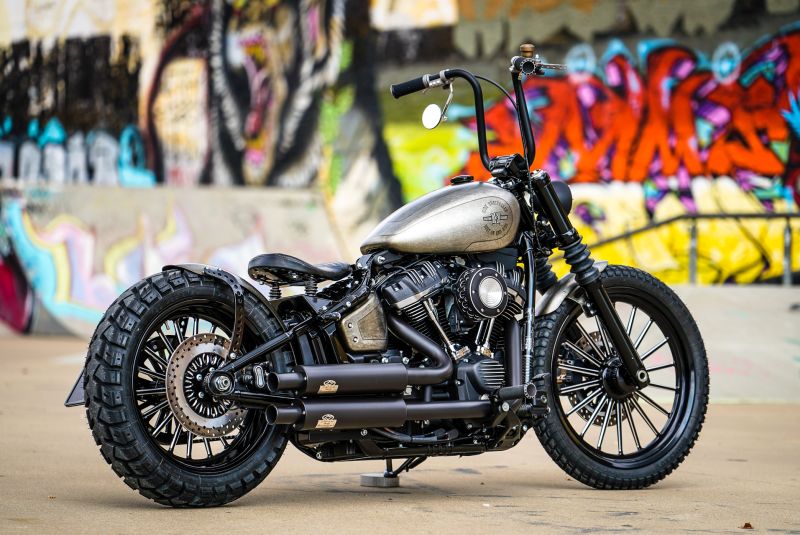 The "Cross Bob" premiered at the 2018 edition of European Bike Week: While Harley-Davidson presented their latest Milwaukee-Eight powered piece of jewelery at the Harley-Village, CCE unveiled its newest piece of jewelry at the Arneitz Custom Show on September 3rd. A "New School" Bobber at its best!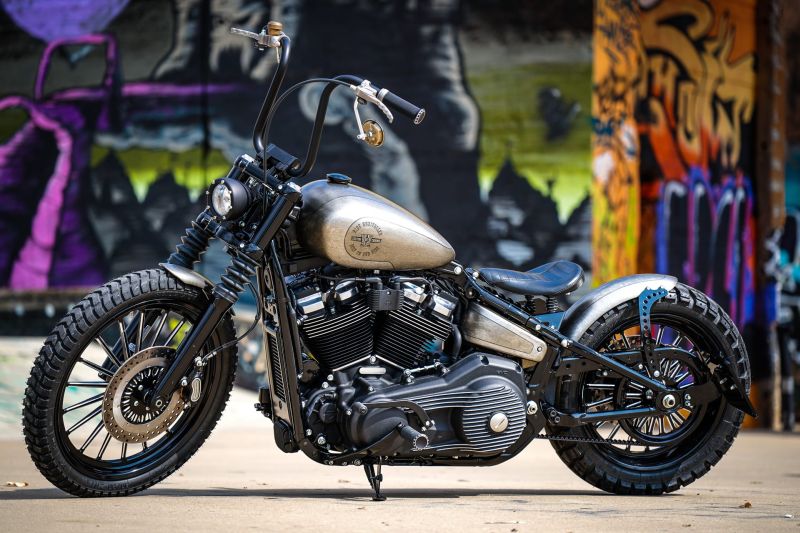 The parts list is long and contains prominent names, which makes it hard to be brief: The invisible core of the suspension is the new lowering kit from Müller Motorcycles, which allows the suspension to be lowered to 35 mm, for show purposes even 40 mm! Thunderbike quickly followed with a front fork lowering kit, further downsizing the seating position of the new Softail suspension! For a filigree "New School" look, CCE donated a set of RevTech "Nitro Black" design wheels, of course with matching brake discs and drive pulley – the selected radical tires with Heidenau K60 Scout tires in the lug profile provide the "Cross Over" touch.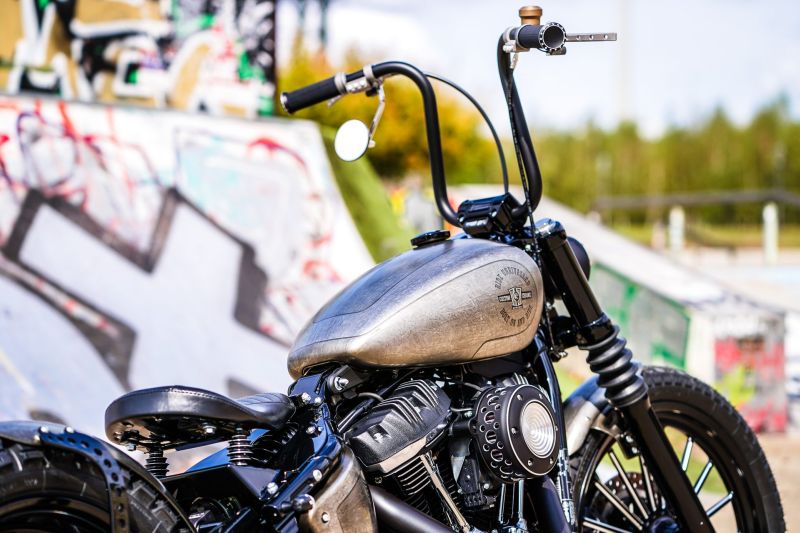 The fenders over the two rubbers are "Heavy Metal" by TXT, already finished with the new M8 Softails. The Milwaukee Eight propulsion unit has been completely covered with new EMD covers – also current novelties – and Thunderbike's "Grand Classic" air filter fits perfectly to the theme. With the Dr. Jekill & Mr. Hyde equipment, the sound of the new M8 engine comes into its own – and the systems have been homologated since the launch of the M8 Touring models.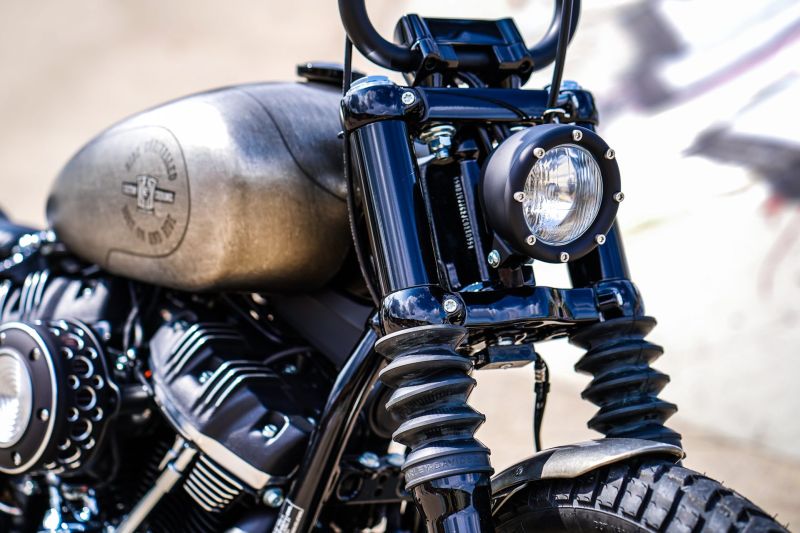 The conversion shows new parts of Chopper Kings (handlebars), Rebuffini (hydraulic cylinders and switches), Chopper Kulture (headlights), LePera (seat), Hell's Kitchen (rear turn signal), TLT (electric box for CAN-BUS adaptation) – and of course Thunderbike , from whose extensive program rest system, side license plate carrier, Gabelverkleidung and many other details originate.
The FXBB "Cross Bob" is the second 2018 "Softail" in the 2018 "BOAR" line-up – and the first one with ancestry from a former "Dyna" model, the FXDB "Street Bob". A true first for CCE's 10th anniversary year of "Bolt On and Ride" history – and rolling proof that even with the new chassis and engines from Harley-Davidson the old styles can be maintained and continued in the future. But now it's time to drive – because the days are getting shorter again …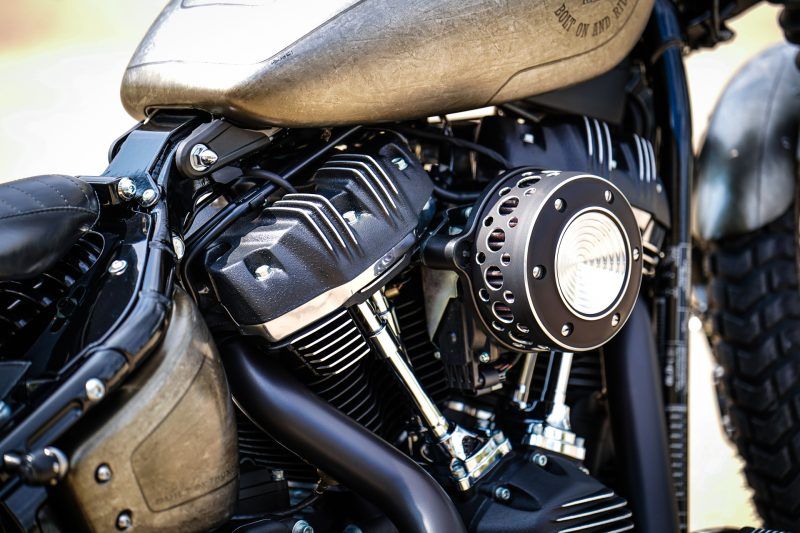 Text Horst Roesler
✅ Cross Bob Thunderbike Parts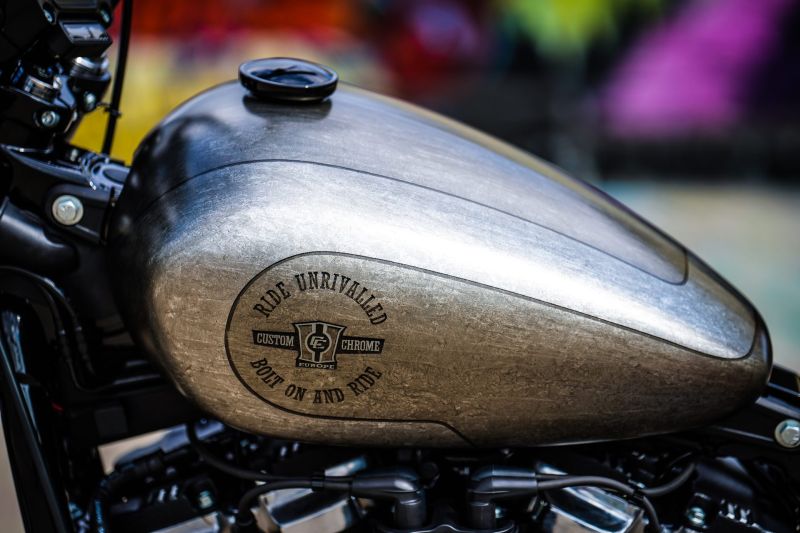 ✅ Cross Bob Custom Chrome Europe Parts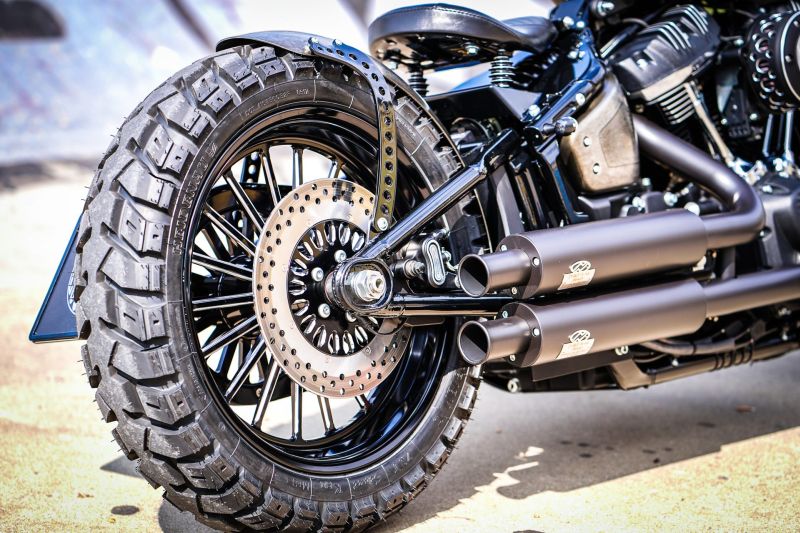 ✅ Softail Cross Bob for sale
Thunderbike Contact
Güterstraße 5

Hamminkeln
http://www.thunderbike.de
Call +49 2852 67770
✅ Softail Cross Bob reviews