When it comes to customizing a Harley-Davidson V-Rod, the possibilities for customization are endless.
However, one particular build by No Limit Custom from Germany stands out from the crowd. It's a muscle custom motorcycle inspired by the Lamborghini Aventador, and it's painted in an eye-catching yellow color with carbon details.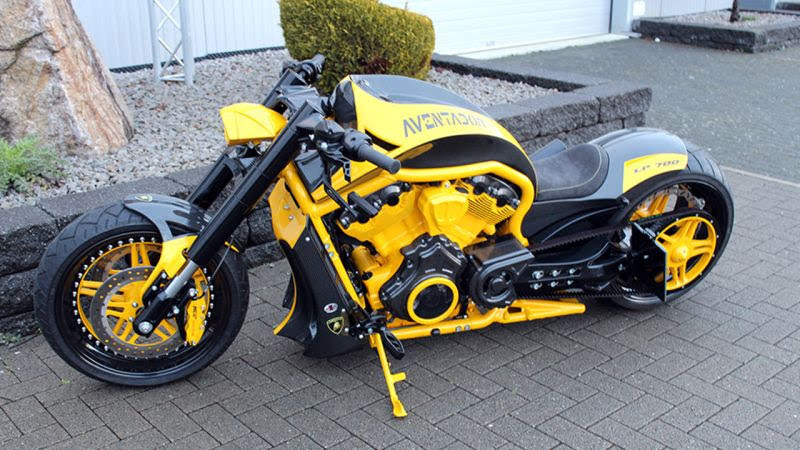 The tires are Metzeler Marathon 280/35 R18 and paired with a 2-in-2 Black exhaust system made by No Limit Custom, creating a deep and powerful sound that matches the bike's aggressive look.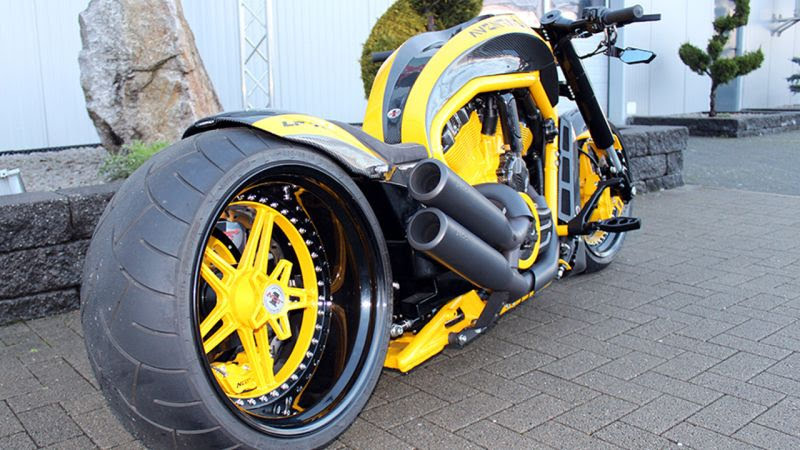 The headlight, front and rear fenders, radiator cover, airbox cover, swingram, fork, motor cover, front controls and seat are also made by No Limit Custom, ensuring a cohesive and high-quality build. The attention to detail is evident in every aspect of this motorcycle.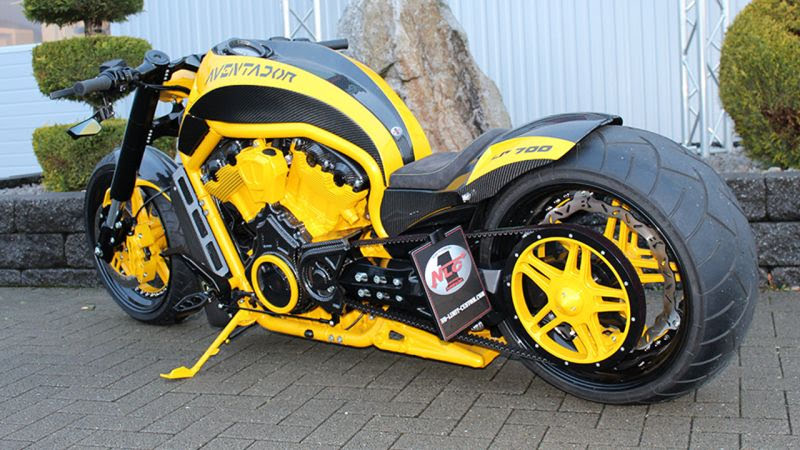 No Limit Custom is responsible for the paint job as well, with the bright yellow color accentuating the bike's muscular build. The carbon fiber details on the bike tie in nicely with the Lamborghini inspiration, giving the bike a high-end and luxurious look.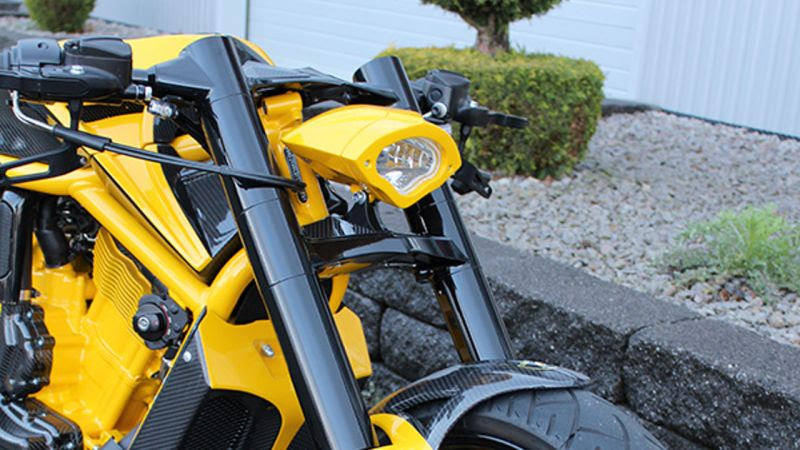 Riding this bike is an experience like no other. The powerful engine paired with the custom exhaust system makes the bike roar to life, accentuating the bike's muscular design. The riding position is slightly forward, which adds to the aggressive stance of the motorcycle. The Metzler tires grip the road firmly, making the bike feel planted as you take it through the turns.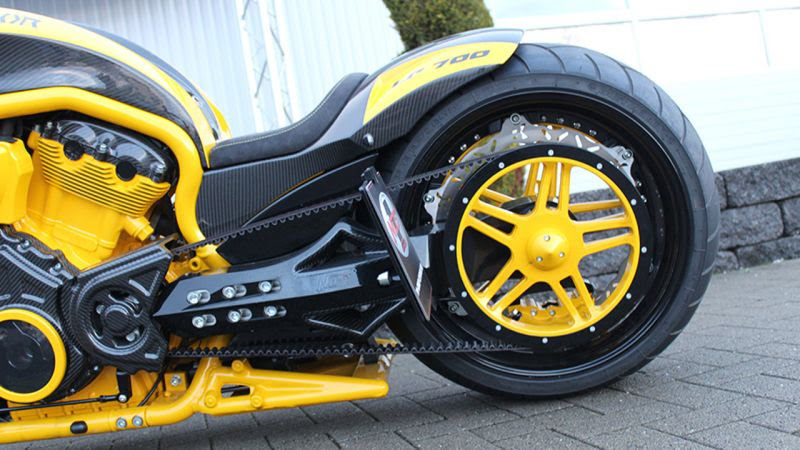 Customizing your Harley-Davidson V-Rod is a great way to express your individuality and personal style.
No Limit Custom has taken that concept to the next level with this custom build inspired by a Lamborghini Aventador. Every aspect of this bike has been thoughtfully designed and constructed, creating a true masterpiece that is sure to turn heads.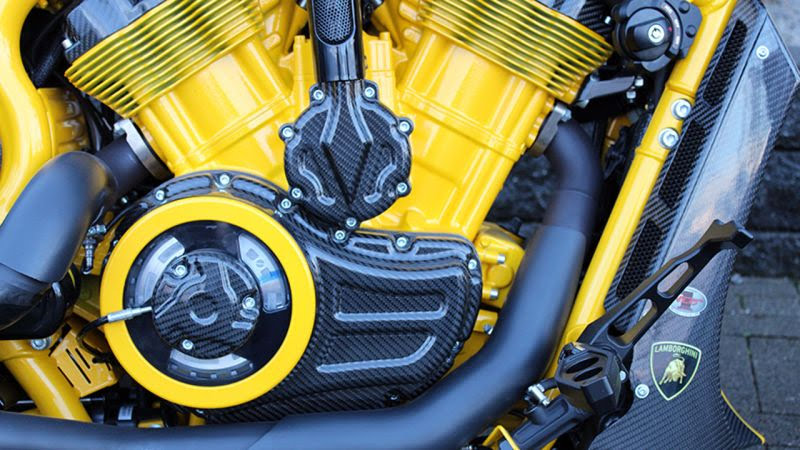 In conclusion
No Limit Custom has taken a stock Harley-Davidson V-Rod and turned it into a work of art. Every aspect of this bike stands out, from the bright yellow paint job to the custom-made components. If you're looking for a motorcycle that is truly one-of-a-kind, there's no better choice than this muscle custom motorcycle.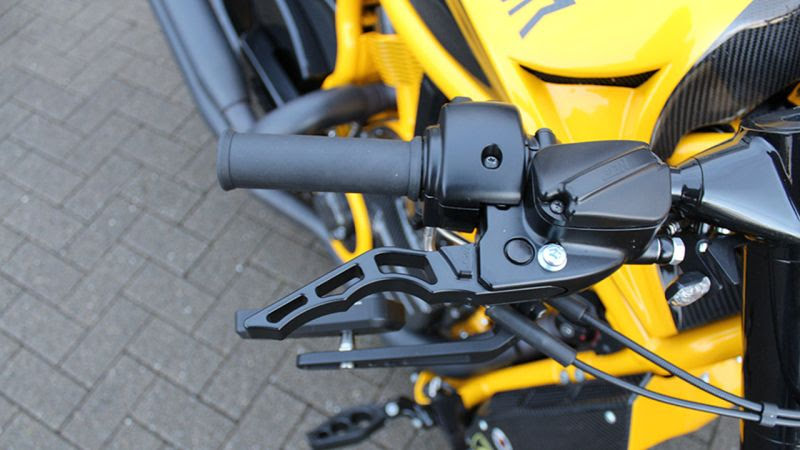 V-Rod parts
Tires Metzeler Marathon 280/35 R18
Exhaust System NLC 2-in-2 Black
Headlight No Limit Custom
Front Fender No Limit Custom
Rear Fender No Limit Custom
Radiator Cover No Limit Custom
Airbox cover No Limit Custom
Swingram No Limit Custom
Fork No Limit Custom
Motor Cover No Limit Custom
Front Controls No Limit Custom
Seat No Limit Custom
Painter No Limit Custom