This motorcycle, customized by No Limit Custom from Germany, is a stunning example of the incredible work that can be achieved by experts in this field.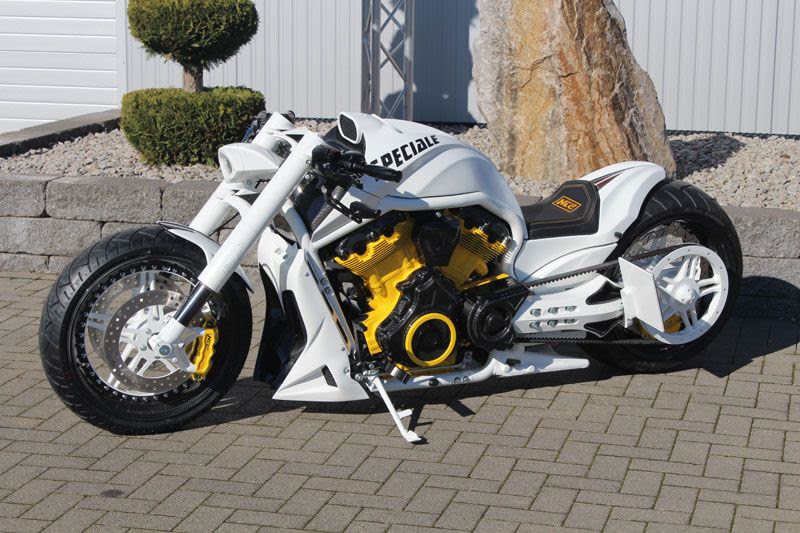 The motorcycle is painted in a sleek white color, with the wheels also painted in white for a unified look. The real star of the show, however, is the motor, which is painted in a striking yellow color with carbon details.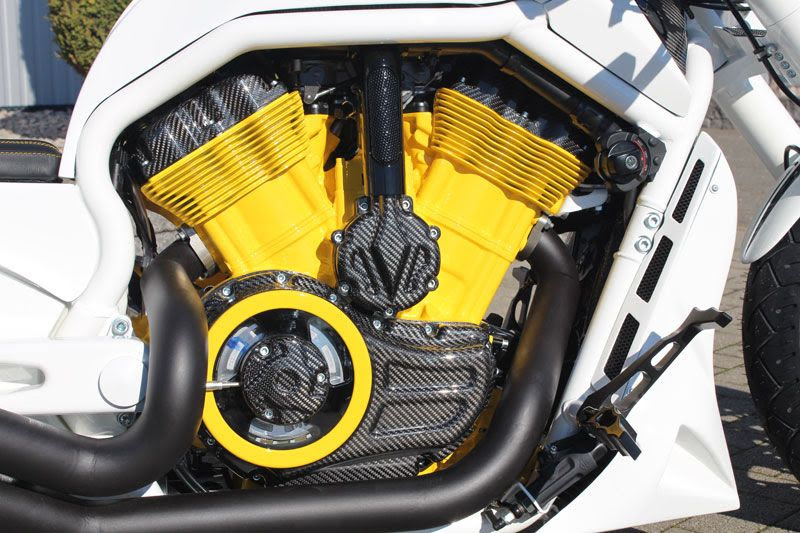 The pinzas de freno are also painted in an eye-catching yellow that contrasts beautifully with the white body of the motorcycle.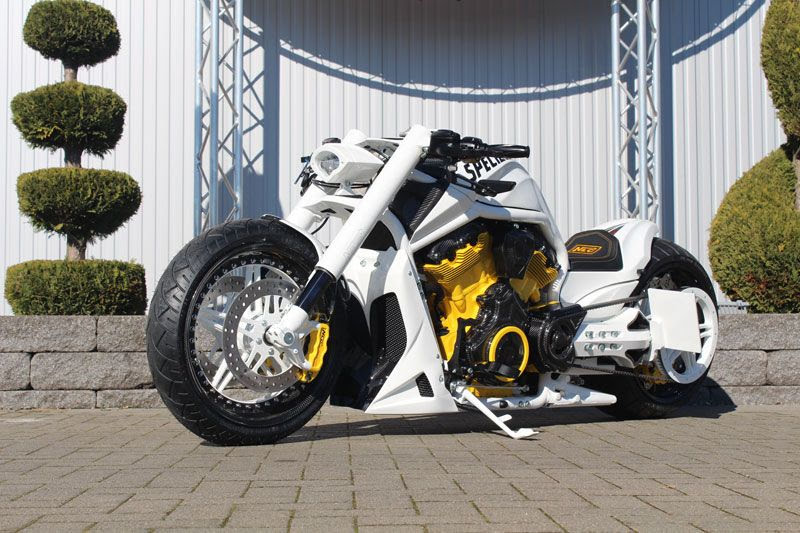 The tires used for the V Rod Speciale are Metzeler Marathon 280/35 R18, which provide excellent stability and grip on the road. The motorcycle also features an incredible exhaust system, a 2-in-2 Black creation by No Limit Custom that adds both a sleek look and powerful sound to the motorcycle.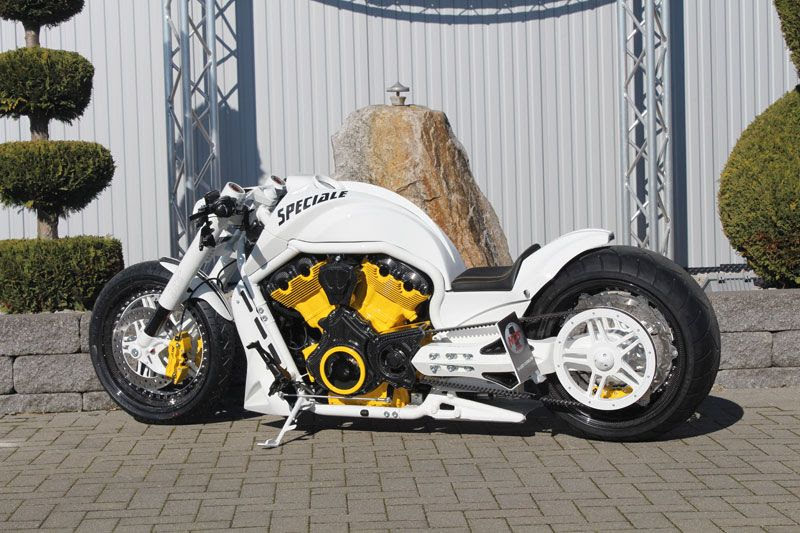 Every part of the motorcycle has been touched by No Limit Custom's expert hands, with custom parts designed and created specifically for this motorcycle.
The headlight, front fender, rear fender, radiator cover, airbox cover, swingram, fork, motor cover, brake calipers, and seat have all been customized by No Limit Custom, showing the attention to detail that this company puts into each and every one of its projects.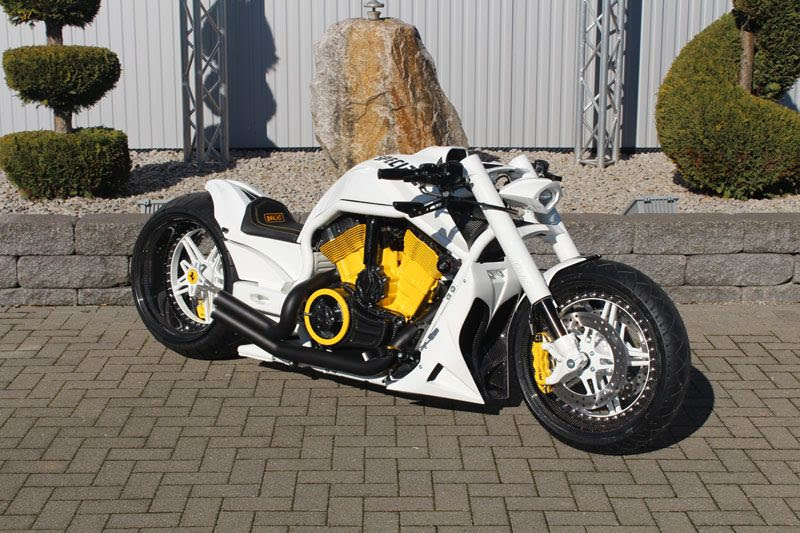 If you're interested in this one-of-a-kind motorcycle, No Limit Custom can be contacted via email at [email protected]. They are experts in the field of motorcycle customization and can create custom designs specific to your needs and preferences.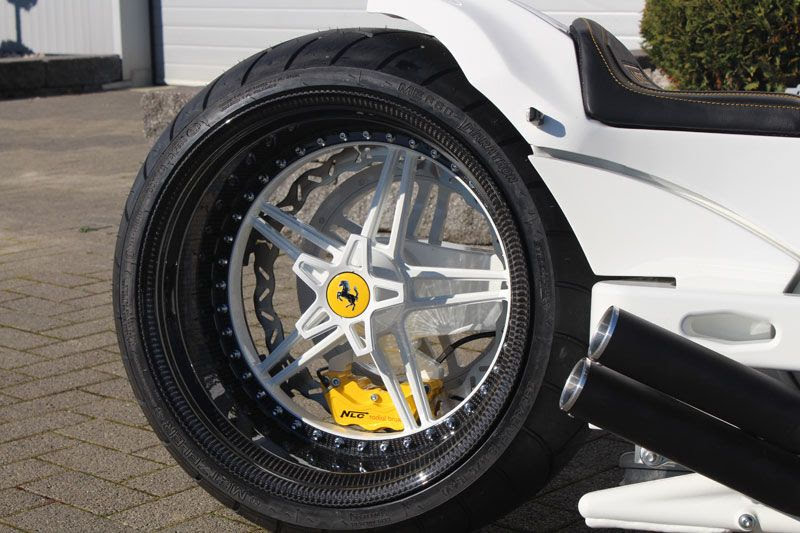 The Harley Davidson V Rod Speciale is just one example of the incredible work that they're capable of, and it's clear that they're passionate about creating motorcycles that both look and perform exceptionally well.
So, if you're looking for a motorcycle with style, power, and uniqueness, No Limit Custom should be your go-to destination.
Harley Vrod parts
Tires Metzeler Marathon 280/35 R18
Exhaust System No Limit Custom 2-in-2 Black
Headlight No Limit Custom
Front Fender No Limit Custom
Rear Fender No Limit Custom
Airbox cover No Limit Custom
Swingram No Limit Custom
Fork No Limit Custom
Motor Cover No Limit Custom
Brake Calipers No Limit Custom
Seat No Limit Custom
Painter No Limit Custom
Builder @nolimitcustom