Harley-Davidson Fat Boy 'Jay-Jay's Classic' by Thunderbike
Builder THUNDERBIKE
Contact [email protected]
Custom painting Kruse design
Country Germany
Model H-D Fat Boy
Style Ape hanger
Sitting low, fists in the wind, lots of chrome, colorful paint. What a mega appearance! The Fat Boy is hardly recognizable and you hardly know where to look first.
Our big Spoke wheels in 18 and 21″ with the matching brake discs, the steel rearfender with the integrated lighting, the spoiler and the massive fork give the Softail a completely new character.
The harmonious overall concept is created by the wide rear end as a counterweight to the fat front end and the finely coordinated paint design. Once again, Ingo Kruse has delivered a masterpiece!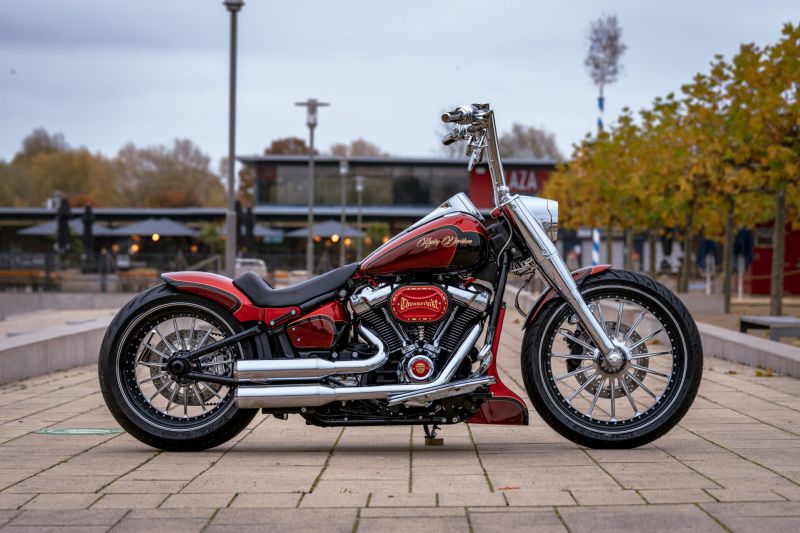 H-D Fat Boy parts
Thunderbike Spoke Wheel
Thunderbike Pulley Spoke polished
Thunderbike Brake Disc Spoke Floated 300mm
Thunderbike Brake Disc Spoke Floated 292mm
Thunderbike Pulley Brake Kit for Wheel
Thunderbike Rear Fender Steel 260 mm
Thunderbike Seat Plate
Thunderbike Chin Fairing GP Style Long
Harley-Davidson Defiance Rider Footboard Kit – Chrome
Thunderbike Handlebar Flip II 1.25" x 32 cm
Thunderbike Riser-Kit Old Style with wireholes
Thunderbike Riser Old Style with wireholes
Harley-Davidson Hand Grips Defiance chrome
Thunderbike Turn Signals Stripe LED with Housing
Thunderbike Mirror Joker
Harley-Davidson Hand Control Lever Kit chrome
Harley-Davidson Clutch Bracket and Master Cylinder Reservior Kit chrome
Thunderbike Derby Cover Torque Logo
Thunderbike Timer Cover New Custom
Thunderbike Airbox Cover Oval Torque TB-Logo
Thunderbike Cover Tank to Seat, black
Thunderbike Side Mount Licence Plate Bracket medium
Thunderbike License Plate Frame Inside Plate
Thunderbike Tele Fork Lowering Kit
Thunderbike Side Stand Modification 155mm
Dr. Jekill & Mr. Hyde Exhaust System
Kruse Design Special Custom Painting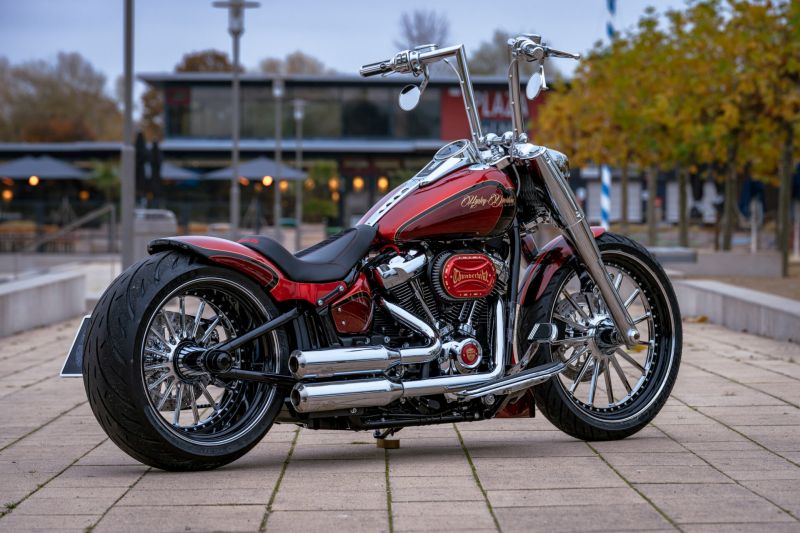 THUNDERBIKE VIDEOS
Top motorcycle videos