Builder THUNDERBIKE
Contact [email protected]
Country Germany
Model H-D Fat Boy
Style Cruiser
Chicken, already considered a bit of a wacko by some, didn't want anything off the rack. A black evil bike is certainly not a rarity in the realm of the fat-tired Fat Boys, but the bike should also reflect Chickens joy of life and his fun riding a motorcycle!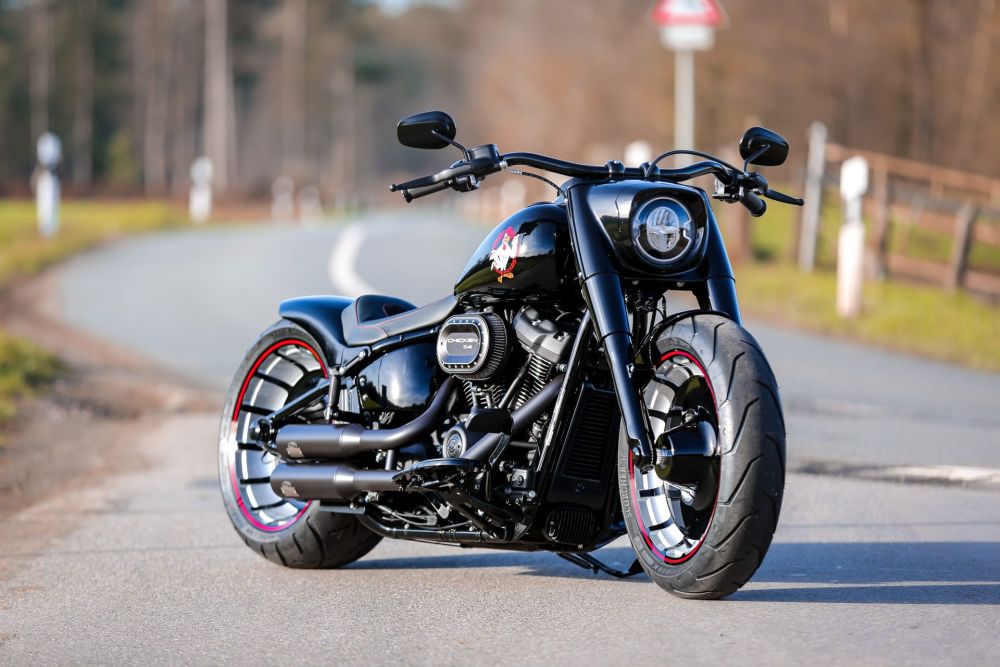 Fat Boy parts
Ignition Coil Relocation Thunderbike
Rear Axle Cover Set Thunderbike
Front Axle Cover Set Thunderbike
Side Mount Licence Plate Bracket Thunderbike medium
License Plate Thunderbike Inside Plate
License Plate Lightning Thunderbike
Turn Signals Thunderbike Stripe LED
Toppers Thunderbike Drilled
Handlebar Thunderbike Hollywood Light E-Gas
Riser Thunderbike Old Style
Grip Set Thunderbike Base Satin
Fork lowering Kit Thunderbike
Suspension Kit Air Ride
Front Fender Thunderbike Fiberglass
Rear Fender Thunderbike Steel
Seat Plate Thunderbike
Brake Caliper Caliper Cover Thunderbike Logo
Airbox-Cover Thunderbike Drilled
Airbox Oval Thunderbike Plate
Console Kit Gloss Black Harley-Davidson
Exhaust Dr. Jekill & Mr. Hyde
Seat Saddlery Ankert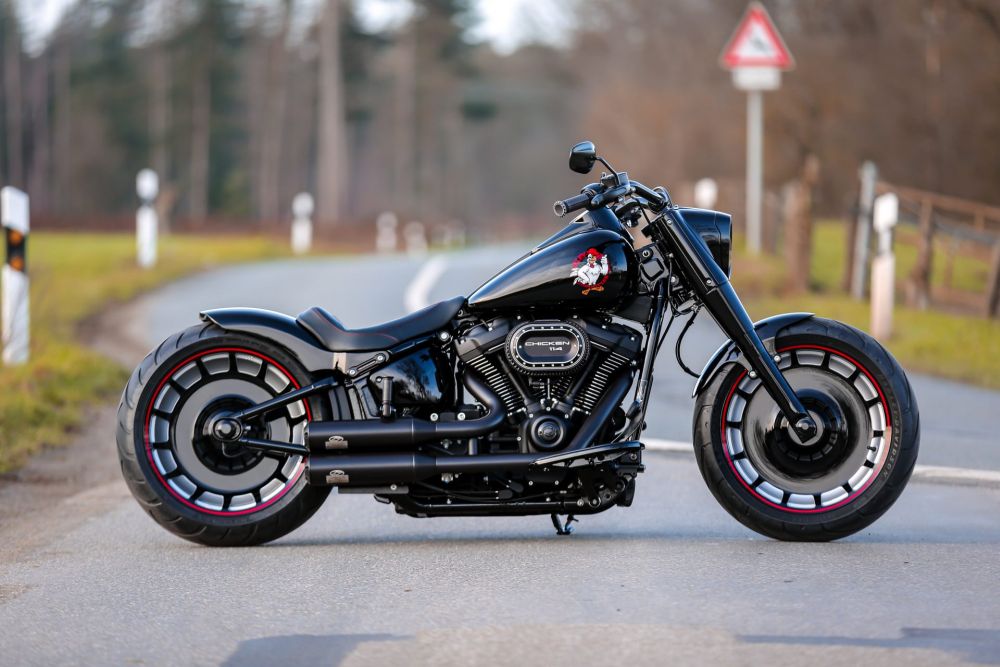 Two opposites that this Fat Boy combines in a very special way, because the bike puts the bad boy style into perspective in a nice way with the comic cock with the name Foghorn Leghorn on the tank. He clearly crows "The bike doesn't take itself too seriously and therefore the rider doesn't take himself too seriously!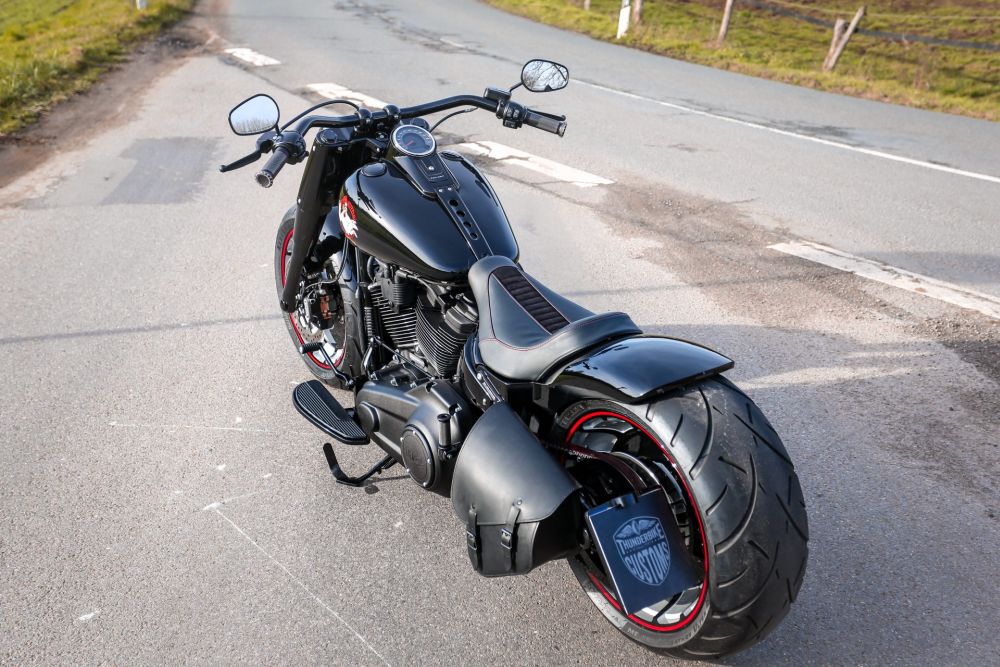 As with some of our Fat Boy conversions, we have given the bike an improved solid look. Therefore we installed our short fender in combination with a pulley brake sytem on the left side to shorten the rear end and make it look lighter.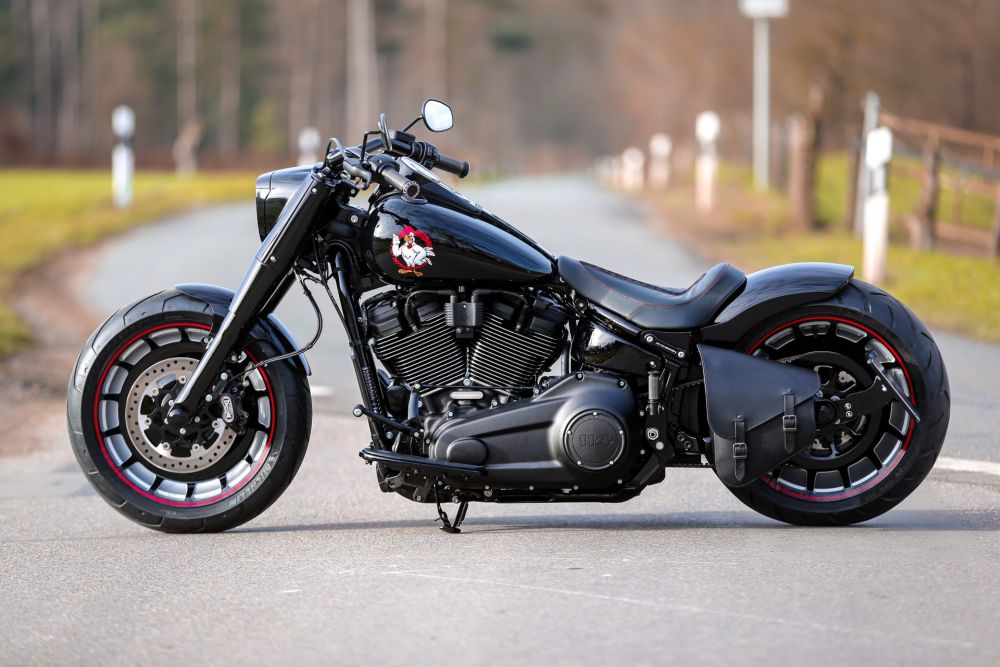 An Air Ride suspension drops the fender almost to the 260 rear tire at the push of a button . In addition, the front wheel is fitted with a smaller fender to visually expose the wheel.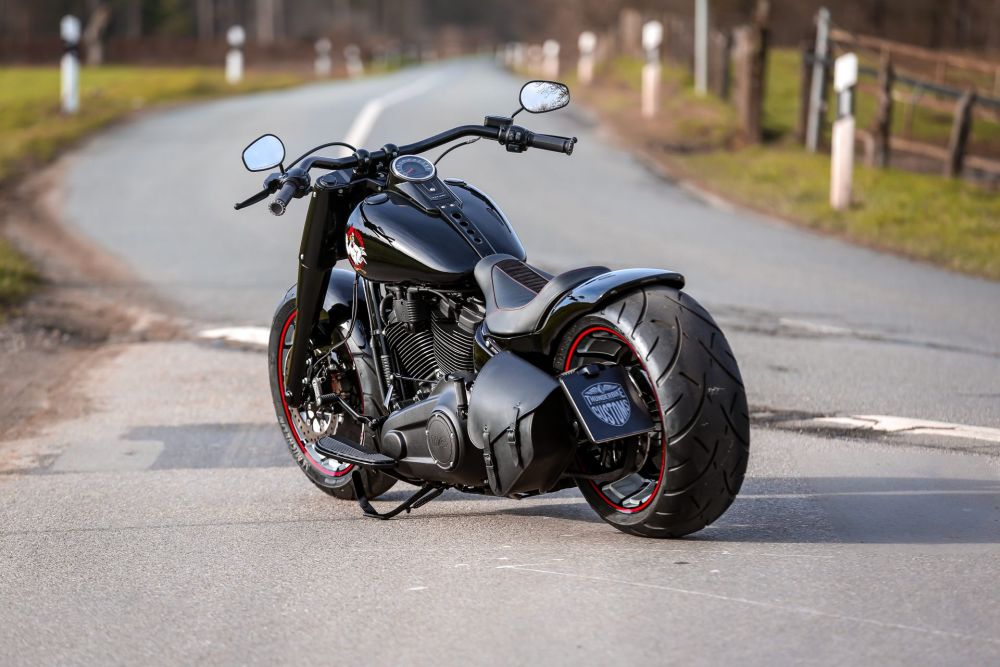 Our Hollywood light handlebars with the flat old style risers underline the crouching line of the bike and at the same time bring a bit of bobber style to the story.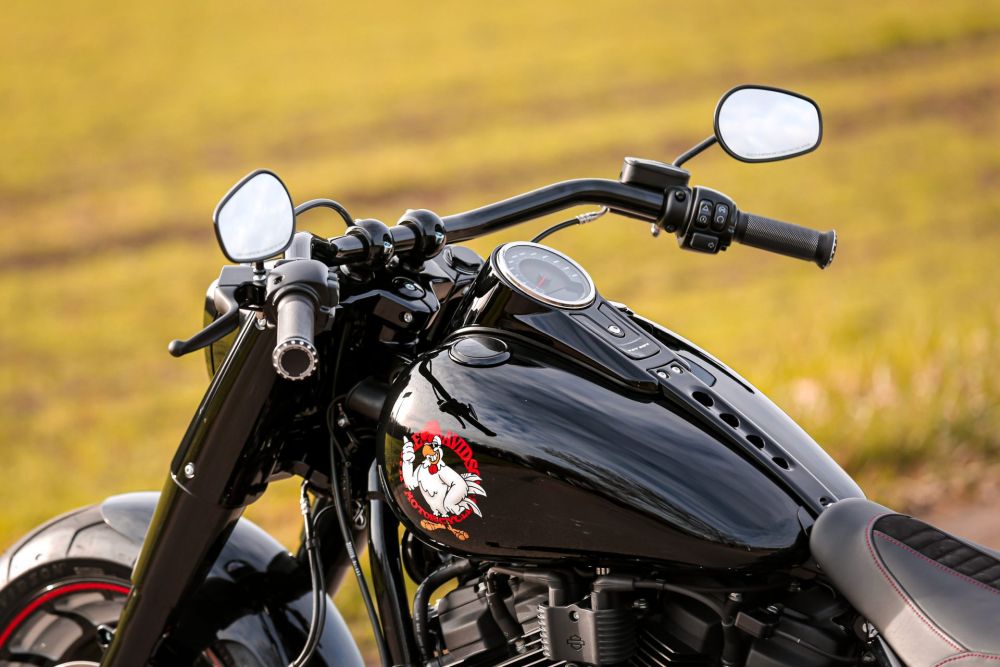 Almost everything in this project was dipped into a shiny black and some parts like the oval air filter were additionally laser engraved. The eye-catching wheels were painted very elaborately to comply with the taste of the customer.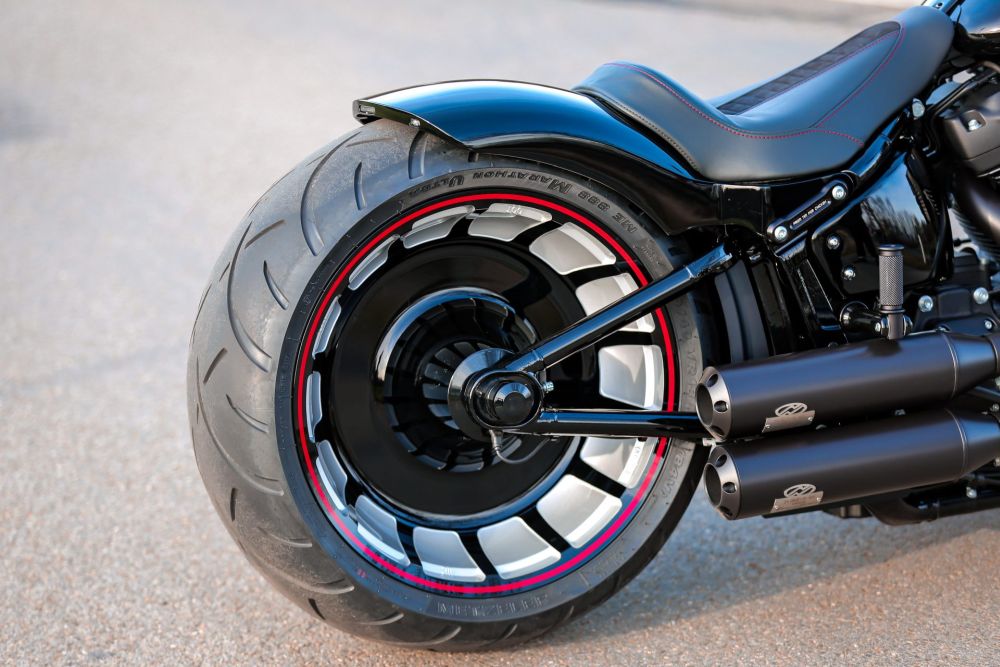 To ensure a good sound Chicken decided to buy a complete Dr.Jekill and Mr.Hyde system with the valve system, and the saddler Ankert contributed a suitable seat.
Last but not least we would like to point out the good time we had with Chicken during the set up, and thank him for the many bottles of Ramazotti he gave us,…because even a blind hen sometimes finds a grain of corn,… but no rooster crows for a long time!
THUNDERBIKE VIDEOS