Builder RICK'S MOTORCYCLES
Contact [email protected]
Country Germany
Model Harley-Davidson Softail
Style Cruiser
Sometimes it needs a second glance to realize that something is special, and custom bikes are no exception, especially this Fat Boy from Rick's. Gourmets will be delighted with the carefully chosen details that were used here.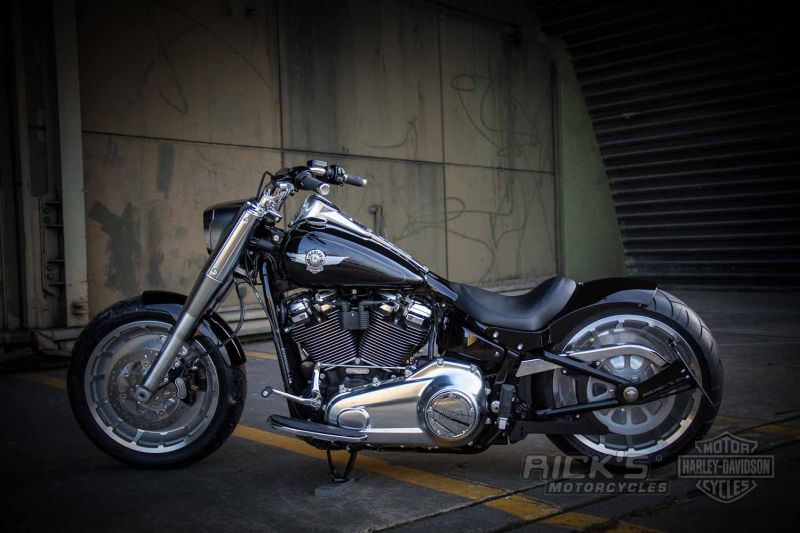 The most striking modification is probably the rear. Rick's makes the suitable fenders in all the usual dimensions for the Milwaukee-Eight Softails, and Rick's fenders are so stable that they can carry the weight of a heavy passenger easily.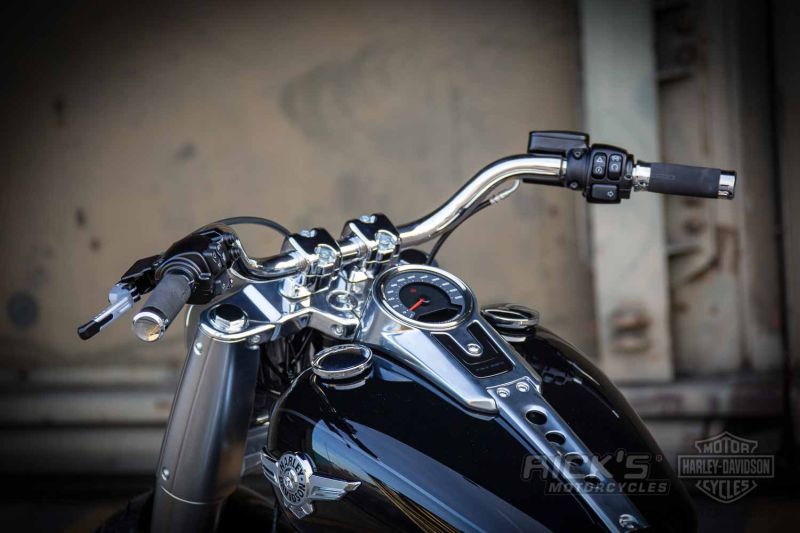 The 260 tire is just about covered with the new fender so that the maximum of the black rubber remains visible. But with the new fender, the stock seat doesn't fit any longer and so a new one was made by Rick's Motorcycles.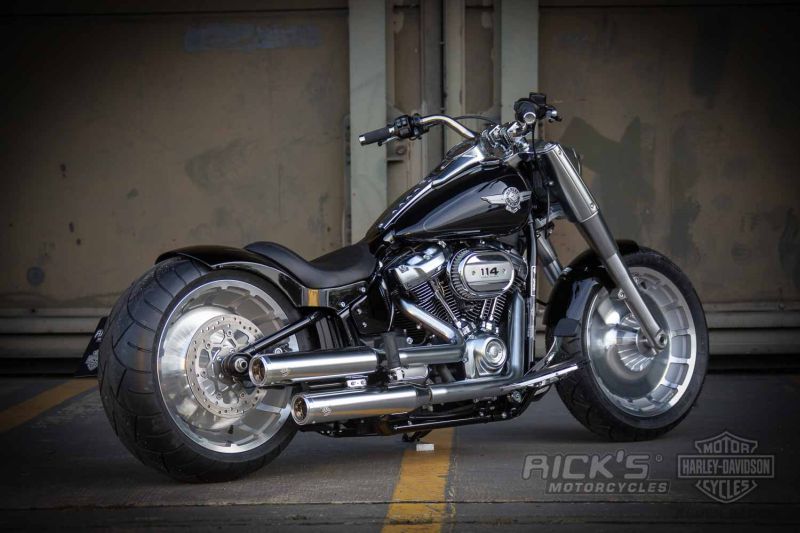 Even more exciting than the rear fender is the rear lighting arrangement. Here you need a third or fourth glance before discovering the minimalistic cones on the fender struts, which are Kellermann three into one indicators with blinker, rear and brake light function with the name "Atto". Sometimes the things you don't see thrill you most, even if you need to look several times!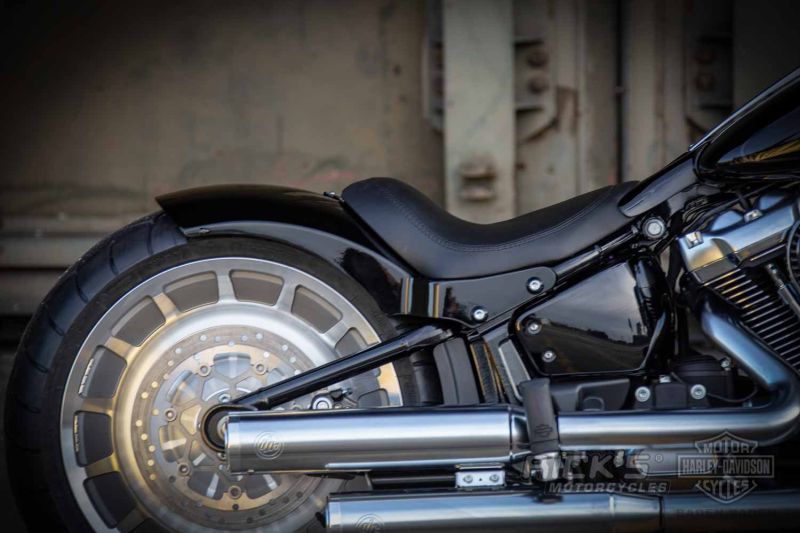 The polished stainless steel cover, which stretches smoothly over the belt drive is, of course, not from Milwaukee but from Baden-Baden. Rick's Motorcycles makes belt drive covers in various designs for all new Softail models from model year 2018. The same also applies to the front fender, which was developed at Rick's especially for the new Fat Boys.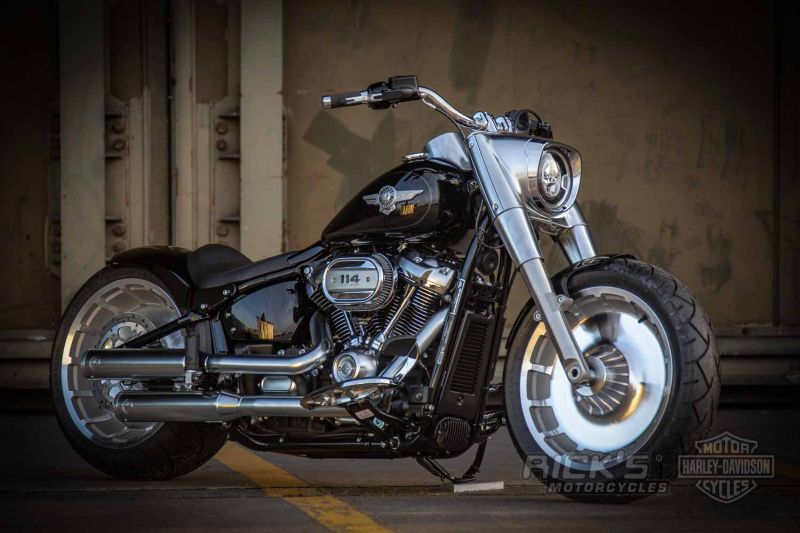 The grips and the adjustable brake levers were already made at Rick's Motorcycles for the Twin Cam models. These Rick's classics also fit the Milwaukee-Eight models from model year 2018 and can't be left off on this custom bike either. Considering Rick's experience in terms of rear lighting, you can now start searching for the front indicators…a hint, they are also Kellermann indicators, which are also available from the company in Aachen under the name "Atto". These indicators fascinate because of their small dimension alone, but indicators hardly bigger than an olive have a problem…where and how to mount them at the front. A small detail with a large effect are Rick's indicator holders, which were specially constructed for the Kellermann "Atto". The holders are simply fixed with a mirror screw below the instruments and offered in black anodized, which makes them pretty inconspicuous.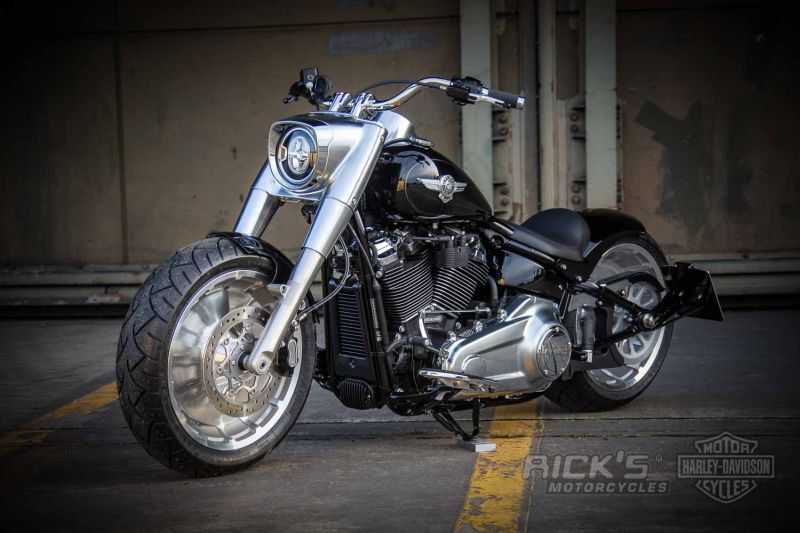 Inconspicuous and shapely are also the end silencers on this bike. The KessTech logo at the rear end indicates that the electronically adjustable damper loses its restraint with a push of the button on the handlebar, and then the engine can be heard! Didn't we mention this? Sometimes it's worth to give a second glance…or a third…or a fourth!
Text: Peter Schulz
Photos: Peter Schulz
Photo assistant: T. Henke
RICK'S MOTORCYCLES VIDEOS