Builder THUNDERBIKE
Contact [email protected]
Country Germany
Model H-D Breakout
Style Cruiser
The concept is quite simple: Blacken what works, a nice line and high quality parts were desired. However, the implementation is not as simple as it may sound and involves much more than bolt-on parts. Not everything can simply be washed in black. It is only through the combination of measures that such high-quality custombikes are created.
For the coating of the frame, the entire motorcycle had to be disassembled into its thousand individual parts and put back together again. In the process, we replaced some parts and chose the black version in each case.
The handmade aluminum gastank, the mighty CNC-machined Spoke wheels in 21 and 23 inches, a single-sided swingarm and our adjustable suspension give the Breakout its new squat line.
From the headlamp cap to the many lids and covers to the side license plate holder, it's the details that complete the modern look.
The devil is in these details: For example, you don't just cover the fork on the Breakout – here we chose the particularly robust DLC coating.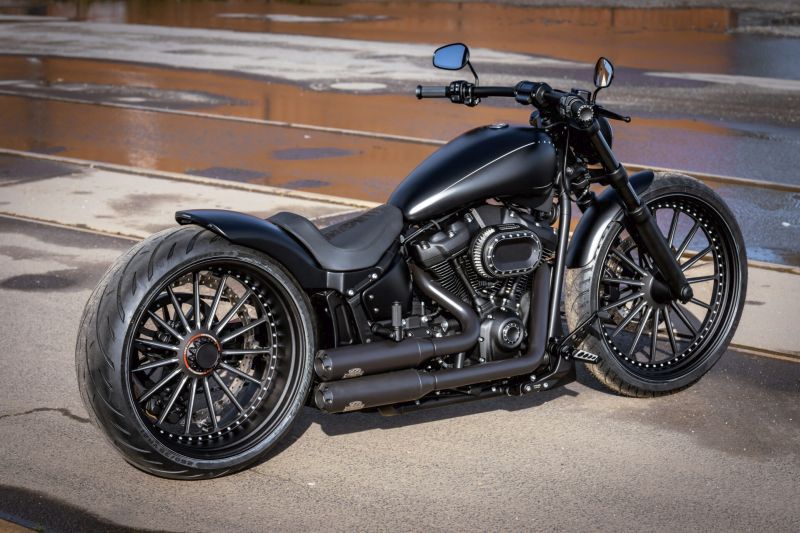 Thunderbike Spoke Wheel
Thunderbike Single-Side Swingarm Kit 21" Alu
Thunderbike Pulley Spoke
Thunderbike Brake Disc Spoke Floated 340mm
Thunderbike Rear Fender Steel 260 mm
Thunderbike Frontfender Breakout 21"/23"
Thunderbike Custom Alu Tank (15 ltr., stretched)
Thunderbike Seat Plate
Thunderbike License Plate Frame Inside Plate
Thunderbike Chin Fairing GP Short GRP
Thunderbike Forward Control Kit black
Thunderbike Headlamp Cap black
Thunderbike Tele Fork Lowering Kit
Thunderbike Air Ride Suspension Kit
Thunderbike Rider Footpegs Drilled Design
Thunderbike Shiftpeg Satin black cut
Thunderbike Passenger Footpegs Satin Design
Thunderbike Turn Signals Stripe LED with Housing
Thunderbike Grips Base Satin black cut
Thunderbike Toppers Base
Thunderbike Ignition Coil Relocation Kit for Air-Ride switch, black
Thunderbike EFI-Cover black wrinkle
Harley-Davidson Cover Battery Right, Gloss Black
Harley-Davidson Finned Head Bolt Bidge, black
Thunderbike Derby Cover Drilled contrast cut
Thunderbike Timer Cover Drilled
Thunderbike Airbox Cover Oval Drilled
Thunderbike Front Axle Cover-Set
Metzeler Cruisetec Rear Tire 260/35VR21 83V
Dr. Jekill & Mr. Hyde Exhaust System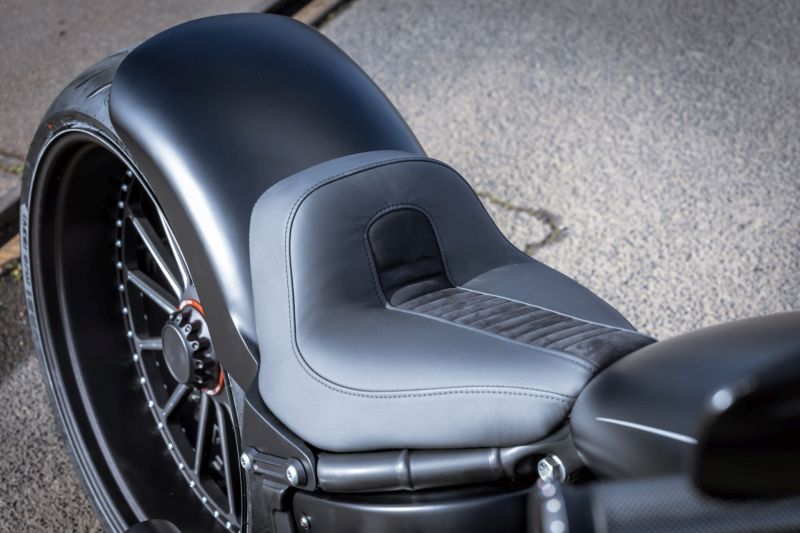 THUNDERBIKE VIDEOS