Builder ERBACHER
Contact [email protected]
Country Switzerland
Model Victory Octane
Style Cruiser
European drag racer and custom bike builder Urs Erbacher took on the challenge of wrapping this motor in a package capable of putting the world-class power to the ground. The concept features and aggressive stand and frames the engine with a castaluminum chassis, performance suspension and brakes with an aggressive Project 156 inspired paint scheme.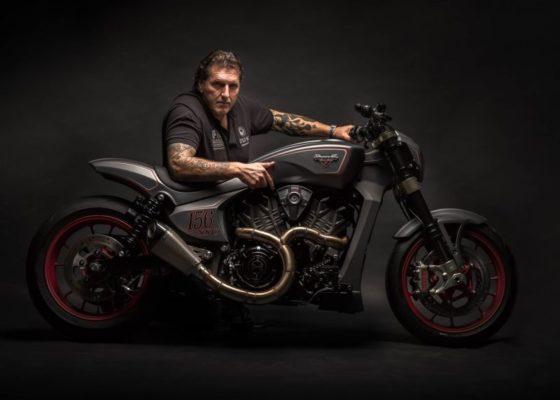 Octane parts
FRAME
Erbacher examined Victory Motorcycles' existing cruiser line-up and created a concept that would put the new V-Twin engine at the heart of the bike.
ENGINE
This has the same base architecture in the prototype engine used in Project 156 – the crank-case, v-angle, rotating bottom-end, transmission and clutch set-up is all the same. The liquid-cooled four-valve engine has double overhead cams with the aim of making class-leading power. Additional details of the engine will be revealed in the months to come.
Exhaust System Akrapovič
Erbacher and his team have handmade twin headers that snake out from the cylinders into a single pipe and then into an Akrapovic® muffler. The idea is to create the shortest exhaust for maximum performance.
SUSPENSION
The front and rear suspension are adjustable. Marzocchi forks stand proud at the front and Erbacher explains why: "We have used the same forks on our "Erbacher The One" custom bike for the past three years. The forks are really nice to ride with and they absorb a lot on bad streets. With the 50mm extra height in the front it gives you a more lean angle. The good thing is, we can also mount the Brembo® brake on this fork and it brakes like a race bike."
Erbacher and his team put an Ohlins® shock at the rear between the frame and the swing-arm.
WHEELS
Erbacher chose 17″ wheels made from aluminum. "These are superlight and are the right size for the Metzeler Racetec Interact tires we are using," says Erbacher. "They give the bike a great look.We chose the red color as a nod to the Project 156 bike."
Exhaust System: Erbacher handmade headers with an Akrapovic muffler
Front Tire Type: Metzeler Racetec Interact Front Tire Size: 120/70 ZR17
Front Wheel Type: Alloy
Front Wheel Size: 3.5″ x 17″
Rear Tire Type: Metzeler Racetec Interact Rear Tire Size: 200/55 ZR 17
Rear Wheel Type: Alloy
Rear Wheel Size: 6.00 x 17
CHASSIS
Suspension: Front – Type/Travel 120mm
Front Fork Tube Diameter: 50mm
Suspension: Rear – Type/Travel 76mm Brakes/Front Dual discs, Brembo® M4 Monobloc Brakes/Rear Single disc OEM
LIGHTS
Headlight: Erbacher
Tail/Brake: Erbacher
Turn Signals: Erbacher
License Plate Light: Erbacher
Speedometer & Indicator Lights: Motogadget
VIDEOS OF ERBACHER