Suzuki Boulevard M109R 'Boss' by Roaring Toyz
DARK KUSTOM Motorcycles 2023
Rating:

7.6

/ 10
Suzuki Boulevard M109R 'Boss' by Roaring Toyz
Builder ROARING TOYZ
Contact [email protected]
Country United States
Model Suzuki Boulevard
Style Muscle
We started at the front end with a large 23″ Performance Machine Torque wheel with two 13″ matching front brake rotors for increased stopping power fed by stainless steel braided brake lines. We covered up the 120/70/23 front tire with a custom 23″ wrap style front fender with billet fender brackets. To get the bike steering and looking right with the larger 23″ wheel we added raked triple tree clamps. A cool scoop style chin spoiler was also throw in to finish off the nice front end!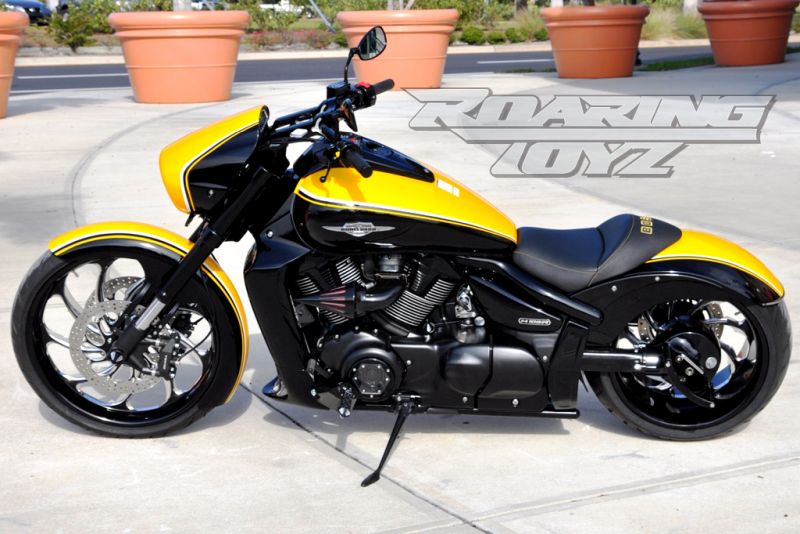 2171 13th Street • Sarasota, FL 34237
Out back we added a larger Performance Machine Platinum Finish Torque 18×10.5 wheel carrying a 300 rear tire. To get the 300 tire into the M109R we had to cut the swingarm and reweld it to accept the larger rear wheel/tire combo. We covered up the new huge section of tire with a complete new rear section. This includes a wrap style rear fender with new subframe rails and frame covers to fit everything nice and snug. The rear suspension travels up and down via an air ride suspension allowing the bike to be parked low for looks. We topped this all off with a custom seat to fit the new rear section that is custom covered with yellow stitching and the BOSS logo embroidered in clear lit up from under by yellow LED lighting. A new LED taillight turn signal combo handles lighting duties and threw a cool curved billet license plate tag mount on the drive hub.
For power and sound duties we added a Custom Shorty Black Exhaust System paired with a Power Commander and Dual Air Intake Kit. This combination makes the Boss M109R sound as good as it looks and moves more air in and out for increased power! Other additions to the Boulevard are clear billet derby cover, billet front axle caps, billet oil fill cap, billet front pegs and a custom LED front turn signal light bar
SUZUKI BOULEVARD VIDEOS
Top motorcycle videos