H-D V-Rod muscle by Big Bad Customs
Big Bad Customs from United Kingdom is renowned worldwide for its exceptional Harley-Davidson V-Rod customization skills. One such masterpiece is its Big Ass custom V-Rod, which boasts a distinct red and white paint job with an impressive wide rear tire, and an equally striking front tire. The build's blacked-out elements such as its dual short black exhausts, wheels, and custom-made seat give it a sinister vibe. Its low rider position also makes it a mean machine that any rider would be proud to own.
The Harley-Davidson V-Rod
Is transformed into something special thanks to Big Bad Customs' attention to detail and their use of high-quality materials. The muscle custom motorcycle exudes power and aggression with its muscular build, wide tires, and sleek curves. The most eye-catching features of the motorcycle are the bold red and white paint job and the blacked-out elements across the entire bike.
The Harley-Davidson V-Rod's engine and wheel frame are also customizable, leaning towards the performance aspect of the motorcycle. The tires are massive both on the front and rear, giving the bike a racing feel. The exhaust also adds to the raw power and the loud roar that the motor produces. In addition, the custom-made seat adds comfort and style to save riders from fatigue on long rides.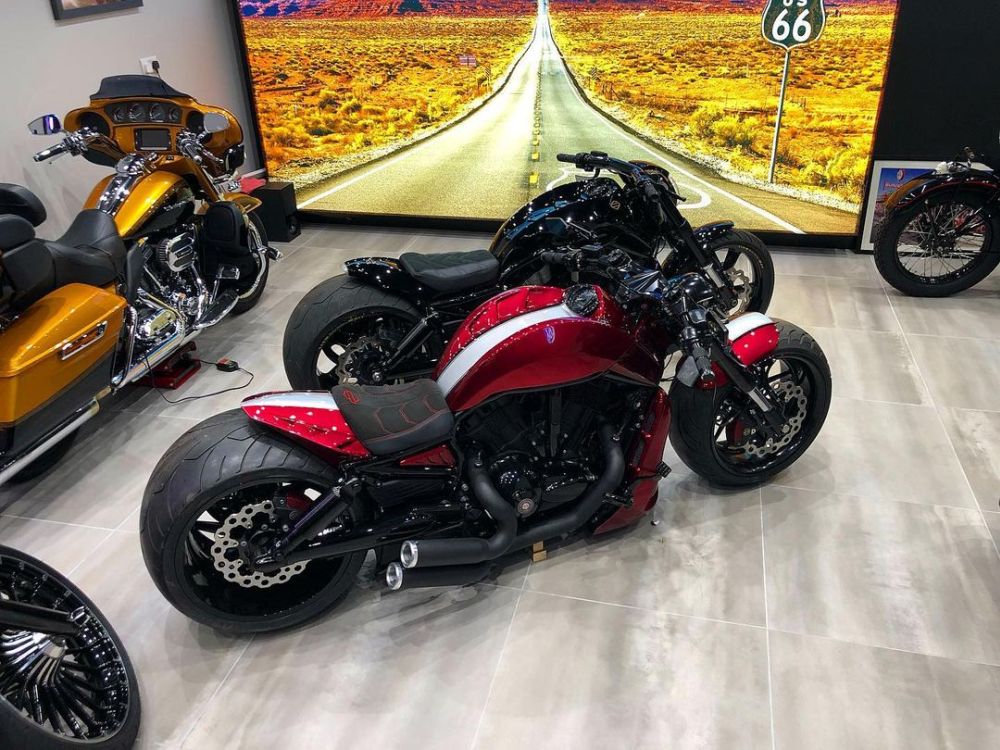 Big Bad Customs added several other custom features to enhance the motorcycle's aesthetics and functionality. The handlebars are sleek, with an additional touch of customization that is different from other Harley-Davidson models.
In conclusion
Big Bad Customs' muscle custom Harley-Davidson V-Rod is a beast of a machine that has been transformed into a unique, personalized masterpiece that boasts power, performance, and style. Its menacing presence on the road is a testament to the United Kingdom-based custom shop's outstanding workmanship. Its attention to detail has resulted in a design that is both practical and visually appealing. Anyone who chooses to ride this muscle custom V-Rod will surely turn heads and be the envy of many.
V-Rod video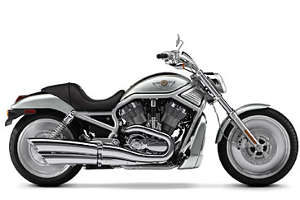 Parts
Custom Colour "Brandy Wine Candy" with Silver and Black Racing Stripe
Custom 'Big Bad Red' Airbox Cover with Faded Harley Davidson
Full Custom Bodykit with Aggressive Lines and Grooves
Fully Blacked-out 'Revolution' Engine with Stage 2 Cams and Dynojet Tuned
'The Monster' 360/30 R18 Rear Tyre
Avon Cobra Chrome 240/40 VR18 Front tyre
Custom CUBIQ Front and Rear Brake Rotors
Custom Billet Triple Trees with Integrated Handlebar Featuring Air Ride Control Buttons
Matching Billet LED Headlight
Custom Dual Rubber Grips
Bar-end 360 LED Indicators
4-Position Adjustable Levers
Custom Mirrors
High Specification Air Suspension with Rebound Control Controlled on Handlebars or Via Remote
3-In-1 Super Bright Rear Running Light/Brake Light and Indicator
Custom 2in2 Drag Style Exhaust in Matt Black (Loud)
Custom Trimmed Seat in Jet Black Alcantara and Red Lamborghini Pattern Stitching, Slimline Seat with Gel Pad and Memory Foam
Custom 'Shadow Pack' To Include Bolt Covers, Shaft Covers and Axle Covers