Builder MELK MOTORCYCLES
Contact [email protected]
Country France
Model H-D Breakout
Style Cruiser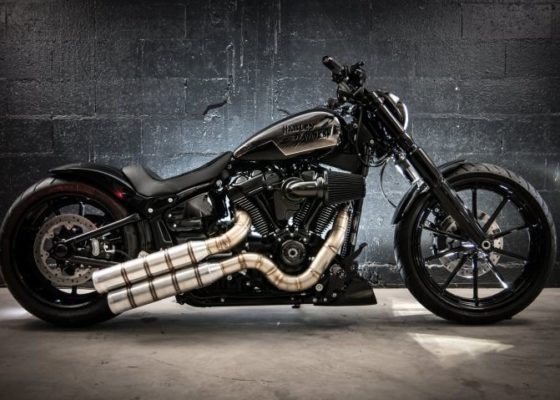 H-D Breakout parts
Accessories
FXSB Breakout rims (2013 – 2016) Front – Rear – HD
Custom collector – MELK Painting & Motorcycles
Custom Polished Exhaust (Electronic Valve Exhaust) – KessTech
Tailor-made rear mudguard (wheel washer type) – MELK Painting & Motorcycles
Custom upholstery – Craving
Custom clogs – MELK Painting & Motorcycles
Tire Ar 260 – Metzeler
Wind Blast – Rick's Motorcycles
Fork Top Tube
Lower Fork Tube
Short risers – Thunderbike
Air filter – Arlen Ness
Air Suspension – Legend Air
Mirrors – Rizoma
Av mini LED turn signals – Thunderbike
Ar turn signals (3in1: stop, pilot and turn signals) -Kellerman
Av & Ar Equalizers – Thunderbike
Grips – Machine Performance
Selector – Machine Performance
Front Foot Wedge – Machine Performance
Brake Pedal – HD
Remote license plate + LED license plate light – Thunderbike
Rear wheel axle cover – HD
Idler rod – HD
Derby Cover Motor Co – HD
Time Cover Motor Co – HD
Pop-up cap – HD
Black license plate – MELK Painting & Motorcycles
Aesthetic Preparation / Painting
The painting was carried out with a new process. It is a colorless full body chrome plating combined with Chrome Black and Vivid Black HD.
There are therefore 3 shades: Chrome, Chrome Black and Vivid Black HD
The entire body is in Gloss Varnish and the rest of the parts and accessories are in Vivid Black HD Gloss.
A typography was made entirely to measure as well as the Bar & Shield Harley – Davidson logo to bring a touch of originality to this FXBRS – Breakout 114.
Work completed
Custom decoration tank – Clear Chrome, Black Chrome and Vivid Black HD + One HD LOGO in Candy Blue & Red.
Front Fender Cutout, lowering Clear Chrome, Black Chrome and Vivid Black HD
Rear Fender Decoration – Clear Chrome, Black Chrome and Vivid Black HD
Realizations of the customer's initials on the Handles and Footrests
Rims Av & Ar – Vivid Black HD
Clog – Vivid Black HD
Air Filter – Vivid Black HD
Complete Fork – Vivid Black HD
Wind break – Vivid Black HD
Riser – Vivid Black HD
Speedometer support – Vivid Black HD
Brake and Clutch Levers – Vivid Black HD
Top Rocker Covers – Vivid Black HD
Low rocker covers – Vivid Black HD mate
Rocker Rod Bracket – Vivid Black HD
Rocker Rods – Vivid Black HD mate
Primary Housing – Vivid Black HD
Carter Gearbox – Vivid Black HD
Engine housings – Vivid Black HD
Brake pedal – Vivid Black HD
Selectors – Vivid Black HD
Pulley – Vivid Black HD
Upper belt cover – Vivid Black HD
VIDEOS OF MELK MOTORCYCLES