Builder MELK MOTORCYCLES
Contact [email protected]
Country France
Model H-D Breakout
Style Cruiser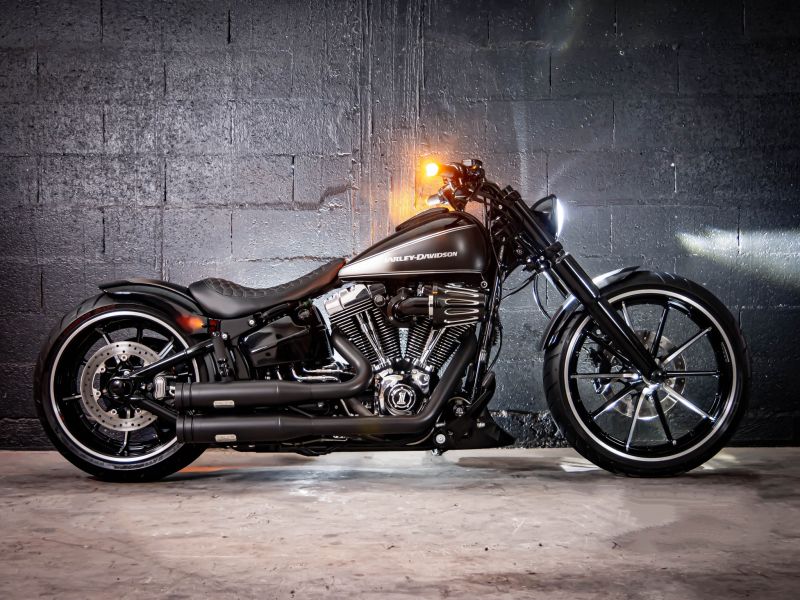 Breakout parts
Parts & Accessories
Evalve Exhaust – Jekill & Hyde
Rear Mud Guard (wheel licker type) – Thunderbike
Selle – MELK Painting & Motorcycles
Pouf – MELK Painting & Motorcycles (not present in photo)
Tank Console + Custom Durability – MELK Painting & Motorcycles
Saturday – Thunderbike
LED Lights Front Black Background – HD
Caches Tubes Fork Top BLACK – Cult Werk
BLACK Fork Bass Caches – Cult Werk
Air Filter – Screaming Eagle HD
Adjustable lowering kit
Under the handlebar mirrors
Clignotants Of LED – Moto Gagdet
3 in 1 Ar LED blinkers – Kellerman Atto
Av & Ar Equalers – Thunderbike
Selector – Performance Machine
Calender – Av Machine Performance
Cale Foot Ar – Performance Machine
Wheel Axis Av – HD
Ar Wheel Axis – HD
Derby Cover – HD
Time Cover – HD
Deportation Plate LED Plate Lighting – Drag Specialties
Vivid Black HD Pop-Up Cap
Black license plate
Aesthetic Repair / Painting
The painting was done with 3 shades: Vivid Black HD glossy, Vivid Black HD Mate and Silver Denim HD matte.
We used the degradation technique to more subtly link Chrome elements to the Black elements of Breakout.
The body set is selective varnish (gloss/matte) and the rest of the parts and accessories are Vivid Black HD Brilliant.
Work done
Custom Decoration Tank – Graduation technique & Selective varnish
Boue Av Guard Cutting, Lowering and Decorating – Degradation technique & Selective varnish
Mud Guard Ar Decoration – Graduation technique & Selective varnish
Smoothing the tank to remove the original stick
Modified tank console + Marking MELK Painting & Motorcycles
Creation of two black durability for the passage of tank cables
Sabotage – Graduation technique & Selective varnish
Full Fork – Vivid Black HD
Upper and Lower Fork Teaser – Vivid Black HD
Lighthouse Entourage Av – Vivid Black HD
Riser – Vivid Black HD
Speedometer Support – Vivid Black HD
Brake and Clutch Levers – Vivid Black HD
Horn – Vivid Black HD
Carter Primary – Vivid Black HD
Carter Gearbox – Vivid Black HD
Brake Pedal – Vivid Black HD
Selectors – Vivid Black HD
Selector Repost – Vivid Black HD
Upper Belt Hide – Vivid Black HD
Oil tank cap – Vivid Black HD
VIDEOS OF MELK MOTORCYCLES