Lamborghini 'Murcielago' by VOS Performance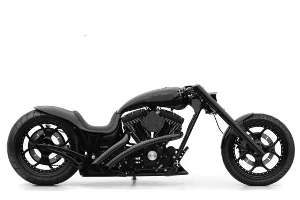 Dragster for sale
This is how our interpretation of our legendary Lamborghini Murcielago looks as a custom bike. An absolute unique piece that has been built in the utmost detail. In addition to the absolute latest technical features, this bike with the original Lamborghini varnish, is set in color and even the processed leather comes from the Italian noble brand.
The rims are machined from the whole and match one with the one of Murcielago. As the bike stands here, it has a power of 130 hp. This power is measured on the wheel and not on the crankshaft. The belt drive gives the bike a special touch.
And the most important thing is that the bike is completely Tüv removed.
Further details on the bike are:
HD engine with Duracic Tour
 Duracic dragpipes
NH Power open Belt
Original HD electrics with EFI
Single swingarm
Airride Air Suspension
Hercules air filter
RS fork
Lateral license plate holder
Grossbottwarer Strasse 78 71720 Oberstenfeld, Germany