Builder MOORE SPEED RACING
Contact [email protected]
Country United Kingdom
Model Indian Scout
Style Bobber
Based on an 2019 Icon Scout 1200 (you will not see many of these around) and modified to take the Iconic MSR Bobber style and form. The Custom painted fenders, headlight cowl and wheels really sett of this bike and set it apart from the rest.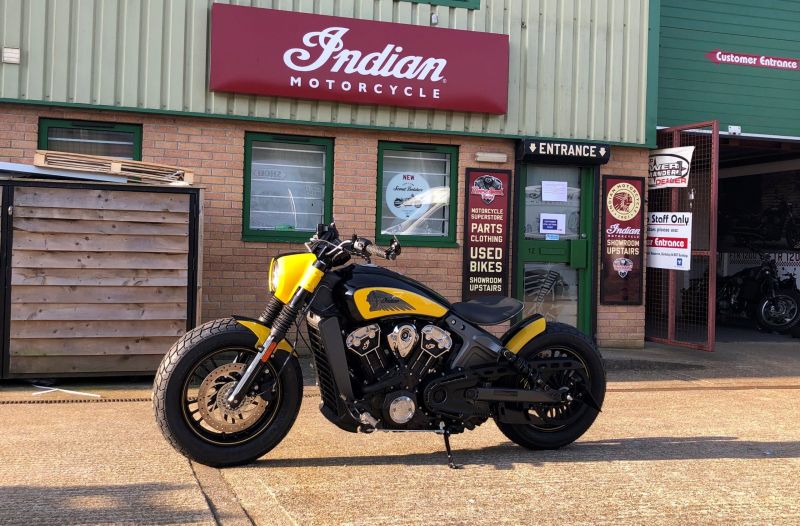 We are lucky to have a CNC division of Moore Speed Racing which allows us to manufacture Custom parts for all of our builds and this build was no exception. The upper fork covers, Machined front pulley cover and Tail light housing are all CNC made. Our side mount plate holders, Rear seat close of cover, Rear fender and brackets are also all fabricated in house!
We have the pleasure in only using Quality aftermarket parts on all of our builds which is why we use so much Motogadget. There parts are by all means not cheap but the quality speaks for itself. The Glass-less mirrors are superb and paired with there bar end indicators and Pin rear indicators, they really sett the bike off. The indicators give superb visibility from all directions and are incredibly bright!
On this particular build we have blended parts from a Genuine Indian Scout Bobber with this Icon Scout to give a new look. The Rear belt guard, Shocks, Headlight cowl, tyres, Bars, Headers and Exhausts (modified) are all factory fit on a Bobber and the Black Wheels really blend well with the rest of the build.
Contact [email protected]
Top motorcycle videos