Introducing the Harley-Davidson V-Rod Custom motorcycle by Bullock Custom Bikes from Germany, a true masterpiece of customization and innovation. This incredible machine has undergone a series of modifications that not only enhance its performance but also give it a unique and distinctive look.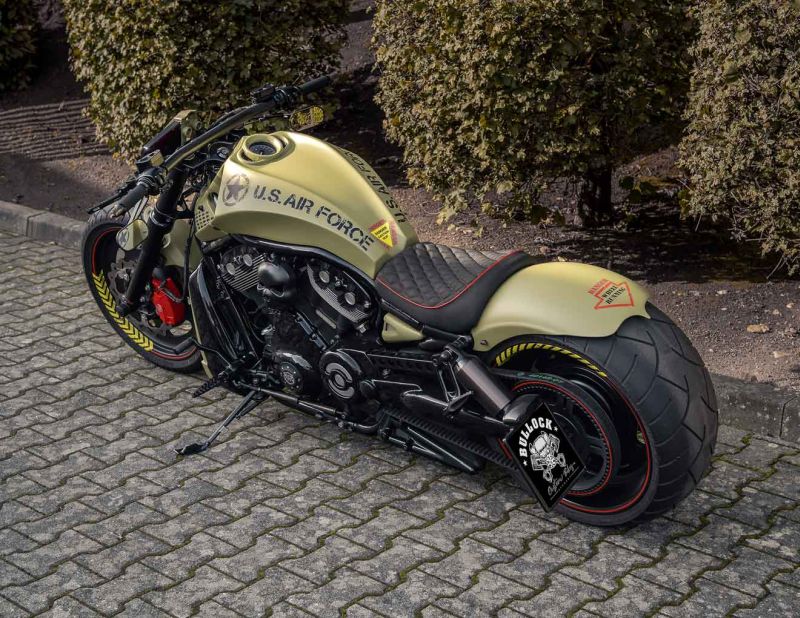 One of the standout features of this V-Rod Custom is the KTM Duke LED headlights with tinted glass, which not only provide excellent visibility but also add a touch of modern style to the classic Harley-Davidson design. The wide tire conversion with a massive 9.5 x 18-inch rim gives this bike a commanding presence on the road, ensuring it stands out in any crowd.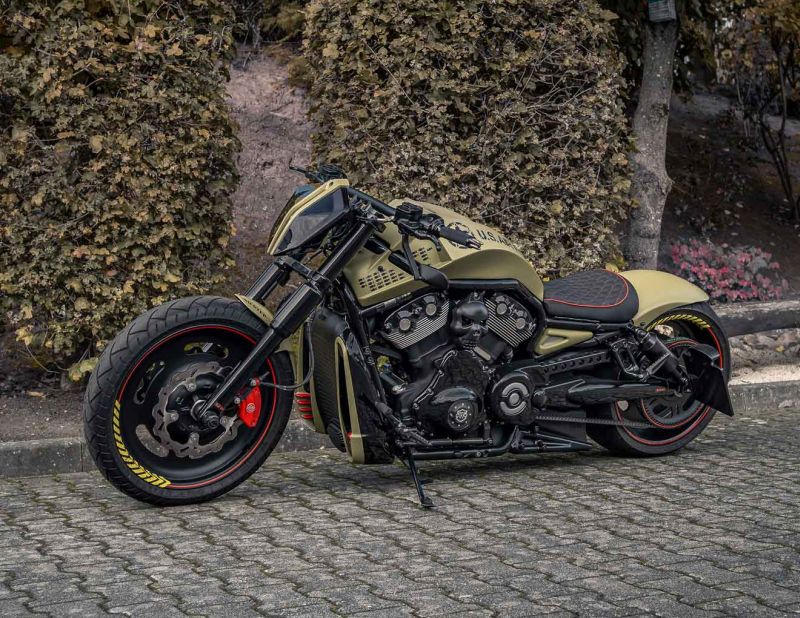 The rear conversion includes a wider swing arm and an airride chassis at the rear with an air pressure indicator cleverly integrated into a flask cartridge. This not only enhances the bike's comfort but also allows for easy adjustment of the rear suspension to suit different riding conditions.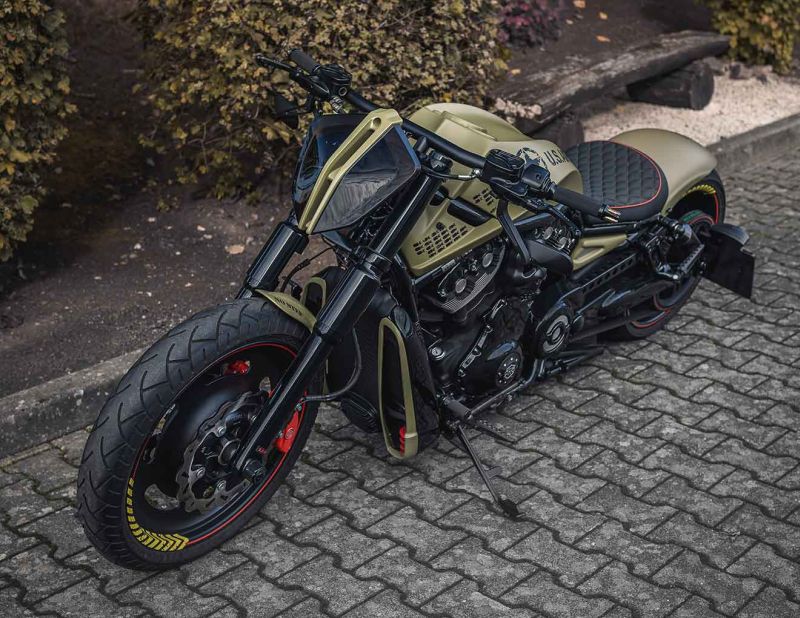 For added flair, the shifter has been adorned with three machine gun rounds, adding a touch of aggression to the bike's overall appearance. The custom-made metal rear fender and quilted seat contribute to the bike's unique and elegant aesthetic.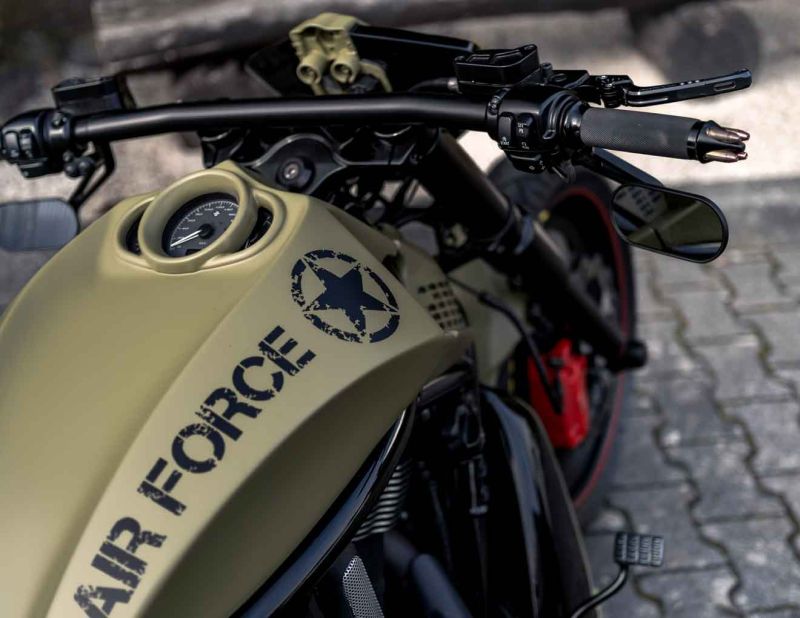 The Harley-Davidson V-Rod Custom also features an air cover over the tank and a relocated speedo/instrument cluster, which has been cleverly concealed to maintain the bike's clean lines. The brakes have been modified with braided steel lines and wave brake discs, and the brake calipers have been tastefully painted to match the bike's color scheme. Adjustable brake and clutch levers provide a personalized and comfortable riding experience.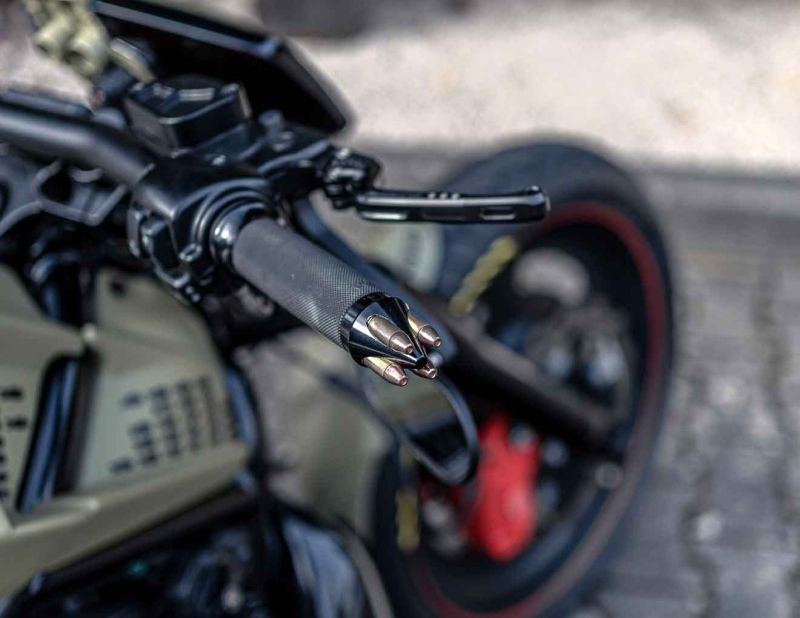 Special handlebars with grips featuring milled cartridge cases add a touch of sophistication, and the Bad Boy Customs exhaust system not only enhances performance but also produces a distinct exhaust note that will turn heads wherever you go.
To complete the look, this V-Rod Custom has been painted in a striking matte olive color with aircraft markings, giving it a military-inspired theme that sets it apart from the ordinary.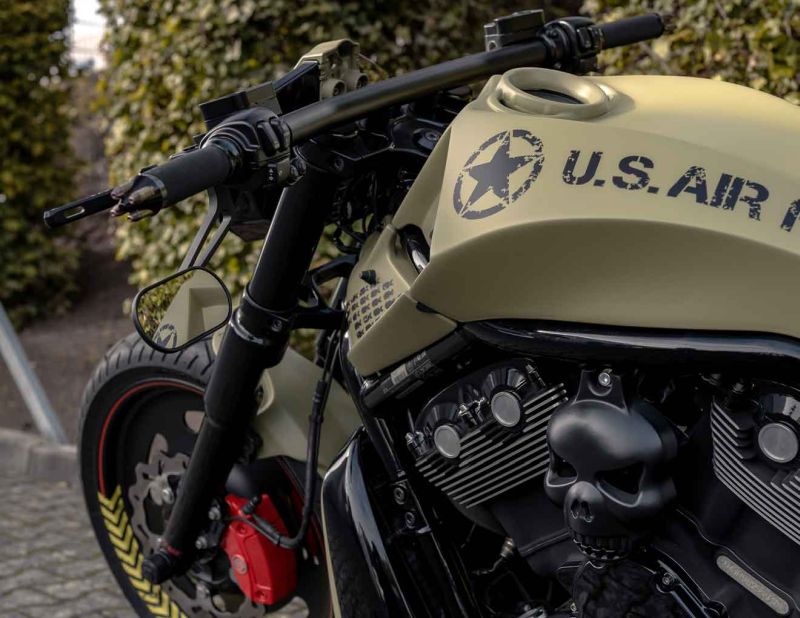 In summary, the Harley-Davidson V-Rod Custom by Bullock Custom Bikes is a true work of art, combining cutting-edge modifications with a unique sense of style. It's a motorcycle that demands attention on the road and showcases the creativity and craftsmanship of its builders in Germany.
KTM Duke LED headlights with tinted glass
Wide tire conversion with 9.5 x 18 inch rim
Rear conversion
Wider swing arm
Airride chassis at the rear with air pressure indicator in a flack cartridge
Shifter with 3 machine gun rounds
Custom made metal rear fender
Quilted seat
Air cover over tank
Speedo/instrument cluster relocated to cover
Brakes modified with braided steel lines and wave brake discs
Brake calipers painted
Adjustable brake/clutch lever
Special handlebars, grips with milled cartridge cases
Bad Boy Customs exhaust system
Painted matt olive with aircraft markings