Harley-Davidson Sportster Nightster 'Projekt X' by Thunderbike
Builder THUNDERBIKE
Contact [email protected]
Country Germany
Model H-D Sportster
Style Cruiser
Dark, deep low rider style
"I'm totally pleased that we've completed Harley's line here. And we've gone one better!" explains Andreas Bergerforth. "We've built a lot of awesome parts, all European style – so a bit aggressive and wicked. People like that here with us."
We always think it's good for a new bike to show what you can do with it and Kim sums it up, "Everything Thunderbike can do, we put into the bike. It's understandable and visible to everyone: this is a Nightster, but it's just a complete custom bike."
Anyone who remembers the old Nightster will see right away that we're going about things completely differently here, which is why we needed a completely new concept. Nothing we already had could be used here. So we did our Thunderbike thing and redeveloped everything.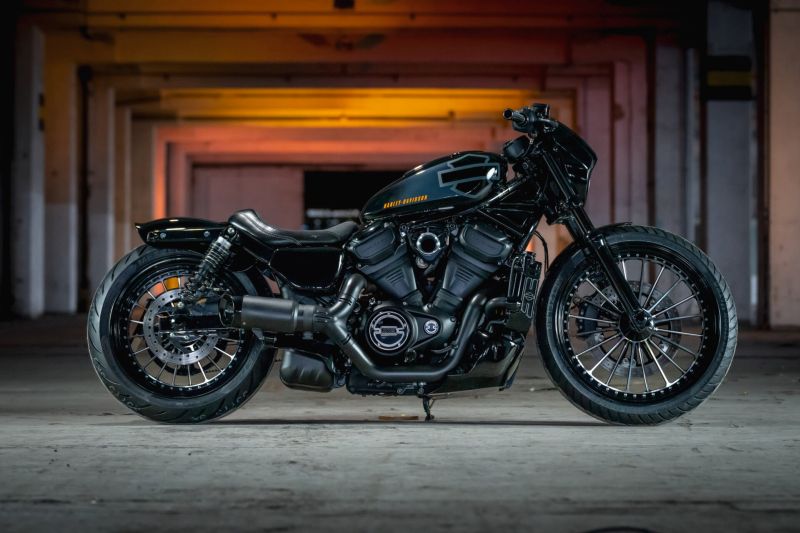 Rear fender, radiator cowling, bow spoiler, handlebars and risers are just as much a part of this as the smaller but equally important parts such as covers and adapters. The wheels from our New Digger series were adapted and the rest is simply new or modified.
When it came to styling, there was no alternative to black for us. The biker's favorite color runs through the entire project. Even the components that already came in black were all blacked out again (coated gloss black) so everything has the same look.
One of the strongest visual differences is the engine. Instead of the original silver, it now shines in black, which contributes significantly to the new attitude.
The exhaust is also one of the heavily modified elements. Not only the length of the tailpipe has been trimmed considerably. The two manifolds were shortened before bending to bring the entire system closer into the bike and make the silhouette narrower. To raise the height of the system, we brought the two pipes together earlier and created a fancy new cover for the triangle.
Much less noticeable, as desired, are the turn signals. We attached the front ones to the upper triple clamp, and sunk the rear turn signals into the struts we shortened. Cool, isn't it?
Kim was able to enjoy the easy handling right from her first ride, with plenty of power from the Rev Max engine and accurate shifting, which the Nightster offers from the factory. The Nightster's already low center of gravity is lowered even further thanks to our lowering at the front and short shocks.
The sound from the thick pipe is likely to divide opinion – but we should agree on the looks. The big funnel and fat muffler leave no doubt about where the journey is headed: Here comes a Bad Ass Bike!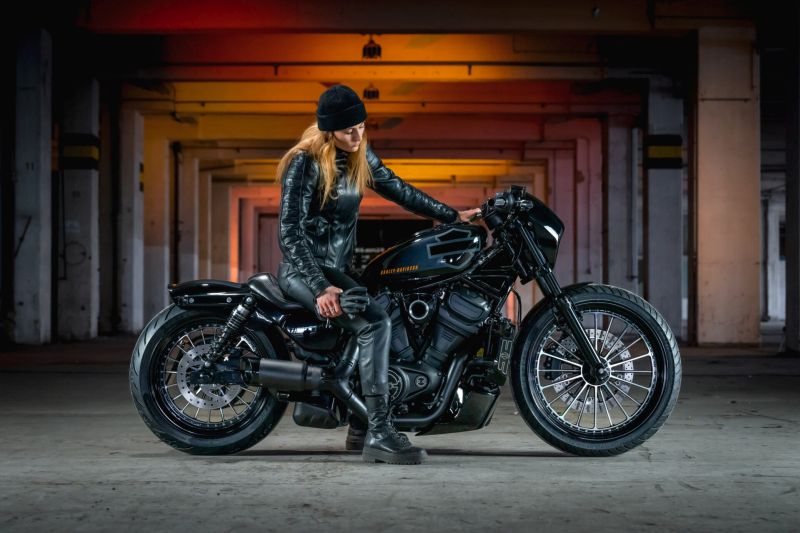 Made for project X:
Alternator cover
Clutch cover
Ignition cover
Shorty tail part
Turn signal holder front + rear (Struts)
Riser (thereby speedometer deeper)
Handlebars butted from 28 to 22 mm, for this the risers are made
Grips alu in satin for 22 mm
Intake funnel
Dashcover Alu milled (orig. plastic)
Bow spoiler
Cover exhaust manifold (triangle)
Frame cover on steering head
Belt guard front
Pulleycover front
side license plate holder
brake caliper adapter (to 340mm) with brake disc Spoke
Wheels: New Digger rear 6×18 DF, front 4×21 SF
Modifications:
all surfaces black gloss coated and thus color-matched
Fork DLC coated
Exhaust system: orig. manifold modified to make the system higher and closer to the bike. Orig. muffler shortened, new end cap fitted from tourer.
Fork lowering and short shocks
Struts shortened / turn signals inserted
Seat shell shortened and adapted
Front fender shortened
Tires: Metzeler Cruisetec 180/55×18 rear, Marathon ME 888 120/70×21 front
Involved partners:
Paint: Chiko's Pinstriping (Pforzheim/Germany)
Leather seat: Spirit Leather (Germany/ Düsseldorf)
THUNDERBIKE VIDEOS
Top motorcycle videos